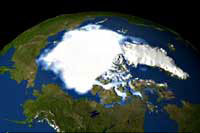 Q. One of my friends doesn't believe in climate change. He is one of the smartest people I know but he just thinks it's hogwash. How do I have a respectful conversation about this topic with him and show him that climate change really does exist?
While it's good to have a conversation with your friend about climate change it is possible that your friend may never change his mind. Sometimes it seems that no matter how much scientific evidence there is that proves climate change is real - there will always be skeptics.

While it is impossible to list all of the arguments and all of the scientific findings here, there are a couple claims that your friend may raise and what your rebuttal might be!


"The weather has always been changing, so this warm weather we're having is no big deal!"

It is true that the Earth's climate has changed many times – due to natural causes. The issue now is the rate at which the climate is changing due to human activities. While these natural causes are still occurring they are being trumped by the greenhouse gases being added to the atmosphere by people.

There is a group called the Intergovernmental Panel on Climate Change or the IPCC. The IPCC is the international body that assesses the science related to climate change. They provide thorough and balanced scientific information to those making decisions for climate-related policies. It is comprised of over a thousand leading scientists who volunteer their time and expertise in writing and reviewing reports.

In 2014, the IPCC stated in a report:
Warming of the climate system is unequivocal, and since the 1950s, many of the observed changes are unprecedented over decades to millennia. The atmosphere and ocean have warmed, the amounts of snow and ice have diminished, and sea level has risen.
2. "Global warming just can't be real. Need proof? Just take a step outdoors. It's freezing out there!!"
The issue with this statement is that it looks at the here and now. Climate change is a long term trend – of which global warming is just one aspect of. Again from the 2014 IPCC report:
Each of the last three decades has been successively warmer at the Earth's surface than any preceding decade since 1850. The period from 1983 to 2012 was likely the warmest 30-year period of the last 1400 years in the Northern Hemisphere, where such assessment is possible…
And 2016 continues to break records. NASA released a report earlier this year stating that:
In 2016, for each of the first six months, a record was set "as the warmest respective month globally in the modern temperature record", dating back to 1880
January to June of 2016 was also the "planet's warmest half-year on record"
Out of the first six months of 2016, five of these months "set records for the smallest respective monthly Arctic sea ice extent" since 1979, when satellite records began
The amount of Arctic sea ice coverage "at the peak of the summer melt season now typically covers 40 percent less area that it did in the late 1970s and early 1980s"

So have the conversation with your friend and if you are able to get him to see the science and understand that climate change is real than that is great. But remember, there are some people you just may not be able to convince.