By Leigh Edgar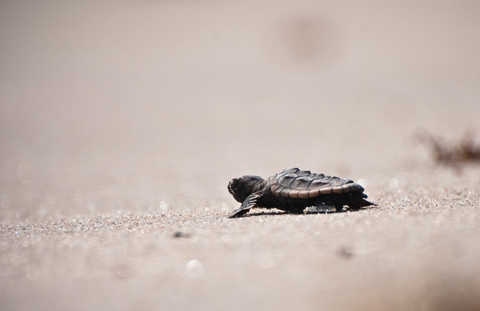 Photo: © Heiko Kiera - Fotolia.com
Q. How do migratory species remember where to go?
A. All around the world, species are on the move to habitats that can provide them with all they need to survive another season. Countless species of birds, mammals, reptiles, amphibians, fish and invertebrates are migrating right now — flying in the air, swimming through the water and marching across the land to old haunts that have proved beneficial in the past.
Migratory species are remarkable creatures, expending huge amounts of energy and effort to move from place to place in order to survive. As seasons change, so do food supplies, temperatures and the number of daylight hours at their disposal. These environmental cues stimulate the migrants' instinct to move, and move they do. A tagged great white shark migrated from Africa to Australia and back – more than 16,000 kilometres! Leatherback turtles migrate across entire ocean basins, and Canada geese can travel more than 1,000 kilometres from northern Québec to the eastern United States in as little as one day! In the spring, 123,000 porcupine caribou migrate from the Eagle Plains in the Yukon to their calving grounds in the Alaskan Coastal plain, having travelled through rough terrain and rivers while being harassed by insects and stalked by hungry predators.
But how do these species know where to go? Is it memory? Luck?
Scientists believe that migratory species use a variety of factors to make their way from one place to another. By using the position of the sun and the stars, and by taking note of and following natural landmarks such as rivers and mountains, species are able to make the journey to the same area year after year. Sense of smell has proven to be important for fish, and recently scientists identified special light-sensitive cells in the monarch butterfly's antennae that aid in direction. Sea turtles are able to detect the direction and intensity of the Earth's magnetic field, and scientists have found crystals of magnetic iron oxide in birds' bills, suggesting that birds respond to magnetic fields, too.

| | |
| --- | --- |
| | Send your wildlife questions to CWF's conservation researchers, Terri-Lee and Leigh! Your questions and answers could be featured in a future issue of Wildlife Update! |