By Terri-Lee Reid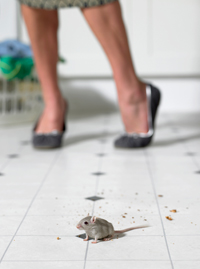 Q. I have mice in my house. How did they get in and how do I give them the boot without harming them?
A. Fall is the time of year when mice try to find shelter from the coming cold. Needing only a small opening, some say as small as a dime, mice commonly enter around services such as electrical or gas pipe entrances, air conditioning connections, even foundation cracks, loose siding, openings in a soffit or the common wall of an attached garage.
To prevent mice from getting into your home check your house for any potential openings and secure them with either metal lathe or one-half inch welded wire mesh, available from building supply stores or for smaller openings you can use pieces of waterproof stainless steel or copper scouring pads to stuff into the opening. Make sure you don't seal off areas that need an open passage.

Mice also need a food source so it is important to keep all food, including pet food, cleaned up and stored in animal proof containers — ideally glass, ceramic or metal containers.

Some deterrents you can use to make your living space seem less than ideal for mice include:
100% Pure Peppermint Oil – Soak a cotton ball with peppermint oil and place where you suspect mice may be entering. Be careful with pets and small children however as peppermint oil may be harmful to them. This will need to be refreshed as needed.
Mint – Adding mint plants along a house foundation can keep mice from entering your home. Place the mint in pots and place around the outside perimeter. Sprinkling mint leaves in your home along where you think mice are entering can also help. Replace with fresh mint leaves as needed.
Bay Leaves – Sprinkling bay leaves has also proven effective for some.
Bounce Dryer Sheets (Original Scented only) – again place where you suspect mice may be entering your home.
But what if a mouse has already decided your house is the place to be? A lot of people opt to use snap traps but of course that also kills the critter. And sticky traps or glue boards can injure the mouse as they try to unstick themselves or leaves them to die a very slow death. You can try using a live trap which can be purchased at hardware stores. Just place some cheese, peanut butter, even bird seed or pet food in the live trap to attract the mouse and then release it in a wooded area, shrub land or field away from your home. Remember to keep in mind your provincial laws and regulations pertaining to releasing trapped animals. And don't forget to check your live trap every day. Another option is the use of a mouse zapper or an electronic mouse trap. While I'm not familiar with this kind of trap they are said to quickly and humanely kill mice.

Also be mindful that mice can reproduce year round, so that mouse in your trap may be a nursing female with young somewhere in your home.
| | |
| --- | --- |
| | Send your wildlife questions to CWF's conservation researchers, Terri-Lee! Your questions and answers could be featured in a future issue of Wildlife Update! |