By Terri-Lee Reid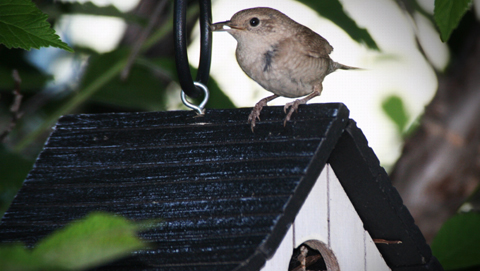 Photo: Wendy Jackman, CWF Photo Club member
Q. I want to protect the birds in my backyard! Will placing mesh screens around nesting boxes stop predators from hunting my birds?
A. While nesting boxes can provide birds with nesting opportunities, they can also be a source of easy prey for predators such as squirrels, raccoons and cats.

Fortunately, there are measures that can help protect your nesting birds from these common predators.

For instance, squirrels will often chew around the entrance hole, making it larger and consequently easier to access the nesting box. To prevent this from happening, attach a predator guard made of sheet metal around the entrance hole.

Raccoons will often sit on top of the nesting box and then reach inside with their paws. To discourage this behaviour, make sure the roof of the box extends about 13 centimetres past the front of the box. Attaching a predator guard to the pole or box can also keep these predators from reaching the birds.

It should be no surprise that cats try to access nesting boxes too. The same measures mentioned for raccoons should also work for cats. The placement of the nesting box is important. You want to ensure that it is far enough away from trees so cats (and squirrels) can't jump to the box.

In general, metal poles are the best choice for mounting nesting boxes as they prevent predators from accessing the box. An alternative is to use a wooden post, but slip a length of PVC piping around the post to prevent predators from climbing it.

One of our readers has notified us of the potential dangers associated with using wire mesh on nesting boxes. After speaking with a bird rehabilitator, I've learned that birds can get caught in this mesh, resulting in injury and sometimes death – but you can prevent this by ensuring that the mesh is taut.


| | |
| --- | --- |
| | Send your wildlife questions to CWF's conservation researchers, Terri-Lee! Your questions and answers could be featured in a future issue of Wildlife Update! |