By Leigh Edgar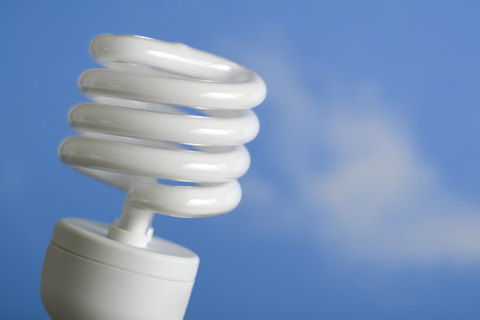 Photo: © pkazmercyk - Fotolia.com
CFLs: A Bright Idea

There are plenty of reasons why switching to CFLs is a bright idea:

• If every household in Canada changed one incandescent light bulb to an ENERGY STAR qualified CFL, greenhouse gas emissions would be reduced by approximately 400,000 tonnes — the equivalent of taking about 70,000 cars off the road for one year.
• CFLs last longer than regular bulbs, thereby keeping used bulbs and packaging out of landfills.
• Jurisdictions such as Australia, the United States, Nunavut and Ontario have taken steps to ban or phase out incandescent bulbs in the very near future. The Government of Canada does not require the proper disposal of CFLs, but it has committed to phasing out inefficient incandescents by 2012.
• While CFLs are more expensive to buy, they will pay for themselves in energy savings costs. Energy Star CFLs cost from $4 to $15 each, but will save approximately $30 in energy costs over their lifetime.
Q. I switched my regular light bulbs to Compact Fluorescent Lights (CFLs). But I'm worried about the mercury in them! Which bulbs are better for the environment?
A. Many people worry that the overall environmental benefit of replacing old fashioned incandescent light bulbs with the more energy efficient compact fluorescent is negated by the fact that CFLs contain mercury. Are we robbing Peter to pay Paul?
There's no doubt about it - mercury compounds are nearly all toxic, and even at low levels they can have negative impacts on both aquatic and terrestrial environments. Mercury can persist in the fatty tissues of living things and is therefore more dangerous to predatory fish and fish-eating birds and mammals. High levels of mercury can impact reproductive success and cause growth-related problems.
CFLs contain a small amount of mercury in a sealed glass tube – usually about three milligrams per bulb. By comparison, a regular wristwatch battery contains five times this amount, and an old fashioned thermometer contains 500 milligrams of mercury.
CFLs use only 25 per cent of the energy required for regular incandescent light bulbs, and last eight times longer on average. In the case of mercury, it is important to know where your energy comes from. Coal fired power plants – the dominant source in Ontario – release mercury to the atmosphere every time you flick on your lights. The more energy that's needed, the more mercury is emitted. On the one hand, a coal plant emits 10 milligrams of mercury to produce the electricity required for an incandescent bulb over its lifetime. On the other hand, a CFL requires electricity that emits only 2.4 milligrams of mercury. The end result is an overall reduction of mercury to the environment.
Coal fired power plants are the largest anthropogenic source of Canada's mercury emissions, accounting for more than a third of emissions in 2003, according to Natural Resources Canada. When we reduce the demand for electricity from these sources, we are also reducing mercury and greenhouse gas emissions.
The proper disposal of CFLs further reduces mercury in the environment. Canadians have a poor record when it comes to disposing of CFLs properly, but disposal programs for CFLs are becoming more readily available, and many municipal governments already have hazardous waste collections that accept CFLs and other waste that requires proper disposal, such as batteries, paints and household chemicals. The Home Depot offers a disposal bin for spent CFLs at all of its locations and most Rona locations will also accept used CFLs.
| | |
| --- | --- |
| | Send your wildlife questions to CWF's conservation researchers, Terri-Lee and Leigh! Your questions and answers could be featured in a future issue of Wildlife Update! |