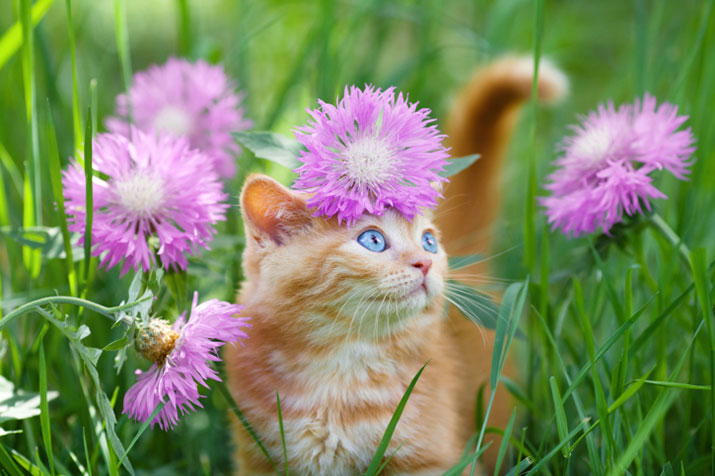 Q. How can I keep cats out of my garden?
A. They may be beautiful pets but when you don't own a cat of your own, and yet your neighbour's cat, or perhaps a feral cat, seems to think they own your garden, they might get under your skin a little. Especially when you see them using it as their personal litter box and ruining your plants and seedlings with their digging.
But cats pose even bigger issues for Canada's wildlife. Did you know that cats (both feral and pet) are believed to kill approximately 196 million birds in Canada every year? And that number doesn't even include small mammals which are also highly preyed upon by cats.
There are a number of deterrents that can be used in gardens to ward off cats. Unfortunately, there doesn't seem to be that one magical solution that works on all cats. I've gathered up the most common suggestions but again, what works well on one cat may not work at all on another!
Keep 'em Walking
A little tip. Cats don't like to walk on bristly surfaces. So we need to make your garden soil less attractive.
Place branches in your garden in a crisscrossed fashion. Wooden lattice can also be used.
Stick pine cones in the soil – they won't like to walk on these.
Plastic carpet runners, the ones with the little spikes on the bottom, are quite uncomfortable on paws – place these in the garden spiky side up (don't worry it won't hurt them but will just be uncomfortable for them).
Put rocks around plants to prevent cats from digging your precious greenery.
Get Their Noses Out of Joint
Cats have sensitive noses; with a few simple changes we can try to deter them from your garden.
There are also several scents that many cats do not like, most notably citrus. Simply place orange and lemon peelings in your garden.
Cats will often return to the same spot, time after time, attracted to their scent. You can try removing their scent from that area by washing it with water.
I hope that one or a few of these suggestions work for you and that you can once again enjoy your garden cat-free!