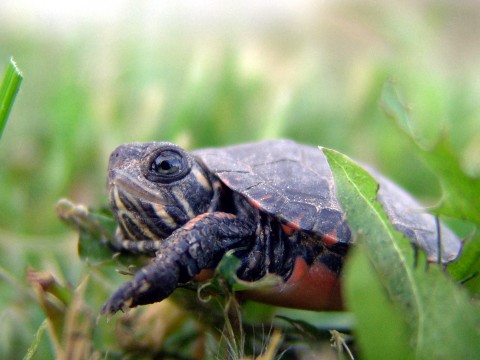 The health and status of reptile and amphibian species around the world is quickly becoming the new barometer for the health of the planet.

In Canada, we have 47 species of reptiles – 25 species of snakes, seven lizards, 11 freshwater turtles and four marine turtles. Key threats to reptiles are habitat loss, habitat degradation, overexploitation and road kills.

Forty-six species of amphibians are found in Canada, including one mudpuppy, two newts, seven toads, 18 frogs and 18 salamanders. Globally, amphibians are more threatened than birds or mammals. Many declines are due to overexploitation and habitat loss. Alarmingly, scientists do not know the reason for the decline of nearly half of these rapidly declining species. Here in Canada, 39 per cent of our amphibian species are considered to be at some degree of risk.

While most amphians have lungs they also breathe through their skin, but can only do so if their skin is moist, so the availability of water and ponds is critical. Contamination from pesticides and other chemicals can have an especially harmful impact on amphibians. Frogs with multiple, missing or malformed legs have been observed in high numbers both in Canada and internationally. The cause is believed to be environmental pollutants, such as heavy metals and radioactive waste, which can be long lived in the environment and can even alter the sexual development of reptile and amphibian embryos. Changes to climate can cause havoc for these critters, reducing the number of insects for feeding, the water levels of ponds and the length of the breeding season. Because amphibians' skin is so sensitive, they have been impacted by harmful UV rays which can permeate the thinning ozone layer.

While reptiles may seem tougher than the more delicate amphibians, they fall victim to cars and are often killed while sunning themselves on the pavement or attempting to cross the road to access a water source. For reptiles, the loss of adults can quickly translate into a declining population. Many species use different habitats (both terrestrial and aquatic) at different times of the year and are vulnerable to changes in the landscape; their poor dispersal abilities, coupled with their need for an array of habitat types for different life stages, increases their vulnerability to habitat fragmentation and the construction of roads. The expansion of urban centres and the encroachment of recreational activities and industrial developments into natural areas have resulted in the loss, degradation or fragmentation of habitat, which has led to the decline of many species.

Believe it or not, a key threat to some reptile species in particular is poaching. People will often take a painted turtle home, believing they are "saving" it, and make it their newest family pet. Turtle collection for personal or commercial reasons is directly contributing to the endangerment of some Canadian turtle species, and it is entirely preventable. Snake populations also suffer at the hands of people; many people will still kill snakes out of fear or ignorance.