By Leigh Edgar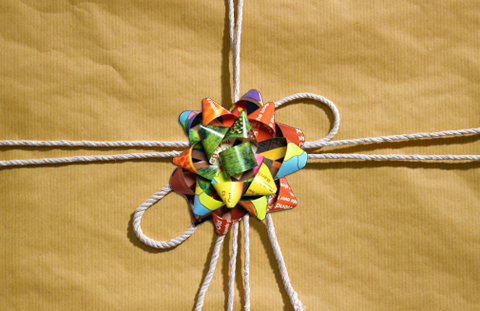 Q. How can I reduce waste during the holidays?
A. There's no shortage of efforts we can make to reduce our impact during the holidays. Buying fewer items, giving homemade goodies or services (such as babysitting or snow shoveling) instead of a gift and ensuring your turkey dinner and all the trimmings are from local sources are just a few examples that show how individual choices can make a big difference to wildlife and the environment. While the holidays are fun and festive, they can also be one of the most wasteful times of the year. The best way to reduce waste is simply not to produce it in the first place!!
Is your image of a beautiful present one that is wrapped in shiny red and gold paper, adorned with metallic bows? While these wrapped gifts tantalize our imaginations and conjure up festive feelings of wonder, it is important to remember that once the package has been ripped open it usually winds up in a landfill, adding not only to the sheer volume of waste, but also to greenhouse gas emissions as the paper decomposes. More than 10,000 landfills dot the Canadian landscape and release methane – a potent greenhouse gas. Methane from landfills accounts for nearly three per cent of Canada's greenhouse gas emissions each year.
Often made in foreign countries with less strict environmental regulations, wrapping paper often contains lead, synthetic inks, metals and other undesirables, making the option of burning it post-use a bad one indeed. Ironically, the more glittery, shiny and sparkly the wrapping paper, the worse it is for the environment. However, the majority of non-plastic or non-metallic wrapping paper can be recycled in most municipalities.
Want to give green, show-stopping gifts? Why not reduce or eliminate wrapping paper altogether? Just tuck away the gift under the tree to keep it hidden until Christmas morning. If you can't stand the idea of nixing decorations altogether, you can reuse wrapping paper from last year, make big cloth bags that can be reused forever, ask your kids or grandkids to decorate paper with holiday or family scenes and use that as gift wrap, adorn your gift in a pretty tea towel or scarf or even decorate a shoebox. There are plenty of solutions; you just have to get creative!

| | |
| --- | --- |
| | Send your wildlife questions to CWF's conservation researchers, Terri-Lee and Leigh! Your questions and answers could be featured in a future issue of Wildlife Update! |