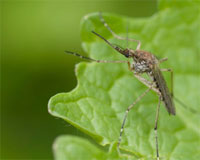 It seems we've been waiting a long time for spring to arrive so we can get out and garden. But now that the nice weather is finally here, it seems the pesky bugs are too!

But don't give up on tending to those gardens just yet! Check out this list on how you can protect yourself from bites and stings and enjoy your gardening adventures.


Make sure to dress appropriately. Wear loose fitting pants and a long sleeve shirt. Yoga-style pants aren't recommended as many bugs can bite/sting right through spandex. It's also a good idea to tuck your pants into your socks. Gardening gloves and a hat will also help! And don't forget to wear close-toed shoes. You don't want to accidentally step on a nest.
Insects are attracted to dark coloured clothing, so make sure to dress in light coloured clothing when you garden.
Bugs can be attracted to fragrances so the fewer fragranced products you use, the fewer insects you just might attract.
Plan your gardening activity for when there are the least amount of bugs, typically avoiding dawn and dusk although some, like deer flies, which you might spot later in the summer, are active during the hotter parts of the day.
If a bee or a wasp does come around, don't swat at it or make any other sudden movements. Just slowly and calmly walk away. After all, they're important pollinators and are facing many threats, including pesticides!
If it's safe, plug a house fan into your outside outlet. Bugs will have a tougher time landing on you if it's breezy.
Mosquitoes need standing water to lay their eggs in. So get rid of any standing water and replace the water in your bird bath at least once a week.
I'm sure we've all heard of insect repellents that contain DEET, but have you heard of these more natural repellents:
Vanilla oil mixed with olive oil
Catnip oil
Cinnamon leaf oil
Citronella oil
Wash with citronella soap
You could incorporate some marigolds, cedar, geranium, lavender, pine, peppermint, thyme, rosemary, basil and garlic into your garden – they're reported to repel pesky bugs.
You could put up a bat house! Bats eat thousands of insects, including mosquitoes. Not only will you be doing yourself a favour by putting up a bat house, you'll also be helping bats. Millions of bats have died in Canada over the past 10 years due to White-nose Syndrome, and now research shows that they are being affected by neonicotinoid pesticides too.