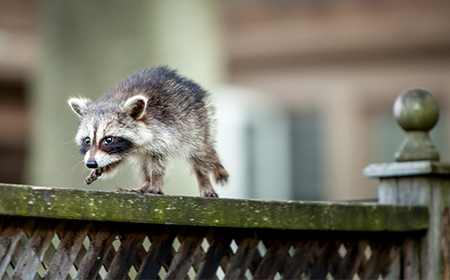 I found a baby raccoon that fell out of a tree. What should I do?

You've found a young raccoon that you think must have fallen from the tree it's under, and you want to help. Has it been abandoned? Will its mother come to get it? What should you do?

Mother raccoons are the best suited to look after their young – they're very dedicated parents! Just because the mother raccoon isn't around, doesn't necessarily mean the young has been abandoned. A mother raccoon often leaves her young behind while she is off searching for food. Or maybe she is in the middle of moving her young to a new den. Young raccoons can get quite active once they reach a certain age, and they don't always stay exactly where their mother leaves them.

If the raccoon is in good shape
If the young raccoon appears to be in good shape – it's warm, not injured and not covered in flies, ants or other insects – chances are the mother raccoon will be back to round up her young. Keep an eye on it though, and if you have any concerns, be sure to contact a local, licensed wildlife rehabilitation centre.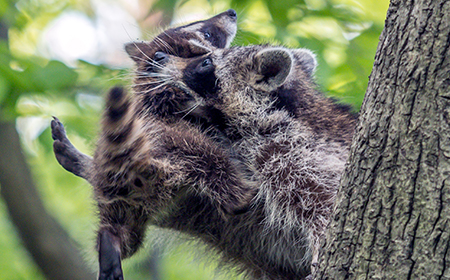 Some wildlife rehabilitators suggest putting the raccoon in a box with a heat source, such as a hot water bottle wrapped in a towel. Be sure to reheat the hot water bottle when it cools. And make sure the box is deep enough that the young raccoon can't get out but not so deep that the mother raccoon can't get in to retrieve her young. Place the box as close as possible to where you found the raccoon — in this case, at the base of the tree. The length of time you should wait for the mother to return depends on the situation, so we suggest seeking advice from a wildlife rehabilitation centre.

If you do decide to put the raccoon in a box, be careful. Exposure to rabies is rare in Canada, but raccoons can carry the disease. Protect yourself by wearing a pair of thick gloves, such as leather gloves, to handle the raccoon.

If the raccoon is in bad shape
If the young raccoon appears cold, injured, weak or infested with insects, or if it has been crying nonstop, chances are something has happened to the mother and it needs help. Although it may be tempting, don't give the young raccoon any food or water. And do not try to raise it yourself. Not only is this illegal, but young raccoons can have parasites and/or diseases, and they require very specialized care.

In these situations, it's always best to call a local, licensed wildlife rehabilitator. They'll assess the situation with you over the phone and determine the best course of action. Wildlife rehabilitators have the knowledge and experience needed to care for these animals, and they can provide them with the best chance of a successful reintroduction into the wild.