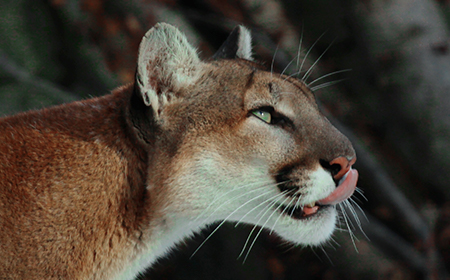 Cougars are secretive animals that tend to avoid direct contact with humans. Having said that, cougars will sometimes appear in urban areas, so it's important to do what we can to avoid enticing them to our properties. Cougars could view a domestic dog or cat as easy prey. The good news is there are steps we can take to protect our cherished pets from a wandering cougar, including:
Be sure to supervise pets when they're outside, especially from dusk to dawn when you should be most wary of cougar activity.
Don't let a fence give you and your dog a false sense of security. Cougars can jump high – about 5.5 metres.
Animal-proof under sheds, porches, decks and other structures to reduce potential hiding places for cougars.
When walking your dog in cougar territory, use a leash that is no more than two metres in length.
It's best to feed your dog inside. If feeding outside is your only option, make sure to clean up once your dog is finished eating. Not only will this help to prevent attracting cougars, it will also help to prevent attracting cougar prey, such as squirrels and raccoons.
Don't leave your dog outside overnight. If you don't have an alternative option, keep your canine in a secure kennel.
If cougars are in your area, you may want to take a break from feeding your feathered friends. Bird feeders can attract many animals, including animals that may attract a cougar, such as squirrels and rodents.
There are many reasons why we shouldn't feed wildlife: we often provide improper food, it can cause animals to lose their natural fear of people and it can help spread disease. Here's another reason: it can attract unwanted animals. Attracting deer to your property can inadvertently attract cougars because deer are a favourite cougar prey.
Make sure your garbage and compost are kept inside or in a secure container outside. It's a good idea to wash them out regularly to reduce odours.
If you have fruit trees, make sure to clean any fallen fruit from the ground so you don't attract any potential cougar prey.
Motion detector security lights may frighten away a wandering cougar.