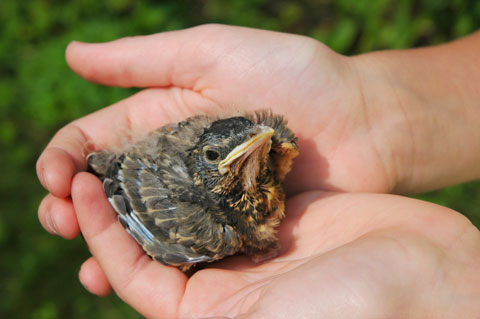 You'll probably notice the bird or animal experiencing quick and shallow breathing, and you may even find that their body parts are placed at funny angles. If you do find an injured animal we recommend contacting a licensed wildlife rehabilitation centre or your local wildlife authority.

Injured animals are stressed and may react aggressively.

Small songbirds may need to be protected from other animals while you seek appropriate help. If you find an injured songbird and want to help it you can start by draping a light cloth over its head and body. This will help to calm the bird and keep it from moving around. Gently pick the bird up, being careful of the injury, and place it in a cardboard box. Carefully remove the cloth from the bird's body, the cloth can be left on the bottom of the box for traction (just make sure the bird is not wrapped in it). Poke air holes in the top section of the box (before you place the bird inside) and secure the lid on so the bird does not escape.

Keep the bird in a quiet dark room and do not attempt to feed the bird or repair the injury on your own. Instead call your local licensed wildlife rehabilitation centre right away.

It is illegal for ordinary citizens to care for wildlife; proper nutrition and care must be given by a licensed wildlife rehabilitator.