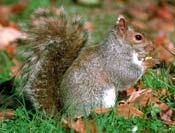 Squirrels are definitely an issue for many people who enjoy bird feeding. They're wily and agile and difficult to outsmart.

The most successful method of thwarting squirrels is to mount the feeder on a pole with a baffle below the feeder. That way, the squirrel gets part way up the pole but can't get around the baffle. Make sure the feeder is far enough away from launching points such as trees or fences, so the squirrels can't jump to the feeder.

You can also add a pizza pan to catch seeds that would otherwise fall to the ground.