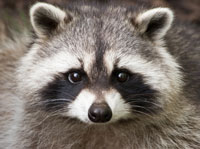 Raccoons have an incredible sense of smell and have no problem picking up the scent of food. They also have incredible dexterity in their hands. This makes garbage containers easy to access.
However, there are a number of things you can do to prevent this from happening:

• Keep your garbage inside a shed or garage until the morning of pick up.
• Purchase a container with lock down lids.
• Use bungee cords to secure the lids.
• Try rinsing garbage containers down with a bit of bleach or tea tree oil diluted in water a few times a week to remove the scent of garbage.
• Use plywood to build a bin to house the containers in, remember to put a lock on it!