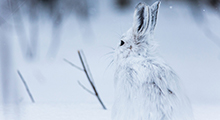 We all need a little help to get through one of Canada's cold, snowy winters. You can help rabbits this winter by building a brush pile to provide shelter from the elements and protection from predators. A brush pile consists of a foundation of branches arranged in a teepee-like structure and covered with brush, such as evergreen boughs. Be sure to place your brush pile away from your house, preferably near woods and along hedgerows and windbreaks. Brush piles not only benefit rabbits but can also be used by other small mammals, birds and even reptiles.

In summer rabbits eat green plants, but in winter they switch to woody plant parts, such as twigs, bark and the buds of trees and shrubs. It is generally recommended not to feed wildlife. Doing so can make animals dependent on handouts, provide them with improper nutrients, attract other less desirable animals, and cause them to lose their natural fear of humans by associating humans with food. Feeding rabbits and other wildlife can also cause an unnatural number of animals to congregate in a single area without enough natural resources to support them all, increasing the spread of diseases.

This winter, gather your family, build a brush pile, and have fun discovering which animals take up residence in their new shelter. Keep an eye out for tracks too! Enjoy wildlife this winter knowing you're helping to keep rabbits warm and safe.