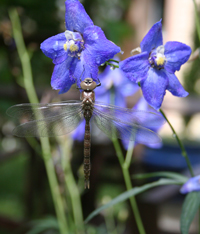 Dragonflies depend on wetlands and streams for their development from eggs to adults. However, these natural waterways are being lost at a rapid rate due to human development and encroachment. You can place a shallow dish of water out for dragonflies – just remember to place some small stones in it for perching. But of course, the best way to encourage dragonflies to come to your backyard is by building a pond that meets their needs.
When creating your pond, incorporate the following dragonfly-friendly features:
• Position your pond so that it is out of direct wind and receives afternoon sun.
• Add emergent vegetation, such as sedges or rushes, important places for laying eggs and also habitat for nymphs that crawl up in order to go through a final transformation into their adult form.
• Add aquatic vegetation to provide nymphs with places to hunt for food and hide from predators.
• Choose native plants wherever possible.
• Add rocks along the perimeter of the pond to give adults a place to warm up.
• Ensure there are shrubs and other tall plants around the pond to provide perching sites for adult dragonflies and damselflies. Don't mow right up to the pond edges.
• Avoid the use of chemical pesticides and fertilizers near your pond because these insects are sensitive to pollution.