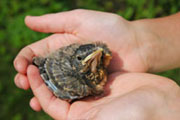 Are potato bugs defoliating your potato plants? Potato bugs can quickly become resistant to many insecticides. Instead of using chemicals try:
Inspecting plants regularly. Shake any adult leaf beetles found on plants onto a drop cloth and transfer these to a container of soapy water.
Attract natural predators such as spined soldier bugs, lady beetles, parasitic wasps, and tachinid flies.
Apply parasitic nematodes to help control the larvae. Follow instructions carefully for storage and application procedures.