By Leigh Edgar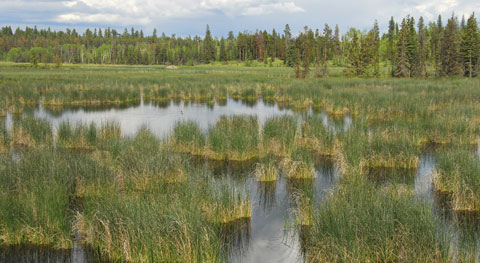 Q. Lately I've been hearing a lot about climate change adaptation. What does this mean, and what is the one critical thing I can do to help wildlife?
A. In order for the global community to meaningfully address climate change, two things need to be done. First, we need to reduce the amount of greenhouse gases that we release into the atmosphere. This is called mitigation and it addresses the causes of climate change. But even if we stopped greenhouse gas pollution today, the effects would continue for decades because of the carbon dioxide and other potent gases that are already in the atmosphere. So, secondly, we need to ensure that wildlife (and people) can cope with the changes that are already happening. This is referred to as adaptation and it addresses the effects of climate change. Wildlife needs our help to adapt now.
Climate change is the greatest threat to wildlife and the natural environment, both nationally and globally. As the voice of Canada's wildlife, the Canadian Wildlife Federation is dedicated to helping wildlife adapt to a changing climate.
Wildlife that has a healthy habitat, connected to other habitats through corridors and protected from urban sprawl and other developments, will fare best in the face of climate change. Habitats that have been destroyed, fragmented or degraded — as in the case of many wetlands — will have to be returned to their natural state as much as possible. Wetlands not only represent important habitat for many species, but they also help regulate water levels by offering protection from both flooding and drought. In addition, many municipalities in Canada rely on surface water for drinking; when water levels are too low, there is a risk of contamination.
Protecting or restoring natural habitats can also help remove carbon dioxide from the atmosphere, which is a key objective in addressing climate change. Because plants absorb carbon dioxide as they grow, reforesting natural areas or restoring wetlands function both as mitigation and adaptation measures for climate change.
The most critical action you can take to help wildlife is signing our petition. In June, CWF asked the federal government to commit funding that will help Canada's wildlife adapt to climate change. If you haven't already, please add your name to the growing list of Canadians who want to ensure that wildlife is not forgotten. Doing so will help channel potentially MILLIONS — yes, millions — of dollars each year towards wildlife and habitats. Never before has your voice been so important to wildlife.
You can also plant trees and other native vegetation. Get involved in your community to restore and protect wetlands from development. Clean up that shoreline! Buy paper from certified forests. Buy local food. Drive less. Consume less. The possibilities are endless.
Addressing climate change often seems overwhelming. There is a lot of work to be done and progress will be made only when governments, industry and the public band together. It's important to recognize that every single action that addresses climate change is significant.
| | |
| --- | --- |
| | Send your wildlife questions to CWF's conservation researchers, Terri-Lee and Leigh! Your questions and answers could be featured in a future issue of Wildlife Update! |