By Sarah Coulber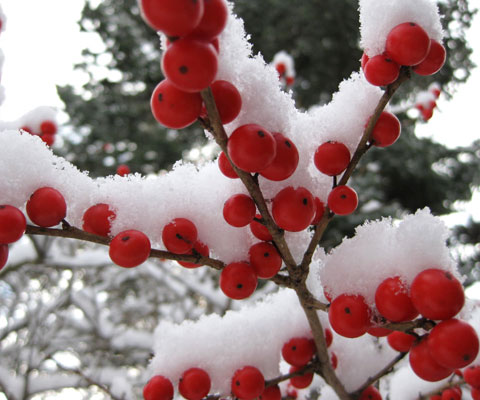 Photo: Roger Thibault and Theo Wouters
Q. I'm looking to spruce up my backyard with festive plants. Any suggestions?
A. What could be more festive than the holly? While most people are familiar with English holly, with its bright red berries and glossy, prickly leaves, Eastern Canada's got its own native holly. Winterberry (Ilex verticillata) is attractive, tolerant of growing conditions and small enough to suit many gardens.

Winterberries naturally grow in, and therefore prefer, wet acidic soil, but they can handle well-drained soil found in most gardens. They grow well in either full sun or partial shade. They'll typically grow three or four metres tall, though there are cultivars with varying heights and widths. They can sucker and spread to form thickets, but if you prune Winterberries they could grow as a single trees or shrubs instead.
Many wild animals depend on these berries to survive Canadian winters, including early spring arrivals that have to wait a few more weeks before warm weather and other food presents itself. Birds such as robins, cardinals, grouse, bluebirds, thrushes, waxwings, white-throated sparrows, northern flickers and grey catbirds feast on winterberries.