By Terri-Lee Reid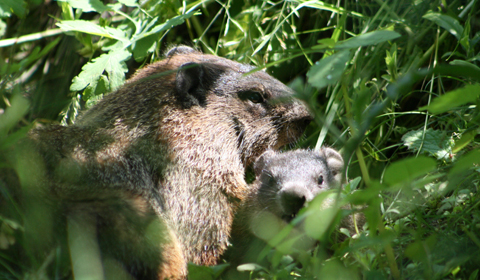 Q. I'm having a problem with groundhogs eating my gardens. I don't mind them eating a few plants but they're taking more than they're leaving behind. I spend a lot of time and money on my plants; how can I deter these groundhogs?
A. This is very common this time of year. However, there are both scent and taste deterrents you can use that will stop groundhogs and rabbits from eating your vegetables and flowers.
Scent Deterrents:
Make a small pouch out of a nylon stocking or an onion bag and place some dog hair in it. Attach this to a small stick and place in and around your garden. The groundhog will think a predator is near.
Sprinkle dry blood meal around target plants to trick the groundhog into thinking a predator is close by.
Taste Deterrents:
Plant garlic, onion and/or marigolds near the plants you would like to protect or sprinkle garlic and onion powder on those plants for a similar effect.
You can also sprinkle talcum powder on or near the plants as groundhogs dislike this taste.
Plant a patch of clover or alfalfa to lure them away from your desired plants.
The more deterrents you use the better your chances of success. While the groundhog may be able to overcome one or two of these deterrents, it will be more reluctant to ignore multiple "warning signs." The fresher these scents and tastes are, the more chances this will work; so remember to refresh these every couple of days.
| | |
| --- | --- |
| | Send your wildlife questions to CWF's conservation researchers, Terri-Lee! Your questions and answers could be featured in a future issue of Wildlife Update! |