By Terri-Lee Reid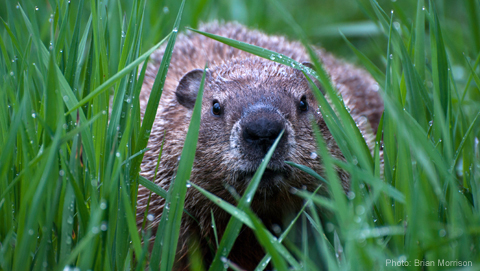 Q. I have a groundhog under my shed. Do you know of any deterrents I can use to make him leave?
A. There are likely to be young groundhogs at this time of year, so be careful. While the birthing season can change slightly from year to year, young are typically born as early as mid-April or as late as the end of June.

Initially, young are entirely dependent on the female. They are born with their eyes closed and are not mobile until they are around eight weeks old. Eight weeks after you first noticed activity you may start to see young groundhogs out during the day. At this point it is safe to start using deterrents. These deterrents won't hurt the groundhogs, but they will make your shed feel less safe and secure.
Place some dog hair in a nylon stocking. If you don't have a dog, a grooming studio should be able to set some aside for you. Attach these nylon-stocking balls of dog hair to a small stick and place them around the burrow. This concentrates a predator scent right at the groundhog's burrow.
Groundhogs view people as potential predators, so place some heavily scented human clothing around the burrow. Socks or gym clothes work well!
Place a few small rocks in the entrance of the burrow. You don't want to block the hole completely as you don't want to trap any young inside. Just block it enough to create a bit of extra work for the groundhog.

Use the deterrents for five days, then place some paper towel in the hole. If the paper towel has not been pushed out after three days, the groundhog(s) have most likely moved on and now you can do the proper animal proofing to ensure no animal gets under your shed again. If there is more than one burrow entrance, place paper towel in each one and monitor.

The proofing involves digging a trench around the shed that is half a metre deep and half a metre wide. Secure 2.5 x 2.5 centimetres of 16-19 gauge welded wire mesh (available at hardware stores) to the bottom of the shed. Place the mesh straight down into the half-metre-deep part of the trench and then bend the mesh at a 90° angle away from the shed to line the half-metre-wide part of the trench.

To ensure no animal has taken up residency under your shed during the animal proofing stage, leave one access point open and fill the access point with paper towel. If the paper towel has not been moved after 24 hours, seal this last point.

As a final check now that the proofing is completed, put a piece of broccoli or apple inside the proofing. If the food is still there the following day, congratulations! You are finished! If, however, the food has been eaten, there's an animal still under your shed, and you'll need to open on part of the proofing to let the animal out.

Do not attempt to do any animal proofing from the first of October to mid- or late March. Groundhogs are hibernators, and you will only trap the groundhog under your shed.
Trapping and relocating the groundhog(s) is not a solution. First of all, it is illegal in some provinces to trap and relocate any wild animal beyond close proximity to the point of capture. Keep in mind your provincial laws and regulations pertaining to trapping and releasing animals. Second, proofing at this time won't solve your problem. Another animal will just move in to the vacant burrow. Plus, you could leave behind dependent young.
| | |
| --- | --- |
| | Send your wildlife questions to CWF's conservation researchers, Terri-Lee! Your questions and answers could be featured in a future issue of Wildlife Update! |