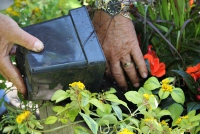 You can make a simple trap for slugs simply by laying a board along the edge of your garden with one corner propped up a bit. The slugs will crawl under the board during the day to find shade. You can then pick up the board and dispose of the slugs.

Another trick is to place hollowed-out orange or grapefruit rinds upside down in the garden for the evening. In the morning, you can pick them up to dispose of slugs and all.

A homemade trap can be made by pouring some beer in a shallow dish (empty tuna fish tins work well). In a shaded spot, place the dish in the soil so the rim is just a bit above ground level. Every few days empty out the trap and refill. Use this method only when necessary as it also drowns beneficial creatures.

To protect your plants from slugs, sprinkle ground-up eggshells in a ring around the plants. Slugs, with their soft bellies, don't like crawling over this rough surface. You can also try a ring of powdered ginger, which they apparently dislike. Don't forget to reapply after it rains.

Laying down mulch when plants are first planted can attract slugs. To avoid this, only lay mulch down when plants are well established or when temperatures are over 21°C.