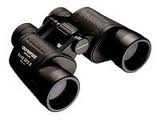 In buying binoculars for birding, there are several things to consider such as power, weight, and quality.
Many really serious birders will opt for spotting scopes. These give great power (the ability to see birds in detail at greater distances) but are heavy and cumbersome and require a good tripod.
With hand-held binoculars, a higher scope will give greater magnification. However, if your hand shakes at all or if it's windy, the movement is much more noticeable. For that reason, we recommend the 8x magnification. If you do your birding while hiking, you might want something that's light and very portable. Someone who will be doing more slow-paced or stationary birding may prefer larger and possibly more powerful binoculars.
In deciding which binoculars to purchase, the first thing you should decide is whether to get regular or compact binoculars. Regular binoculars let in more light, allowing you to see the bird more clearly and to better distinguish colours. If you're going to be doing some serious birding, you may favour regular-size binoculars. Test out various models in the store to find ones that are a bit lighter.