<!-\\Default - single specific -->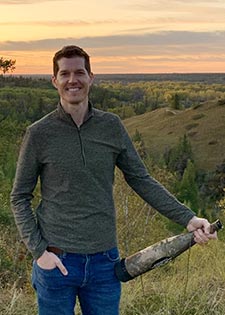 Lewis lives in Winnipeg, Manitoba where he works as a corporate lawyer at the law firm Thompson Dorfman Sweatman LLP. Lewis is a proud Manitoban, but he has also had the pleasure of living in Alberta, Ontario and Quebec, and he is passionate about all areas of Canada and the natural and geographic diversity Canadians are so fortunate to have.
Lewis is passionate about ecological and wildlife conservation, ethical hunting and fishing, mentorship and ensuring that Canadians have access to great outdoor recreation opportunities and healthy ecosystems for years to come.
Lewis has been a member of the Board of Directors of the Manitoba Wildlife Federation since 2018, and he is an active participant with the MWF's shared resource management, governance and social media and marketing committees. Lewis holds a JD (law degree) and MBA from the University of Calgary and an Arts degree from the University of Manitoba.
<!-\\Default - single specific -->