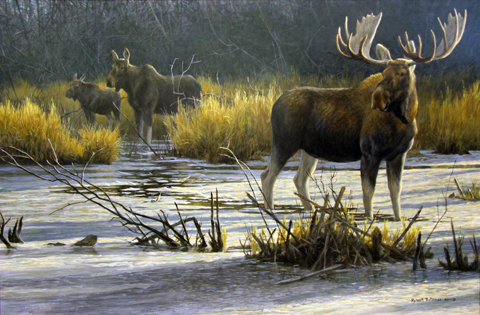 Cette année, à l'occasion du temps des fêtes, donnez plus qu'un simple cadeau à vos proches : donnez un cadeau qui exprime aussi votre gratitude envers la nature.
En 2012, la Fédération canadienne de la faune célébrera son 50e anniversaire. Pour souligner cette étape importante, Robert Bateman, peintre animalier de renom international, a créé The Moose Family (« La famille d'orignaux ») exclusivement pour la FCF. Dimensions : 36 po de largeur, 24 po de hauteur.
Avant l'exposition de The Moose Family en février 2012, la FCF est fière d'offrir à ses membres cette occasion exclusive, d'une durée limitée, de se procurer un exemplaire d'un tirage spécial et limité de cette œuvre de Robert Bateman. Les bénéfices de la vente de The Moose Family iront aux programmes éducatifs de la FCF.
Gravures à tirage limité : 195 $
Reproductions sur toile à tirage limité : 895 $.
La Fédération canadienne de la faune contribue à la protection de l'avenir de notre patrimoine naturel pour que vos enfants et petits-enfants puissent en bénéficier. Lorsque vous achetez un cadeau de la Fédération canadienne de la faune pour quelqu'un, c'est également aux espaces naturels et aux espèces sauvages que vous en faites un.