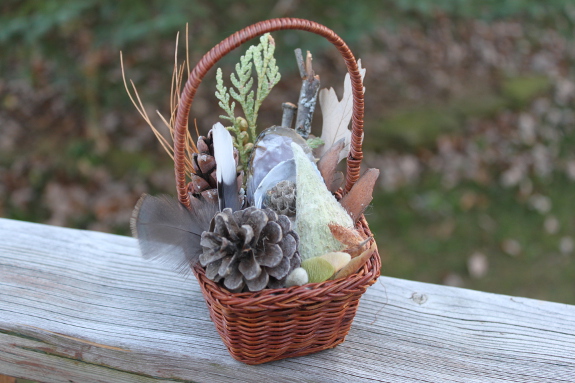 This activity is fun for young children to do with parents, grandparents and other family members watching or joining in. You can refine the challenge as they get older and also tailor the items to your location. Let the children know you are only picking up things that are already fallen on the ground and that are no longer living.
If you are not on your own property, be sure to check for permission to collect items, as some parks and trails prohibit collection of any items. If this is the case, you could always make sure you return your items to nature before you leave the park.
Here are some items you might want to include on your treasure hunt :
A basket
+
Leaves,
Cones,
Sticks,
Bark
Seeds
Feathers
Pine needles
Shells
Milkweed pod
…and whatever else you see there that is suitable.
You can do this several ways. Here are some variations:
See what you can find and then enjoy gathering and observing them together, noticing how they feel or smell or look. You may find all sorts of surprises along the way, like a piece of an old paper wasps nest, fallen catkins (a type of flower on some trees) and more.
Look ahead to see what is possible and then challenge yourselves to find various amounts of certain items, like :
- 10 leaves, 1 feather, 3 shells and 2 cones OR…
- Leaves with different edges, colours and shapes such as wavy edges, teeth, long like a spear, brown and green.