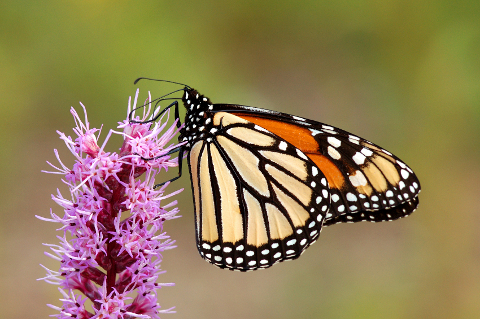 Monarch Interactive Quiz
The monarch is famous for its spectacular migration to overwintering sites in Mexico and California, a trip of up to 4,000 km. Test your knowledge about monarch migrations with this quiz, and if you have fun, try one of our other migration quizzes!
This package addresses the habitat needs of wild travellers and looks at migration as the lifeblood of planet Earth. The cycling of nutrients, the motion of energy, and the movement of genetic information are all part of this flow. But as the planet's arteries harden with asphalt, concrete, and contaminants, the spaces that migratory species need to survive are vanishing. Someday, there may be "no flow to go with," unless we make way.
This kit includes:
a lesson plan designed to teach elementary and secondary students about the value of terrestrial and freshwater habitats to migratory species, the risks that face these wild wanderers, and how we can help to give them safe passage;
three student/teacher resource sheets as well as an educational chart to communicate fundamental concepts addressed in the package; and
a wide range of wildlife habitat enhancement projects that emphasize learning through doing.
The package is closely linked with other WILD Education programs and supplemented by numerous classroom activities and outdoor projects.
Teacher's Tips
Urge students to pursue conservation objectives by becoming knowledgeable about the habitat needs of migratory species and by devising an action plan (including diagrams, estimated costs, and long-term goals).
Before undertaking habitat projects, obtain permission from local landowners or your municipality and consult with a by-laws officer.
At project sites, post weatherproof signs to inform passers-by of your objectives.
Use only plants, trees, and shrubs native to your ecological area.
Ensure the longevity of your project by involving several grades and collaborating with community groups.
Consult with experts, such as conservation officers and wildlife biologists, to give your project a strong foundation.
For safety's sake, always work in small groups and recruit older students, parents, community volunteers, or other helpers.
Take extra care when working near water or in wooded areas.
Bring along a first-aid kit, Epipen, sunscreen, and insect repellent.
Make sure students wear suitable clothing and footwear.