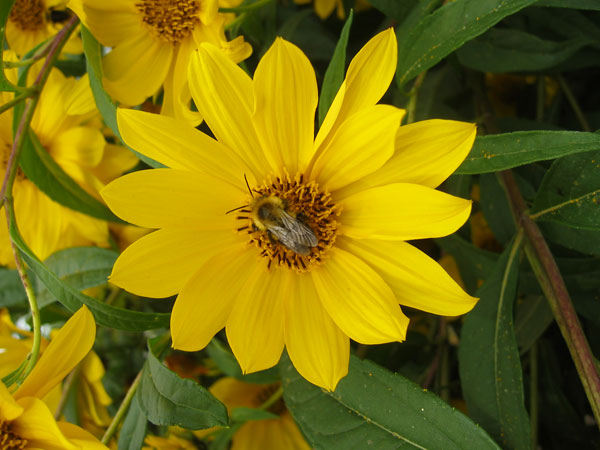 Focus on Flora
Plants At-A-Glance
Browse through a few of our Canadian species in these "At-A-Glance" fact sheets. Each page has basic information on some of our Canadian wildlife, with links to detailed, reputable sources such as Hinterland Who's Who and the Government of Canada. Don't see a species you need? Comments or questions? Let us know!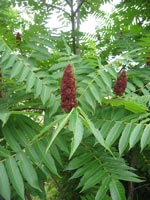 The Staghorn Sumac and Its Canadian Cousin
This large shrub has compound leaves, meaning each leaf is composed of several leaflets. These leaflets hang down, have serrations (teeth) along the edges and turn a radiant red or orange in the fall. The thick branches are hairy and resemble the velvety antlers of a male deer (stag), hence the common name of "staghorn." Clusters of small greenish flowers form an upright cone that yields crimson red berries covered in fine hairs.
Trout Lily
Trout lilies are low-growing plants that form colonies of plants of different ages. The youngsters are flowerless and have only one leaf, while older plants produce two leaves and a single flower. A plant's corm has to reach sufficient depths (10 to 20 centimetres below ground) before it will devote energy to making the additional parts.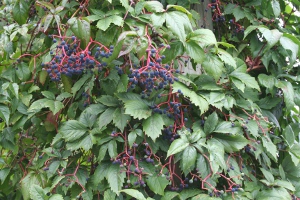 Virginia Creeper
This vine has a woody stem and leaves composed of five leaflets, arranged palmately — like fingers that spread out from the palm of your hand. Its white flowers bloom by the end of the summer producing dark yet bright blue fruit in the early fall. This is in striking contrast to the brilliant red of its fall leaves.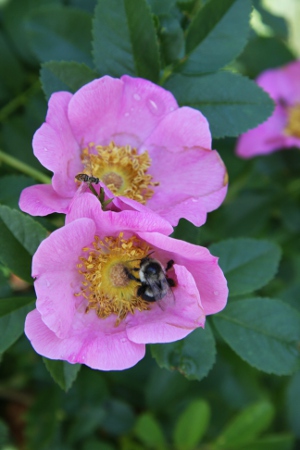 Wild Roses
Wild roses have been used by people for centuries, provide food for pollinators, birds and mammals and are even the provincial flower of Alberta. Discover more about the uses, growing requirements and learn all about some Canadian species of this much-loved plant.
Native roses have pink blossoms, ranging from very pale to deep tones. They typically bloom around the end of June or early July. Their stems usually have thorns and their compound leaves (comprising several small leaflets) are arranged alternately along the stem. They often have a bushy appearance and interesting fall colour.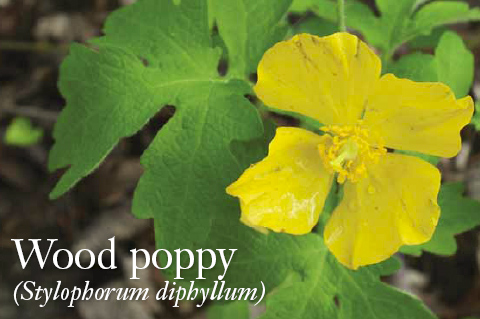 Wood poppy
The wood poppy stands up to 40 centimetres tall. The leaves are mainly basal and up to 15 cm long and 6 cm across with a paler underneath with five to seven deeply divided, irregular lobed or toothed segments. The flower is deep yellow with four petals each 2 to 5 cm long; occur in clusters of up to four, blooming in May and early June. The fruit is a greyish hairy seed pod capsule divided into three or four longitudinal segments. All parts have a bitter yellow sap.