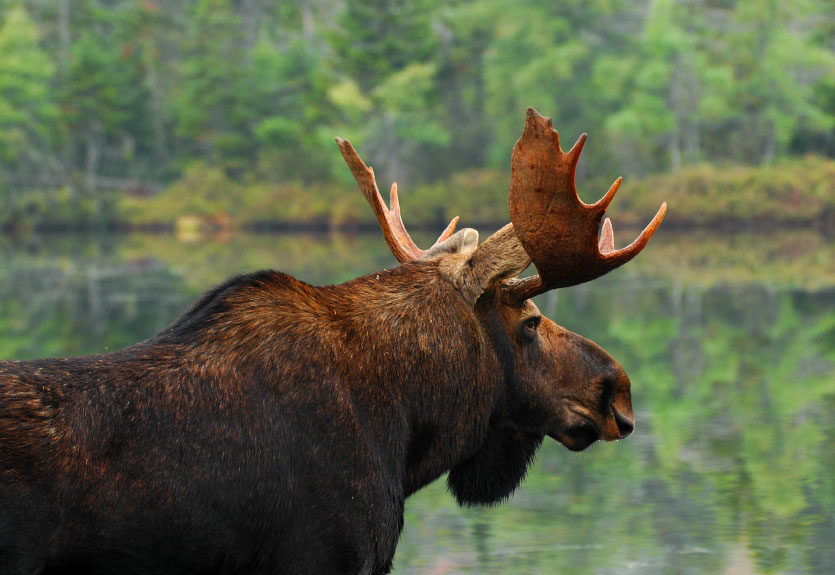 Scientific Name:
Alces alces
Description:
Moose (Alces alces) have long, slim legs that end in cloven, or divided, hooves often more than 18 cm long. The body is deep and massively muscled at the shoulders, giving the animal a humped appearance. It is slab-sided and low-rumped, with rather slender hindquarters and a stubby, well-haired tail. The head is heavy and compact, and the nose extends in an arch terminating in a long, flexible upper lip. The ears resemble a mule's but are not quite as long. Most moose have a pendant of fur-covered skin, about 30 cm long, called a bell, hanging from the throat.
A bull moose in full spread of antlers is the most imposing beast in North America. It stands taller at the shoulder than the largest saddle horse. Big bulls weigh up to 600 kg in most of Canada. The moose is the largest member of the deer family.
Photo Gallery:
(Please note — these photos are unverified images submitted by members of the CWF Photo Club.)

Range:
Moose are found in Canadian forests from the Alaska boundary to the eastern tip of Newfoundland and Labrador.
Habitat:
Typically moose are located on the rocky, wooded hillsides of the western mountain ranges; along the margins of half a million lakes, muskegs, and streams of the great boreal forest; and even on the northern tundra and in the aspen parkland of the prairies.
It is estimated that there are between 500 000 and 1 million moose in Canada.
Diet:
In summer the moose's diet includes leaves, some upland plants, and water plants in great quantity where available. During the winter months, moose live almost solely on twigs and shrubs such as balsam fir, poplar, red osier dogwood, birch, willow, and red and striped maples. A large adult moose eats from 15 to 20 kg, green weight, of twigs each day in winter, and in summer eats from 25 to 30 kg of forage—twigs, leaves, shrubs, upland plants, and water plants. They also dip their heads under the surface of the water to feed on the lilies and other water plants.
Behaviour:
In late summer and autumn, a mature bull carries a large rack of antlers that may extend more than 180 cm between the widest tips but that are more likely to span between 120 and 150 cm. Mature animals usually shed their antlers in November, but some younger bulls may carry theirs through the winter until April.

During the breeding season, or rut, the cow moose entices a mate with a nasal-toned bawling. The bull responds with a coughing bellow. The breeding season, or rut, begins in mid-September. Moose sometimes take more than one mate, but usually a bull stays with a particular cow during most of the breeding season.

At birth a calf moose is a tiny, ungainly copy of its mother. If it is one of twins it may weigh 6 kg; if born singly, between 11 and 16 kg. Calves are helpless at birth. The mother keeps them in seclusion for a couple of days, hidden from their many enemies in a thicket or on an island.
More on this Species:
References:
Hinterland Who's Who
---