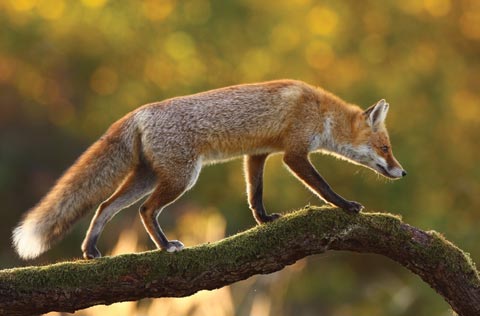 Canada is home to a myriad of fascinating creatures. Browse these pages for information on different mammal species and what they need to survive. Discover the world of mammals - their importance on this planet, their needs, their threats.
Browse through a few of our Canadian species in these "At A Glance" fact sheets. Each page has basic information on some of our Canadian wildlife, with links to detailed, reputable sources such as Hinterland Who's Who and the Government of Canada. Don't see a species you need? Comments or questions? Let us know!
Porcupine
Porcupines have large, chunky bodies and short legs. This results in their slow, waddling manner. With an average weight of 5.5 kg for males and 4.5 kg for females and a total length ranging from 68 to 100 cm, porcupines are Canada's second largest rodents next to beavers. Porcupine's quills are actually modified hairs. They are longest on the back and tail, reaching lengths of 12.5 cm. Quills on the face are much shorter, approximately 1.2 cm long. Despite their prickly appearance, porcupines have soft undercoats with long guard hairs covering the quills. Their undersides, legs, and muzzles have no quills.
Porpoises
Dolphins and porpoises can be differentiated by their body shape. Dolphins are typically more sleek and slender, while porpoises are stout and robust in body shape.
Raccoon
The common raccoon (Procyon lotor) is probably best known for its mischievous-looking black face mask. Raccoons are usually a grizzled grey in colour with a tail marked by five to 10 alternating black and brown rings. Body coloration can vary from albino, (white) to melanistic (black) or brown. An annual moult, or shedding, of the fur begins in the spring and lasts about three months. A raccoon is about 80 centimetres in length and weighs between 6-8 kilograms.
Raccoon
Common in many North American cities, the raccoon will eat practically any type of food — plant or animal. Many people see the raccoon's distinctive facial fur colouring as looking like a burglar's mask, which fits with the common perception of raccoons as pests. Highly social and intelligent animals, raccoons inhabit every Canadian province except the island of Newfoundland.
Red Fox
The red fox is a small, dog-like mammal, with a sharp pointed face and ears, an agile and lightly built body, a coat of lustrous long fur, and a large bushy tail. Male foxes are slightly larger than females. Sizes vary somewhat between individuals and geographic locations
Sea Lions
An easy way to differentiate between seals and sea lions is to look for ears. Sea lions have external ear flaps, while seals do not. Both have ears and good hearing though!
Snowshoe Hare
The snowshoe hare one of our commonest forest mammals, is found only in North America. Well-adapted to its environment, the snowshoe hare travels on large, generously furred hind feet, which allow it to move easily over the snow. The snowshoe hare's ears are smaller than most hares'. The ears contain many veins, which help to regulate body temperature. A seasonal variation in fur colour is another remarkable adaptation: from grey-brown in summer, the fur becomes almost pure white in midwinter.
For more species, visit Hinterland Who's Who, a joint program of the Canadian Wildlife Federation and Environment Canada.