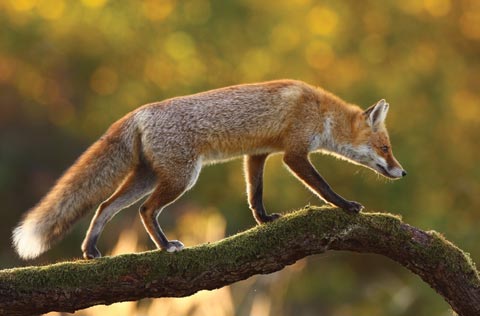 Canada is home to a myriad of fascinating creatures. Browse these pages for information on different mammal species and what they need to survive. Discover the world of mammals - their importance on this planet, their needs, their threats.
Browse through a few of our Canadian species in these "At A Glance" fact sheets. Each page has basic information on some of our Canadian wildlife, with links to detailed, reputable sources such as Hinterland Who's Who and the Government of Canada. Don't see a species you need? Comments or questions? Let us know!
Little Brown Bat
The little brown bat is the most common and widespread of Canada's nineteen species of bats. They are found across Canada to the northern edge of the boreal forest. Little brown bats weigh only seven to fourteen grams and have a wingspan of 22-27 centimetres. This species of bat is the one most closely associated with humans, as it is the most likely to take up residence in buildings.
Marine Animals in Canada
Canada's wildlife is not only within our borders but also on our coasts and oceans. Learn more about the species that live in Canada's three oceans.
Moose
Moose (Alces alces) have long, slim legs that end in cloven, or divided, hooves often more than 18 cm long. The body is deep and massively muscled at the shoulders, giving the animal a humped appearance. It is slab-sided and low-rumped, with rather slender hindquarters and a stubby, well-haired tail. The head is heavy and compact, and the nose extends in an arch terminating in a long, flexible upper lip. The ears resemble a mule's but are not quite as long. Most moose have a pendant of fur-covered skin, about 30 cm long, called a bell, hanging from the throat. A bull moose in full spread of antlers is the most imposing beast in North America. It stands taller at the shoulder than the largest saddle horse. Big bulls weigh up to 600 kg in most of Canada. The moose is the largest member of the deer family.
North American Bison
The North American bison, or buffalo, is the largest land animal in North America. A bull can stand 2 m high and weigh more than a tonne. Female bison are smaller than males. A bison has curved black horns on the sides of its head, a high hump at the shoulders, a short tail with a tassel, and dense shaggy dark brown and black hair around the head and neck. Another distinctive feature of the buffalo is its beard.
North Atlantic Right Whale
The North Atlantic right whale (Eubalaena glacialis) has a large head that takes up nearly a quarter of the length of its body. Right whales, which can grow up to 18 metres in length can be recognized by:
their wide tail flukes and narrow tail stock, large flippers and lack of a dorsal fin;
their skin is black and some individuals have white patches on the throat or belly;
rough white patches of skin called callosities on their head, chin, and sometimes on the edge of their lower lips. Each whale's callosity pattern is distinctive, enabling scientists to recognize individual whales.
Northern Flying Squirrel
Northern flying squirrels are about 30 cm in length and have broad flattened tails. The fur on their back is a cinnamon brown and they have white bellies. The large eyes of flying squirrels facilitate effective night vision. This is necessary because, unlike their more commonly seen cousins, these squirrels hide away during the day and become active about an hour after sunset.
Orca Whale
The orca (Orcinus orca), often called the killer whale, is actually the largest member of the dolphin family. Orcas are highly social animals that live in stable, family-related groups called pods. Their distinctive black-and-white colouring and large dorsal fin make them easy to spot and identify. As a result of increased water pollution, especially from toxic chemicals, they are listed as threatened under the Species at Risk Act. The average weight of an Ocra whale is 4 to 5 tonnes and measures between 7 to 9 metres. The lifespan for a male in the wild is 17 years and for females it's 29 years.
Pinnipeds
Pinnipeds temporarily haul out on land to rest and mothers will briefly leave their pups on land while hunting in the ocean. Sometimes seals will even be seen in freshwater lakes and rivers. It is important to note that not all seals or sea lions are in distress when on land. Make sure it is a marine animal emergency situation before calling the appropriate hot line to report an incident.
Pinnipeds
Pinnipeds are a group of marine mammals, mostly seals but also sea lions and walruses, which spend their lives in the ocean and on land. These animals normally spend time on land, but are fin-footed allowing them to swim efficiently in water.
Polar Bear
Polar bears are one of the most well-known and recognizable Canadian species. These bears are Canada's largest land carnivore, with adult males weighing up to 800 kilograms (1763 pounds).
For more species, visit Hinterland Who's Who, a joint program of the Canadian Wildlife Federation and Environment Canada.