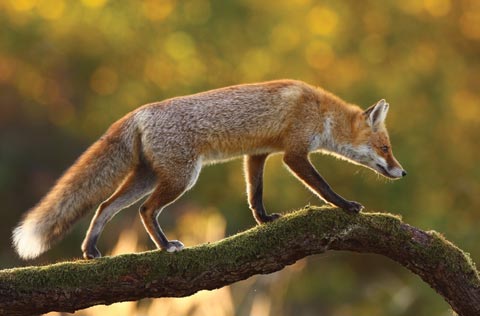 Canada is home to a myriad of fascinating creatures. Browse these pages for information on different mammal species and what they need to survive. Discover the world of mammals - their importance on this planet, their needs, their threats.
Browse through a few of our Canadian species in these "At A Glance" fact sheets. Each page has basic information on some of our Canadian wildlife, with links to detailed, reputable sources such as Hinterland Who's Who and the Government of Canada. Don't see a species you need? Comments or questions? Let us know!
Canada Lynx
This secretive, hard-to-spot resident of Canada's boreal forest is likely a descendant of the Eurasian lynx and resembles a very large domestic cat. It has a short tail, long legs, large feet and prominent ear tufts. Its winter coat is light grey and slightly mottled with long guard hairs; the under-fur is brownish, and the ear tufts and tip of the tail are black. The summer coat is much shorter than the winter coat and has a definite reddish-brown cast. The average weight of a lynx is 8 to 14 kilograms, measuring around 90 centimetres in length. The average lifespan is 15 to 20 years.
Caribou
The caribou is well adapted to its environment. Its short, stocky body conserves heat, its long legs help it move through snow, and its long dense winter coat provides effective insulation, even during periods of low temperature and high wind. The muzzle and tail are short and well haired.
Chipmunk
Chipmunks are easily recognized by the light and dark stripes on the back and head. They can be confused with some of the striped ground squirrels, but chipmunks are smaller, and have facial markings and five dark stripes on their backs, including a distinct, central line that extends forward onto the head. Ground squirrels do not have markings on the head.
Eastern Grey Squirrel
Eastern grey squirrels commonly occur in two colour phases, grey and black, which leads people to think—mistakenly—that there are two different species. The most notable physical feature of the eastern grey squirrel is its large bushy tail. The tail has many important functions. It acts as a rudder when the animal jumps from high places, as a warm covering during the winter, as a signal to other eastern grey squirrels indicating an individual's mood.
Ermine
Ermines have features common to the weasel family like a long body, short legs, a long neck and a triangular-shaped head. They are a small weasel; males average 27 cm and females measure up at 24 cm with their tail adding another 7.5 cm to their length. Males are larger than females and weigh on average 80 g while females weigh an average of 54 g. Ermines change the colour of their coats seasonally. In the summer, their backs are brown, their undersides are white and their tails sport a black tip. In the winter, they are completely white except for their black tipped tail.
Grey Wolf
Wolves of northern North America and Eurasia vary in colour. A single pack may contain animals that are black, shades of grey-brown, and white. Wolves in the heavily forested areas of eastern North America are more uniform in colour. They are often a grizzled grey-brown, similar to some German shepherd dogs. Male wolves can weigh between 20 to 70 kilograms while the female weighs in at 18 to 55 kilograms. In the wild their lifespan can be from 8 to 16 years.
Groundhog
The groundhog is normally brown in colour but can be completely black or completely white. It is one of Canada's largest true hibernators. The groundhog is the major hole-digging mammal over much of eastern North America, and in some places in the west, providing all sorts of animals with shelter. The groundhog it spends much of its time eating and sunning when not hibernating or caring for young.
Killer Whale
Without a doubt, the killer whale is one of the most distinctive marine mammals in the world. Its size — seven to nine metres long and between four and five tones in weight — and its striking black-and-white colouring, and long, rounded body make it unmistakable.
For more species, visit Hinterland Who's Who, a joint program of the Canadian Wildlife Federation and Environment Canada.