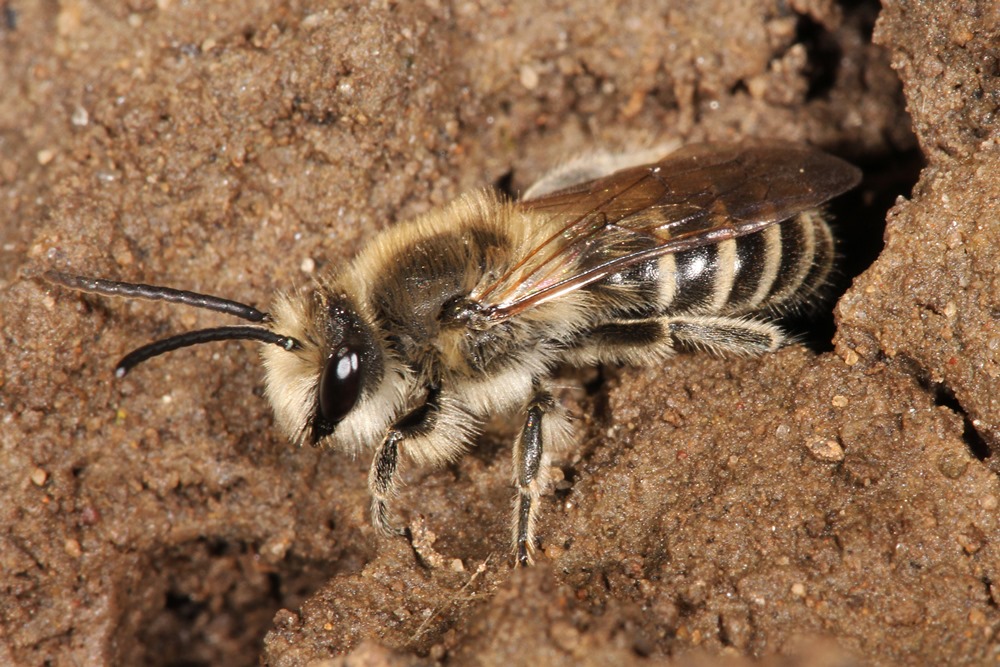 Scientific Name:
Colletes inaequalis
Classification:
Kingdom: Animalia Phylum: Arthropoda Class: Insecta Order: Hymenoptera Family: Colletidae Genus: Colletes
Other Common Names:
Plasterer bee, cellophane bee
Description:
Approximately 9–13 mm. All bees in this family (Colletidae) have a two-lobe tipped tongue. They have a slender build and are small to medium in size with pale stripes of hair on the abdomen. Their face is heart shaped; their eyes slant downward as the head tapers toward the mouth. They carry pollen on the top part of their hind legs and thorax (mid-section).
Similar Species:
Bees in the
Colletes
genus may be confused with those in genus
Andrena, Halictus
or
Lasioglossum
, but
Colletes
have a defined heart-shaped face due to a very tapered head.
Photo Gallery: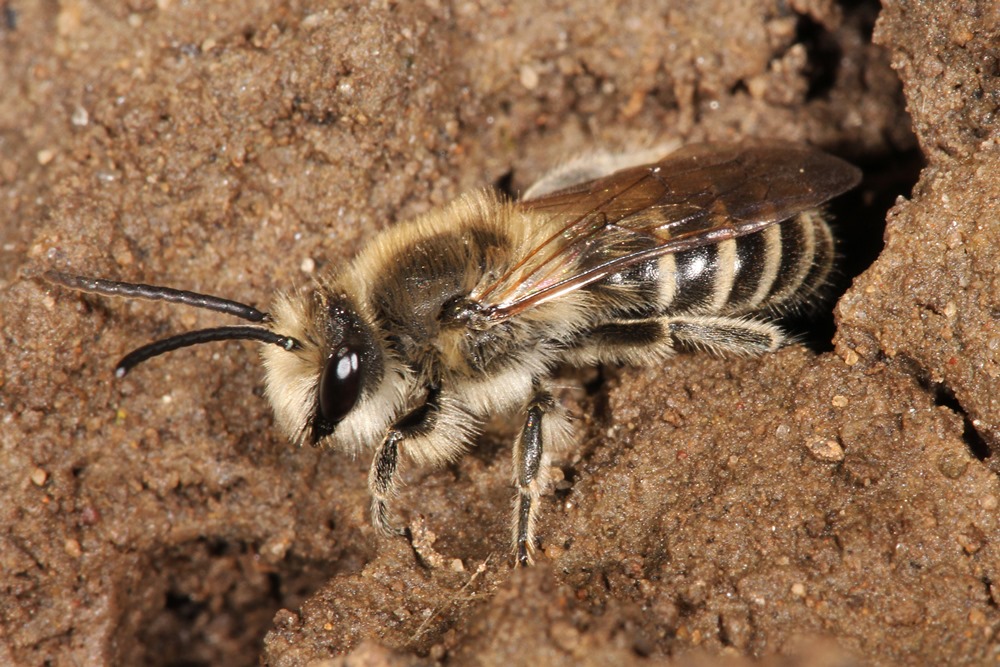 Photo by: Jon Rapp
News:
Tweets about "pollinators"
Range:
Unconfirmed, but the presence of
Colletes inaequalis
have been reported from Saskatchewan to Nova Scotia.
Habitat:
Polyester bees can occur where there is a supply of nectar- and pollen-rich blooms and suitable nesting habitat. These bees are solitary ground nesters. They may even nest in damp soils or periodically flooded areas because of the waterproof lining they create for their nests.
Diet:
Pollen and nectar.
Behaviour:
These bees are among the earliest to emerge in spring. Bees in the Colletidae family line their nests with a cellophane-like secretion using their unique two-lobe tipped tongue. This secretion helps protect the developing bees from fungal disease and acts as a waterproof barrier. It is so effective that ground-nesting species can occupy areas prone to flooding. These bees tend to nest in large groups, though they are solitary nesters. Colletes take a different approach to stocking food for their developing young. While most bees stock cells with a pollen ball and lay the egg on top; Colletes leave liquid food in each cell and suspend the egg on the cell wall above the food.
Primary Ecosystem Roles:
Status:
(verified February 11, 2014)
COSEWIC: Not assessed
Nature Serve: N-rank: NNR (Unranked), G-rank: GNR (Not Yet Ranked)
NOTE: While these assessment organizations do their best to stay current, the process of assigning or updating a species status may take a while to reflect real life changes.
Threats and What You Can Do:
The two main threats to most pollinators include habitat loss and pesticide use. Although Colletes inaequalis is a fairly common species and not currently at risk, you can leave bare patches of earth in your garden or yard to help provide plasterer bees with nesting spots. You can also avoid using synthetic pesticides in on your garden and lawn and plant a variety of nectar- and pollen-rich native plants.
References:
Insects: Their Natural History and Diversity. Marshall, Stephen A., 2006. Firefly Books Ltd. Richmond Hill, Ontario.
The Xerces Society Guide Attracting Native Pollinators: Protecting North America's Bees and Butterflies. Xerces Society Guide, 2011. Storey Publishing. North Adams, Massachusetts
http://www.discoverlife.org/mp/20q?search=Colletes+inaequalis

http://eol.org/pages/1065400/overview

http://blogs.cornell.edu/turf/2012/03/23/help-with-ground-nesting-bees/

http://beeinformed.org/2011/04/colletes-inaequalis-congregation-area/
---