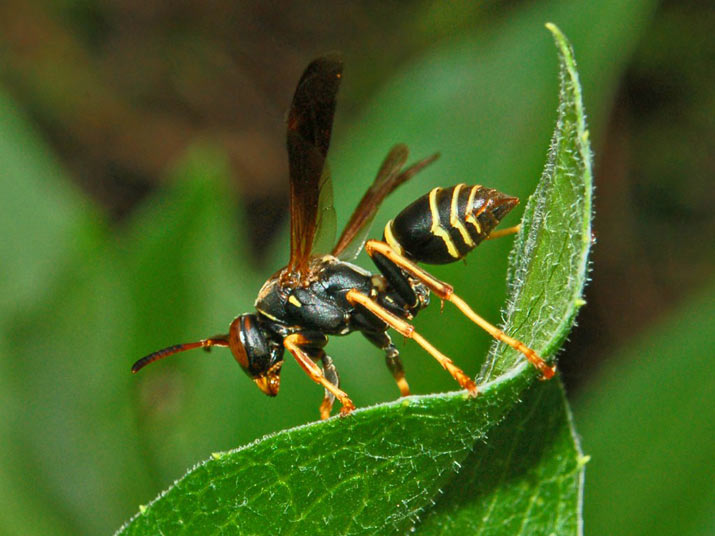 Scientific Name:
Polistes fuscatus
Classification:
Kingdom: Animalia Phylum: Arthropoda Class: Insecta Order: Hymenoptera Family: Vespidae Genus: Polistes
Description:
Approximately 17–22 mm. Paper wasps are fairly large. They have long bodies with a broad thorax and abdomen and a tiny, constricted waist. When at rest, their wings fold lengthwise, parallel to the body. The head and thorax are black to brown in colour, while the abdomen is dark with yellow stripes, sometimes with reddish-brown to yellow colouration between the stripes.
News:
Tweets about "pollinators"
Range:
Found across Canada except in the Territories and Newfoundland. Presence in British Columbia is uncertain.
Habitat:
These insects often build their nests in trees, under porches, along eaves or roof tops.
Diet:
Adults mainly drink nectar from flowers like asters and goldenrods. Developing larvae eat other insects or bits of scavenged meat collected by their mothers.
Behaviour:
Paper wasps belonging to the Polistes genus typically make hanging nests. Their nests are small and open-faced, so you can see the waffled structure of the cells on the exterior.
They are social vespid (family Vespidae) wasps, meaning these wasps have a system where they cooperate to build the nest, care for young and defend the nest.
Primary Ecosystem Roles:
Predatory larvae (help to control insect populations)
Pollinator
Status:
(verified February 14 2014)
COSEWIC: Not assessed
Nature Serve: National rank: N5 (Secure), Global rank: G5 (Secure)
NOTE: While these assessment organizations do their best to stay current, the process of assigning or updating a species status may take a while to reflect real life changes.
Threats and What You Can Do:
The two main threats to most pollinators include habitat loss and pesticide use. Although this is a fairly common species and it is not currently at risk, you can plant native flowers, such as goldenrod and aster in your garden to help support paper wasps and other pollinators. Try not to disturb areas with wasp nests, or risk being the target of a defensive hive.
References:
Bugs of Alberta. Acorn, John; Sheldon, Ian, 2000. Lone Pine Publishing. Edmonton, Alberta.


How to know the Insects. Third Edition. Bland, Roger G.; Jaques, H.E., 1978. WCB/McGraw-Hill. United Sattes of America.
Insects: Their Natural History and Diversity. Marshall, Stephen A., 2006. Firefly Books Ltd. Richmond Hill, Ontario.
The Xerces Society Guide Attracting Native Pollinators: Protecting North America's Bees and Butterflies. Xerces Society Guide, 2011. Storey Publishing. North Adams, Massachusetts
http://www.discoverlife.org/20/q?search=Polistes+fuscatus

http://www.biology.ualberta.ca/bsc/ejournal/bmc_05/77p_fuscatus.html

http://eol.org/pages/240113/overview
---