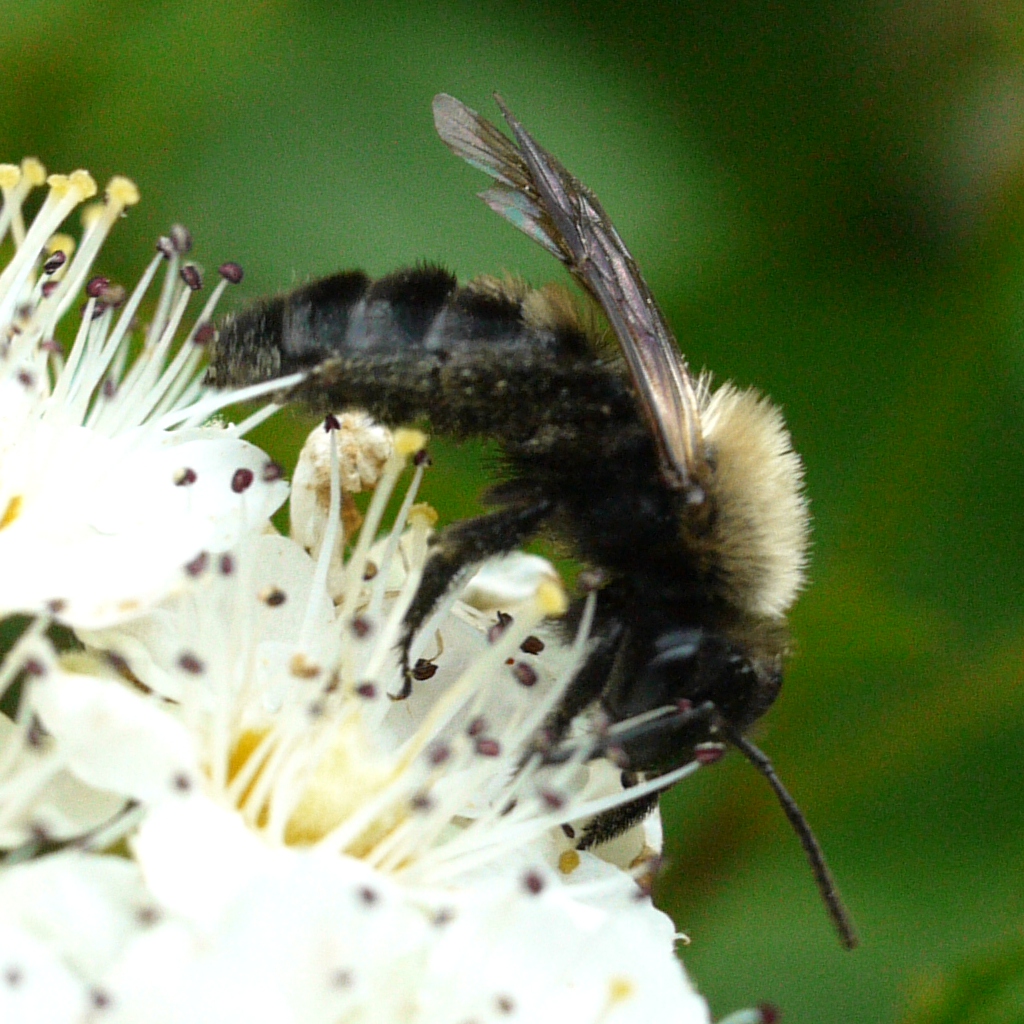 Scientific Name:
Andrena milwaukeensis
Classification:
Kingdom: Animalia Phylum: Arthropoda Class: Insecta Order: Hymenoptera Family: Andrenidae Genus: Andrena
Description:
9–13 mm long. These bees are on the small side. These fairly hairy bees vary in colour but have pale banding on the abdomen. Females have large, fuzzy facial structures that look like eyebrows and big pollen-collecting hairs (scopae) on the top half of their hind legs—it looks as though they carry the pollen in their armpits.
Similar Species:
May be confused with genus
Colletes
and
Halictus
, but
Andrena
does not have stripes on the abdomen.
Photo Gallery:
| | |
| --- | --- |
| Photo by: Ilona Loser | Photo by: Harvey Schmidt |
News:
Tweets about "pollinators"
Range:
Unconfirmed, but the presence of
Andrena milwaukeensis
has been reported across Canada, including the North, excluding Newfoundland.
Habitat:
Mining bees can occur where there is a supply of nectar- and pollen-rich blooms and suitable nesting habitat for these ground-nesting bees.
Diet:
Pollen and nectar. Early blooming plants are especially important for this species.
Behaviour:
These bees are among the first to become active in spring and look for early blooming plants. These bees tend to nest in sandy soils with nearby shrubbery. They nest in the ground in large aggregations but are solitary nesters, meaning they create a personal nest and care for developing young on their own. Females line the cells with a secretion and pat it down to create a very smooth and stable cell wall. Don't worry if you notice these bees nesting in your lawn; their stinger isn't strong enough to puncture human skin.
Primary Ecosystem Roles:
Status:
(verified February 11, 2014)
COSEWIC: Not assessed
Nature Serve: N-rank: NNR (Unranked), G-rank: GNR (Not Yet Ranked)
NOTE: While these assessment organizations do their best to stay current, the process of assigning or updating a species status may take a while to reflect real life changes.
Threats and What You Can Do:
The two main threats to most pollinators include habitat loss and pesticide use. Although
Andrena milwaukeensis
is a fairly common species and not currently at risk, you can plant native plants like willow trees and other early bloomers in your garden to help support mining bees and other pollinators. You can also avoid using synthetic pesticides in on your garden and lawn.
Notes:
The
Andrena
genus is one of the biggest and most diverse, with approximately 400 species in North America and 1500 species worldwide.
More on this Species:
References:
Insects: Their Natural History and Diversity. Marshall, Stephen A., 2006. Firefly Books Ltd. Richmond Hill, Ontario.
The Xerces Society Guide Attracting Native Pollinators: Protecting North America's Bees and Butterflies. Xerces Society Guide, 2011. Storey Publishing. North Adams, Massachusetts
http://www.discoverlife.org/20/q?search=Andrena+milwaukeensis

http://eol.org/pages/1047099/overview

http://bugguide.net/node/view/81266/bgimage
---