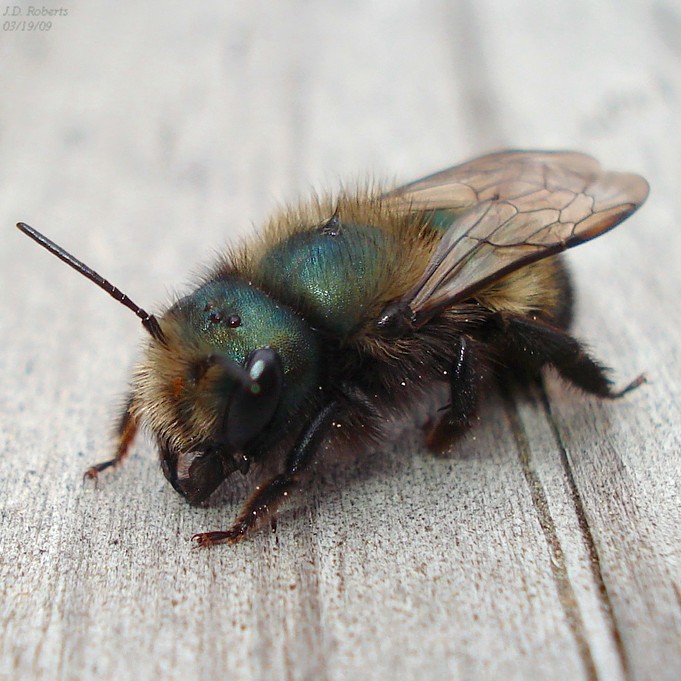 Scientific Name:
Osmia lignaria
Classification:
Kingdom: Animalia Phylum: Arthropoda Class: Insecta Order: Hymenoptera Family: Megachilidae Genus: Osmia
Other Common Names:
blue orchard bee, orchard mason bee
Description:
Approximately 9–11 mm long. These are stocky bees with a round, broad head, robust jaws and round, wide abdomens. Their bodies are metalllic dark blue with long whitish hairs, while their eyes, legs and antennae are black. Females carry pollen on specialized hairs (scopae) beneath the abdomen—a common feature among bees in the Megachilidae family.
Similar Species:
Shiny green bees in this genus
(Osmia)
may be mistaken for some bees in the
Agapostemon
or
Augochlora
genus (both in the sweat bee family
(Halictidae)
. Blue to purple metallic
Osmia
bees could be mistaken for bees in the
Andrenidae
family. However,
Osmia
bees are generally larger and carry pollen on the underside of their abdomens instead of their legs, a feature shared among the
Megachilidae
(leaf cutter sand mason bee) family.
Photo Gallery: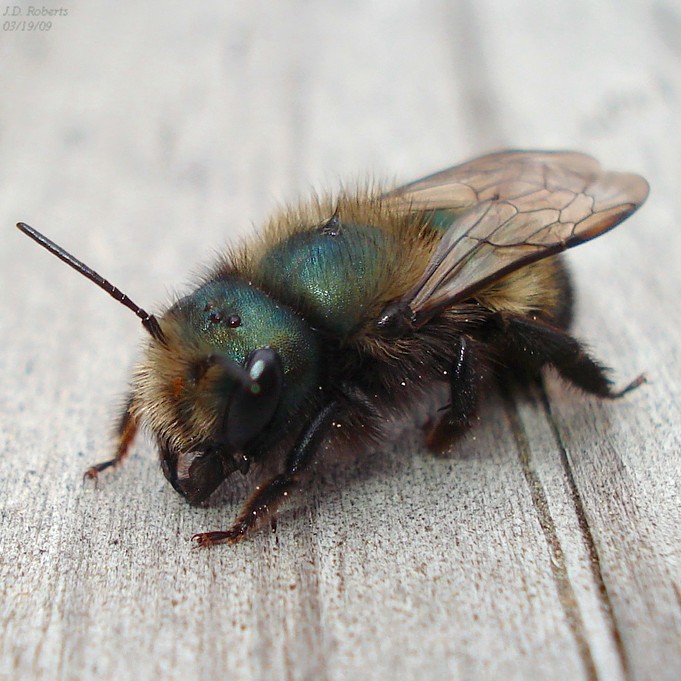 Photo by: Jason D. Roberts
News:
Tweets about "pollinators"
Range:
Found across Canada, from British Columbia to Quebec.
Habitat:
Blue orchard bees occur where there is a supply of nectar- and pollen-rich blooms and suitable nesting habitat. These cavity-nesting bees generally nest above ground. They build nests in long, narrow spaces like hollowed plant stems, tunnels excavated by beetles in logs or snags and in spaces between rocks. These nesting preferences are reflected in man-made nest nesting blocks, made by drilling tunnels in a block of wood or gathering a bunch of hollow bamboo sticks. These artificial nesting sites are often used to encourage mason bees to nest, often on farms or fruit tree orchards. Setting up these artificial nesting sites is also a popular backyard project among pollinator enthusiasts.
Diet:
Nectar and pollen. These bees are important fruit tree pollinators.
Behaviour:
These are solitary nesting bees that are especially active in early spring. They nest alone in long, narrow spaces like hollow plant stems. They lay several eggs, each in its own chamber, with walls made from mud or chewed leaves.
Primary Ecosystem Roles:
Status:
(verified February 6, 2014)
COSEWIC: Not assessed
Nature Serve: N-rank: NNR (Unranked), G-rank: G5 (Secure)
NOTE: While these assessment organizations do their best to stay current, the process of assigning or updating a species status may take a while to reflect real life changes.
Threats and What You Can Do:
The two main threats to most pollinators include habitat loss and pesticide use. Although the blue orchard bee is a fairly common species and not currently at risk, you can plant native plants, such as cherry, plum and apple trees in your garden to help support mason bees and other pollinators. You can also avoid using synthetic pesticides in on your garden and lawn. For a special project, you could create an artificial nesting block, made by drilling tunnels in a block of wood or gathering a bunch of hollow bamboo sticks.
References:
How to know the Insects. Third Edition. Bland, Roger G.; Jaques, H.E., 1978. WCB/McGraw-Hill. United Sattes of America.
Insects: Their Natural History and Diversity. Marshall, Stephen A., 2006. Firefly Books Ltd. Richmond Hill, Ontario.
The Xerces Society Guide Attracting Native Pollinators: Protecting North America's Bees and Butterflies. Xerces Society Guide, 2011. Storey Publishing. North Adams, Massachusetts
http://www.discoverlife.org/mp/20q?search=Osmia+lignaria

http://eol.org/pages/2753442/overview

http://bugguide.net/node/view/173456/bgimage

http://www.fs.fed.us/wildflowers/pollinators/pollinator-of-the-month/mason_bees.shtml

http://entnemdept.ufl.edu/creatures/MISC/BEES/blue_orchard_bee.htm

http://www.agf.gov.bc.ca/apiculture/factsheets/506_osmia.htm
How to create the ultimate bee garden
---