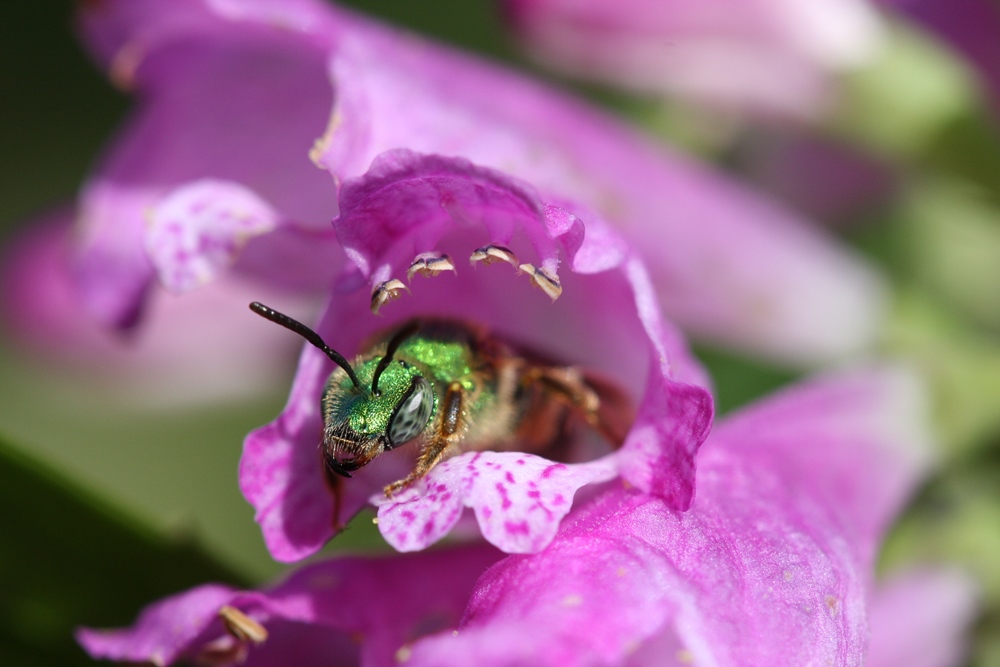 Scientific Name:
Agapostemon texanus
Classification:
Kingdom: Animalia Phylum: Arthropoda Class: Insecta Order: Hymenoptera Family: Halictidae Genus: Agapostemon
Other Common Names:
halictid bee
Description:
Approximately 9–11 mm long. These bees can be easily spotted because of their bright metallic green or blue colouration. Females are bright green all over, whereas males have a bright coloured head and thorax with a yellow-and-black striped abdomen. Females have hair-like structures, called scopae, to transport pollen on their back legs.
Similar Species:
Genus
Augochlora
and
Osmia
may be confused for the
Agapostemon
genus because all have metallic species within the genus. However the rear edge of the thorax is flat and curved with a ridge on
Agapostemon
, while
Augochlora
is rounded and ridgeless.
Osmia
is broader all over and carries pollen beneath the abdomen instead of the legs.
Photo Gallery: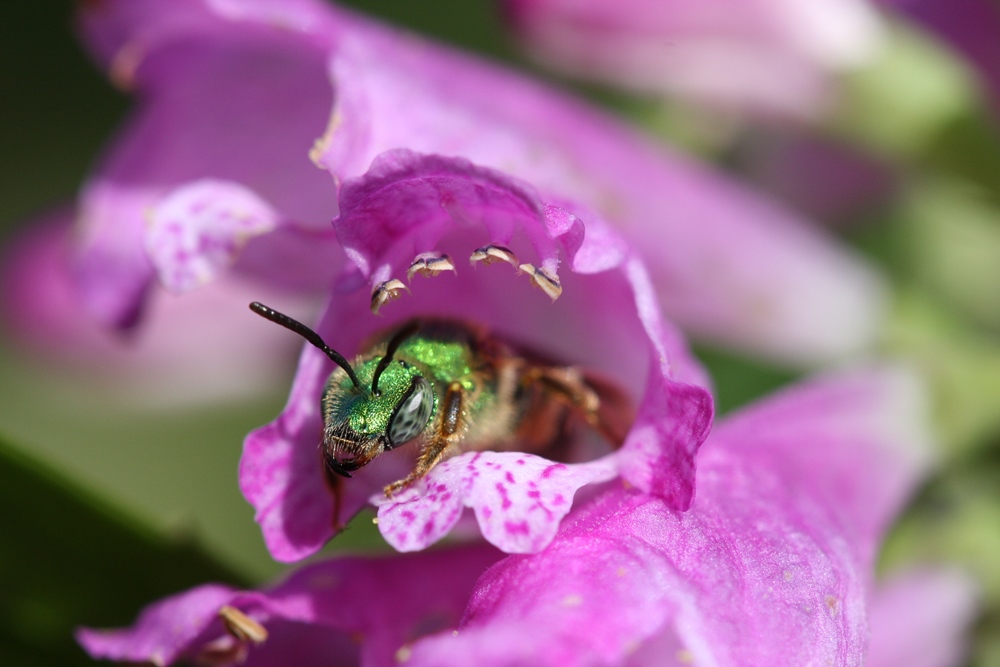 Photo by: CWF
News:
Tweets about "pollinators"
Range:
Found across southern Canada.
Habitat:
Green sweat bees can occur where there is a supply of nectar- and pollen-rich blooms and suitable nesting habitat. This is a ground-nesting bee that nests in bare soil where the ground is either flat or sloping.
Diet:
These bees gather pollen and nectar for themselves and their developing young from many different flowers, which their short tongues can easily access.
Behaviour:
These are solitary bees, meaning they nest alone. They dig burrows deep in the ground to lay their eggs. Sometimes these nests are communal, where a burrow entrance is shared by group of females. Each female branches out from the entrance to create her own tunnel where she nests alone and takes care of her own young. The responsibility of guarding the main entrance is shared among the group.
Primary Ecosystem Roles:
Status:
(verified February 13, 2014)
COSEWIC: Not assessed
Nature Serve: National rank: not available, Global rank: GNR (Not Yet Ranked)
NOTE: While these assessment organizations do their best to stay current, the process of assigning or updating a species status may take a while to reflect real life changes.
Threats and What You Can Do:
The two main threats to most pollinators are habitat loss and pesticide use. Although this species is not currently at risk, you can plant native plants such as wild roses sunflowers and asters in your garden to help support green sweat bees and other pollinators.
References:
How to know the Insects. Third Edition. Bland, Roger G.; Jaques, H.E., 1978. WCB/McGraw-Hill. United Sattes of America.
Insects: Their Natural History and Diversity. Marshall, Stephen A., 2006. Firefly Books Ltd. Richmond Hill, Ontario.
The Xerces Society Guide Attracting Native Pollinators: Protecting North America's Bees and Butterflies. Xerces Society Guide, 2011. Storey Publishing. North Adams, Massachusetts
http://www.discoverlife.org/mp/20q?search=Agapostemon+texanus

http://eol.org/pages/23266741/overview

http://bugguide.net/node/view/152767/bgimage
---