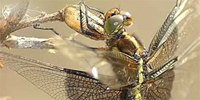 Description:
Dragonflies and Damselflies: Insects from a different time
Photo Gallery:
(Please note — these photos are unverified images submitted by members of the CWF Photo Club.)

---
Photo: Art McLeod
By Terri-Lee Reid
With thousands of different insects in the world, there are few that amaze us as much as dragonflies and damselflies. As they zip along our properties it is hard to believe they have basically remained the same for about 300 million years.
| | |
| --- | --- |
| | |
| Photo: Art McLeod | |
At first glance dragonflies and damselflies appear quite similar. Both are long and narrow insects that are beautifully coloured in iridescent greens, blues, yellows and reds. They have small antennae, large eyes that supply them with almost 360° vision, and six legs located near their head that are used more for perching, egg laying and hunting than for walking. Two pairs of wings comprised of small criss-crossing veins add strength and durability.
But a closer look reveals differing physical characteristics between these two suborders. Adult damselflies are small and slender with large separated eyes. Their two pairs of wings are of equal size, causing them to be weaker fliers than dragonflies. And they hold their wings over their back when at rest. In contrast, adult dragonflies are generally larger, their eyes can be either separated or placed close together, their hind wings are wider than their front wings (allowing them to be strong fliers) and, when at rest, they hold their wings outright.
There are also differences between the two nymph phases. Damselfly nymphs are long and slender and have three leaflike gills at the end of their body. They are typically found among the vegetation of freshwater systems. In contrast, dragonfly nymphs are shorter, stockier, lack external gills and are commonly found in the mud substrate of freshwater.
In general, both dragonflies and damselflies prefer well-vegetated lakes, streams and ponds. It is here that they find an abundance of prey including flies, mosquitoes, moths and midges. Emergent and shoreline plants provide areas where they can rest and take cover from predators. Even with their acute vision and agile flight, both dragonflies and damselflies fall prey to birds, fish, spiders, frogs, lizards and even other dragonflies.
After breeding, adults live only for a few weeks to a few months. The female lays her eggs either directly in the water or in stalks of vegetation. The eggs eventually hatch into nymphs, which are completely aquatic. Like the adults, the nymphs of both dragonflies and damselflies are predaceous; they feed on aquatic insects, tadpoles and even small fish. After several moults, they swim towards the water's edge and find emergent vegetation that they climb in order to undergo one last moult before transforming into adults. Nymphs may go through as many as 12 moults before becoming adults.
| | |
| --- | --- |
| | |
| Photo: Art McLeod | |
With their beautiful colours and darting flight patterns, dragonflies and damselflies do more than simply entertain us. They occupy an important part of the food chain as both predator and prey. While they are harmless to people, they help regulate insect populations, such as mosquitoes and black flies. As nymphs, they provide food for water bugs, beetles and fish, whereas adults are prey for fish, frogs, birds, lizards and spiders. Sensitive to pollution, they are also indicators of healthy ecosystems.
The best way to attract these glimmering jewels to your backyard is by adding a pond to your garden. Instructions on how to build a pond can be found by learning how to build a pond. When creating your pond, incorporate the following dragonfly/damselfly-friendly features:
• Position your pond so that it is out of direct wind and receives afternoon sun.
• Add emergent vegetation, such as sedges or rushes, important places for laying eggs and also habitat for nymphs that crawl up in order to go through a final transformation into their adult form.
• Add aquatic vegetation to provide nymphs with places to hunt for food and hide from predators.
• Choose native plants wherever possible with whom these insects have coevolved.
• Add rocks along the perimeter of the pond to give adults a place to warm up.
• Ensure there are shrubs and other tall plants around the pond to provide perching sites for adult dragonflies and damselflies. Don't mow right up to the pond edges.
• Avoid the use of chemical pesticides and fertilizers near your pond because these insects are sensitive to pollution.
There are 59 species of damselfly and 158 of dragonfly in Canada, so it is important for us to do what we can for them. We can continue to enjoy the sight of a dragonfly or damselfly flitting across our backyard by creating habitat, maintaining our shorelines in a natural state and keeping our waters pristine.
Art McLeod is an amateur photographer who has generously allowed us to use his photographs. You can visit his Web site by clicking here.