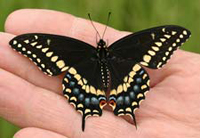 Scientific Name:
Papilio polyxenes
Description:
The blackness of its body and wings is embellished with two rows of yellow spots. The female's yellow spots, while not as bold as the male's, are adorned with a more distinctive blue band between the pale bands of yellow. In contrast, the male is garnished with more yellow tones than blue. Both sexes have two prominent orange eyespots on their hind wings close to their tails.
Photo Gallery:
(Please note — these photos are unverified images submitted by members of the CWF Photo Club.)

Range:
A skilled flier, the black swallowtail zips along only feet above the ground. This species can be found in three areas of Canada — in the west (in southern Manitoba and northwestern Ontario), in southern Ontario and southern Quebec, and across the Maritimes, with the exception of Newfoundland.
Habitat:
Black swallowtails can be found in a wide variety of habitats — damp meadows, open fields, roadsides, vacant lots, backyards, and cultivated farmland. This makes the species one of the most popular garden butterflies and one of the easiest to attract. You can invite black swallowtails to your garden by planting thistles, milkweed, red clover, and purple coneflower along with members of the carrot family, such as carrots, dill, fennel, and parsley, for the caterpillars. Select a spot that receives four to six hours of sunlight each day. This will provide an opportunity for the butterflies to bask in the sun while warming their wings for flight. Avoid the use of pesticides, as black swallowtails are very sensitive to these chemicals during all stages of their life cycle.
Diet:
Mock bishopweed, Ptilimnium capillaceum, Roughfruit scaleseed, Spermolepis divaricata, Spotted water hemlock, Cicuta maculata, Water cowbane, Oxypolis filiformis, Wedgeleaf eryngo, Eryngium cuneifolium, Canby's dropwort, Oxypolis canbyi, Queen Anne's lace, Anthriscus sylvestris,
Dill
Behaviour:
The black swallowtail begins life as an egg attached to a member of the carrot family, such as fennel, dill, Queen Anne's lace, or parsley. The leaves and flowers of these plants fuel it through the first three stages of their life cycle. The egg transforms into a larva or caterpillar. Initially, the larva is inconspicuous, resembling bird droppings. However, through several molts, it evolves into a beautiful caterpillar. Also known as the parsley caterpillar, it has a smooth green body with each segment sporting a thin black band with yellow-orange spots. In the pupal stage, it forms a brown or green chrysalis. It remains in this stage through the winter, emerging as a beautiful butterfly in April or May. This black swallowtail will fly until late June, with the next and final brood appearing in July and flying throughout August. This lovely insect spends much of its life mimicking its surroundings or other creatures.
Appearing as bird droppings protects the larva from predators and conceals it in its environment. Adults mimic their cousin, the pipevine swallowtail, which is poisonous to several predators. Predators mistake the black swallowtail for its poisonous cousin, which allows the black swallowtail to avoid being eaten. However, this mimicry can make it difficult for butterfly watchers to distinguish the black swallowtail from the pipevine swallowtail or even the female tiger swallowtail.
Primary Ecosystem Roles:
Pollinator
Conservation Management:
Next time you notice a green caterpillar with black bands and yellow-orange dots on each body segment, remember it's one of the good guys. As an adult it will help to pollinate your garden by spreading pollen from flower to flower as it seeks nectar. These beautiful butterflies are also a joy to watch and a welcome addition to any garden.
Notes:
Black swallowtails take part in an activity called "puddling". Male black swallowtails are drawn to puddles for salts and other nutrients, which will later be used in reproduction. There are other elements you can add to your garden to help make it a butterfly's paradise.
More on this Species:
---