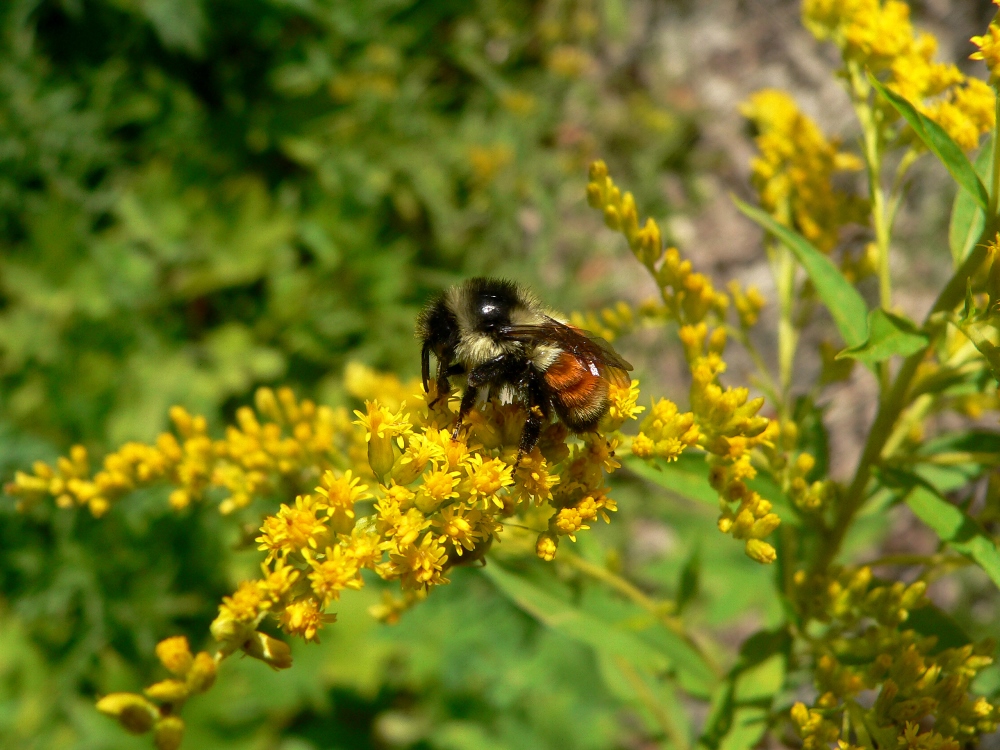 Scientific Name:
Bombus ternarius
Classification:
Kingdom: Animalia Phylum: Arthropoda Class: Insecta Order: Hymenoptera Family: Apidae Genus: Bombus
Other Common Names:
Orange belted bumblebee
Description:
Approximately 8–13 mm long; the queen is 17–19 mm long. These are fairly large, hairy bees with yellow, black and orange bands. Females carry pollen and nectar in "baskets" made of long hairs on their hind legs curved inward toward the body.
Similar Species:
Because bumblebees are so large, they are rarely confused with other kinds of bees.
Bombus ternarius
is distinguished by two reddish-orange bands across the abdomen.
Photo Gallery: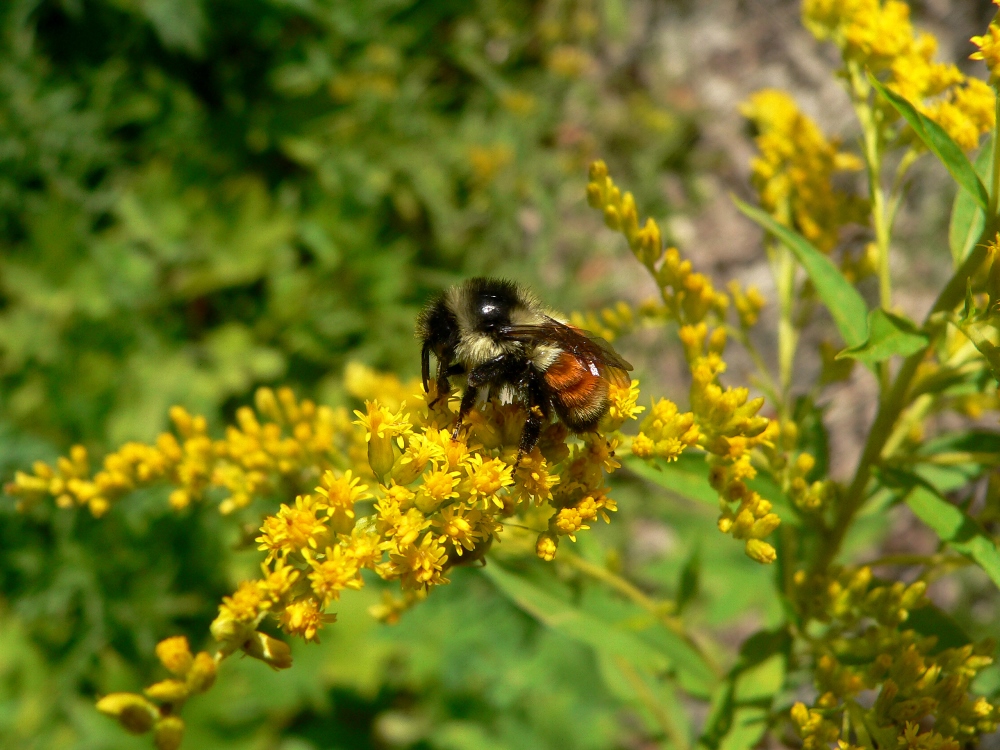 Photo by: Francie Walls
News:
Tweets about "pollinators"
Range:
Almost entirely across Canada, from Yukon to Nova Scotia
Habitat:
Tricoloured bees occur where there is a supply of nectar- and pollen-rich blooms and suitable nesting habitat. They tend to nest in small cavities, like abandoned mouse nests or beneath the base of a large patch of grass.
Diet:
Bumblebees can gather nectar and pollen from many different types of flowers; they have longer tongues than other kinds of bees. They are important for pollinating some popular food crops, like tomatoes, strawberries, and many native plants that grow in the wild—or even in your garden!
Behaviour:
These bees nest in annual social colonies, where a few mated queens hibernate through winter and the rest of the colony dies off in late fall. These queens each establish their own new colony early on, the following spring. The nest itself is made of a cluster of waxy cells. Several eggs are placed within each cell. The cell expands and new food is provided as needed, as the young grow. These features are unique to bumblebees.
Primary Ecosystem Roles:
Very important pollinator
Status:
(verified February 12, 2014)
COSEWIC: Not assessed
Nature Serve: National rank: N5 (Secure), Global rank: G5 (Secure)
NOTE: While these assessment organizations do their best to stay current, the process of assigning or updating a species status may take a while to reflect real life changes.
Threats and What You Can Do:
Though
Bombus ternarius
populations are very stable, some of our native bumblebee species are in decline. Some examples include the rusty-patched bumblebee
(B.affinis)
, the western bumblebee
(B. occidentalis)
and the yellowbanded bumblebee
(B. terricola)
. Habitat loss and pesticide use play a role, but the spread of disease seems to be responsible for an abrupt decline in some bumblebee species. In the 1990s, bumblebees from America were bred in Europe to produce offspring that would become pollinators in the greenhouse tomato industry in the States. These bees seemingly contracted diseases in Europe that they then spread to wild bees when imported back to the States.
Although
Bombus ternarius
is a fairly common species and not currently at risk, you can plant a variety of native and heirloom plants with a succession of blooms from early spring (willows, fruit trees, etc.) to late fall (goldenrods, asters, etc.) to provide bumblebees with pollen and nectar throughout the year. You can also avoid using synthetic pesticides in on your garden and lawn.
References:
Insects: Their Natural History and Diversity. Marshall, Stephen A., 2006. Firefly Books Ltd. Richmond Hill, Ontario.
The Xerces Society Guide Attracting Native Pollinators: Protecting North America's Bees and Butterflies. Xerces Society Guide, 2011. Storey Publishing. North Adams, Massachusetts
http://www.discoverlife.org/mp/20q?search=Bombus+ternarius

http://eol.org/pages/1065334/overview

http://bugguide.net/node/view/15062/bgimage
---