Animals At-A-Glance
Browse through a few of our Canadian species in these "At A Glance" fact sheets. Each page has basic information on some of our Canadian wildlife, with links to detailed, reputable sources such as Hinterland Who's Who and the Government of Canada. Don't see a species you need? Comments or questions? Let us know!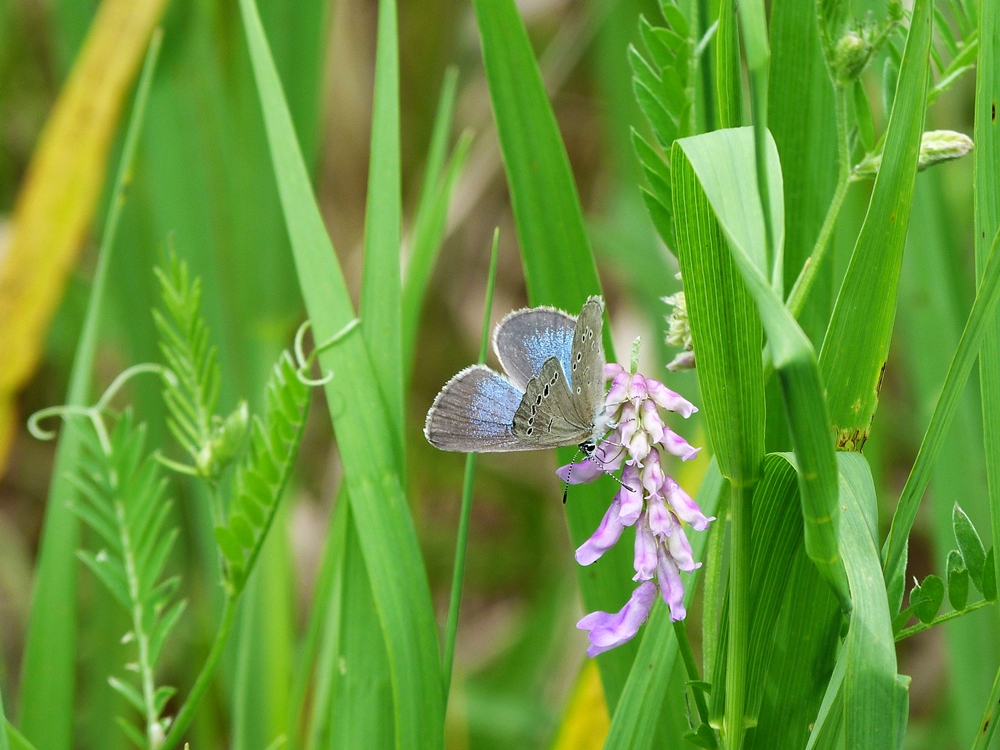 Silvery blue butterfly
Adult wingspan approximately 2–3 cm. Adults (butterflies) have a light blue upperside with a thin, light grey border and a dark grey border within that. The dark grey border in the female is wider and fades into a pale blue to varying degrees. Their underside is grey with one row of black white-rimmed spots on both the forewing and hind wing.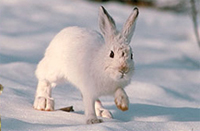 Snowshoe Hare
The snowshoe hare one of our commonest forest mammals, is found only in North America. Well-adapted to its environment, the snowshoe hare travels on large, generously furred hind feet, which allow it to move easily over the snow. The snowshoe hare's ears are smaller than most hares'. The ears contain many veins, which help to regulate body temperature. A seasonal variation in fur colour is another remarkable adaptation: from grey-brown in summer, the fur becomes almost pure white in midwinter.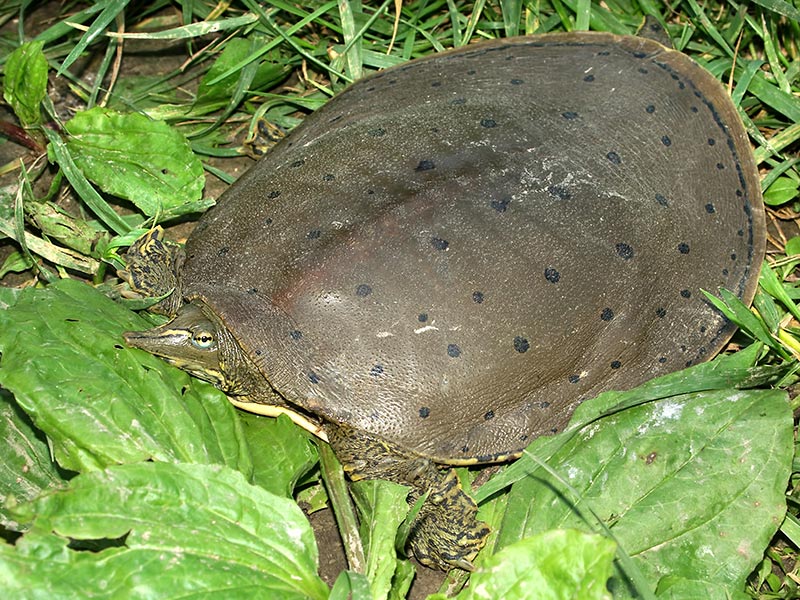 Spiny Softshell Turtle
Flat pliable shell ranging in colour from brown to green to beige. Head and limbs are generally olive green from above, and white or grey from below. The Spiny Softshell can have a neck approximately ¾ of its shell length, and has a long tubular nose. Size: 12-24 cm for males, 18-50 cm for females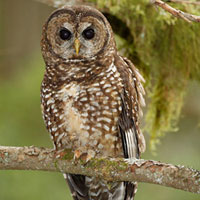 Spotted Owl
The Northern Spotted Owl is a fairly large, brown owl, 40 to 48 centimetres long, with a puffy round head and no ear tufts. The chocolate to chestnut brown feathers of the head, neck, back and under-parts have many circular or irregular white spots, for which this attractive owl is named. The Northern Spotted Owl has large, round facial discs with dark outer rims, dark brown eyes and a yellowish-green bill.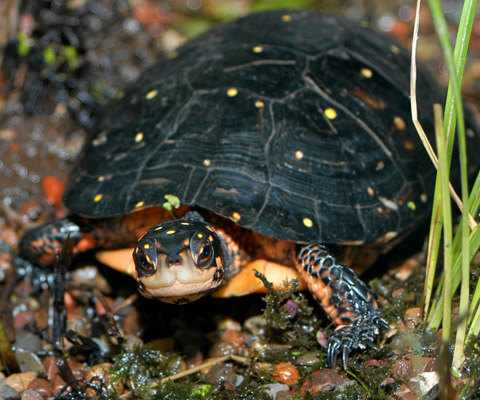 Spotted Turtle
Moderately domed upper shell. The upper shell and head are covered with small yellow or orange spots. The limbs and tail are black with varying amounts of yellow or orange. Size: 9-12 cm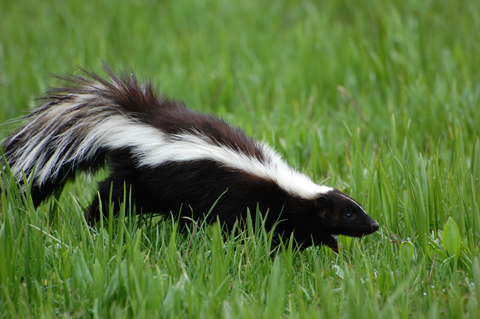 Striped Skunk
The striped skunk, a member of the weasel family, is about the size of a cat, but has a stout body, small head, short legs, bushy tail and thick, black, glossy fur. The thin white stripe down the centre of the face forks at the shoulders and continues as a white stripe along each side of the back. Tail is mostly black, but stripes may extend down it, usually to a tuft of white at the tip. The skunk is one of the most useful small mammals inhabiting Canada's mixed farmlands, grasslands and forests because it helps control pests such as mice, grubs and larvae. On average a skunk weighs 3.25 kilograms and is approximately 57.5 - 80 centimetres in length. In the wild a skunk is estimated to live 3 years but in captivity they can live up to 15 years.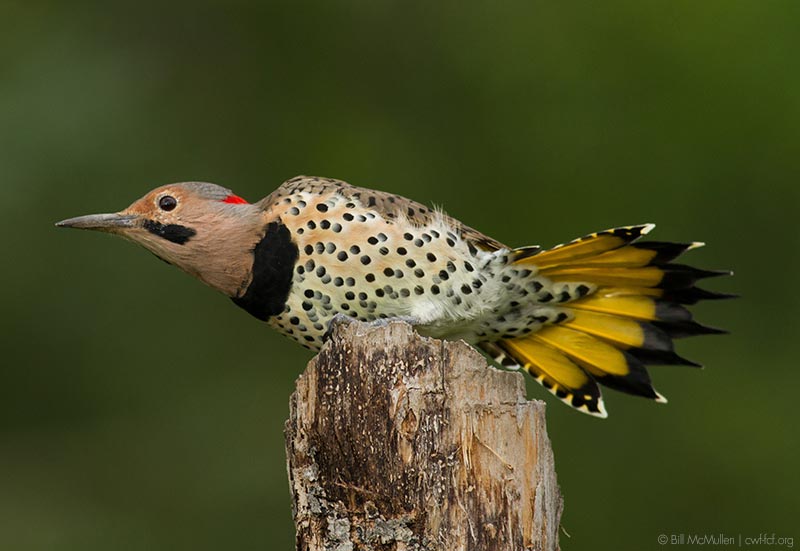 The Northern Flicker
Northern Flickers are a mid-sized woodpecker reaching approximately 32 centimetres. There are two types, the more widely spread Yellow-shafted Northern Flicker and the Red-shafted found mainly in southern British Columbia. Both have a spotted breast, black breast band below the throat, black barring on their backs (lines that run across their backs from wing to wing) and white patch on their rump, visible in flight. The Yellow-shafted males have a red patch at the back of their heads, a black stripe down the side of their brown face and brilliant yellow under their wings and tail. Red-shafted males, however, lack the red patch on the back of their heads, have a red stripe down the side of their grey face and a bright orange-red colour under their wings. They also have a bit of white around the black breast patch. Females of both sub species appear the same except for the lack of the red or black stripe down the side of their face. In areas where both sub species are found close they sometime hybridize making identification tricky.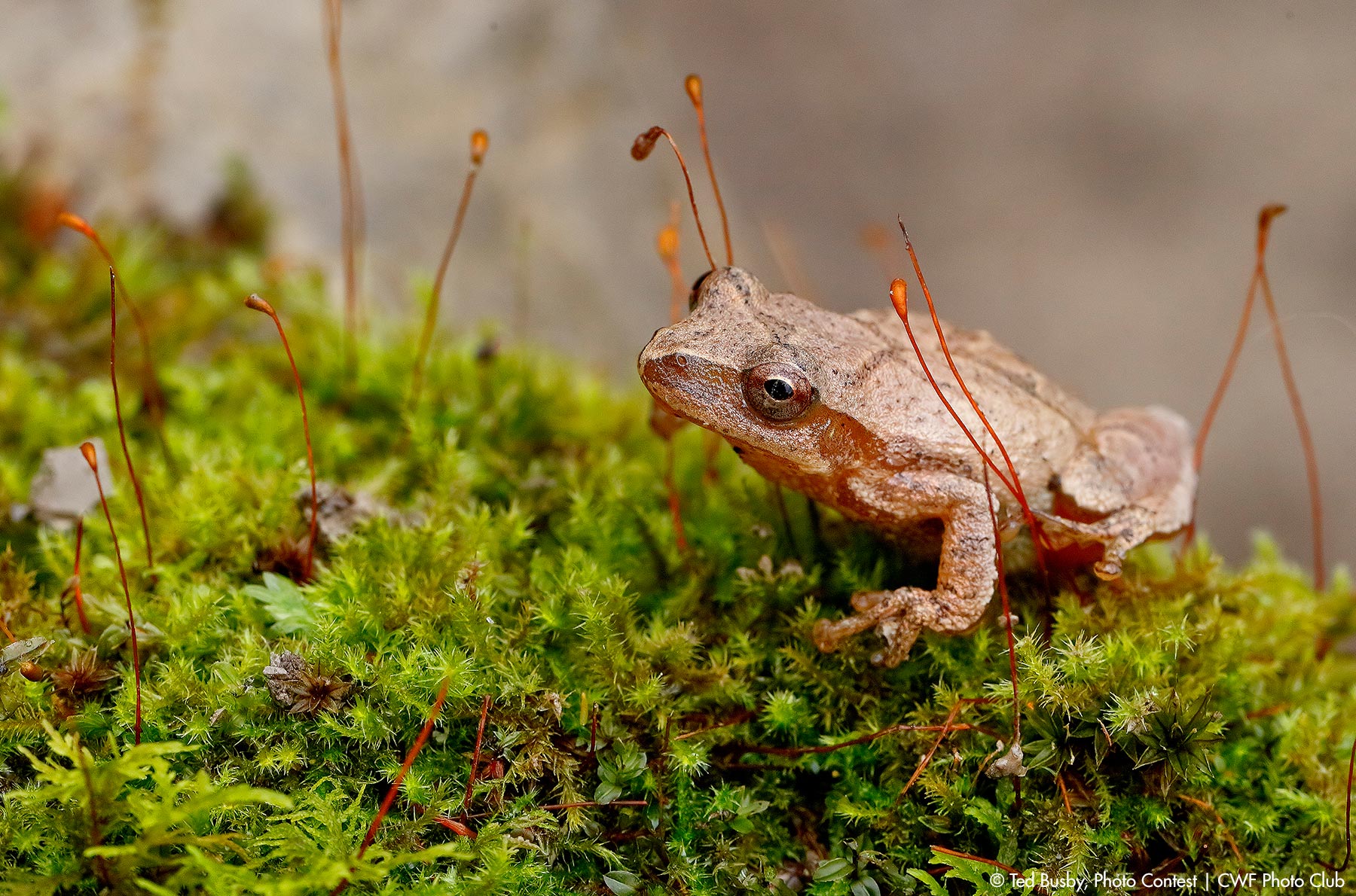 Treefrogs
As spring comes alive with the sound of frogs there is one group in particular, the treefrogs, that continue to fascinate us with their small size and unique toe-pads.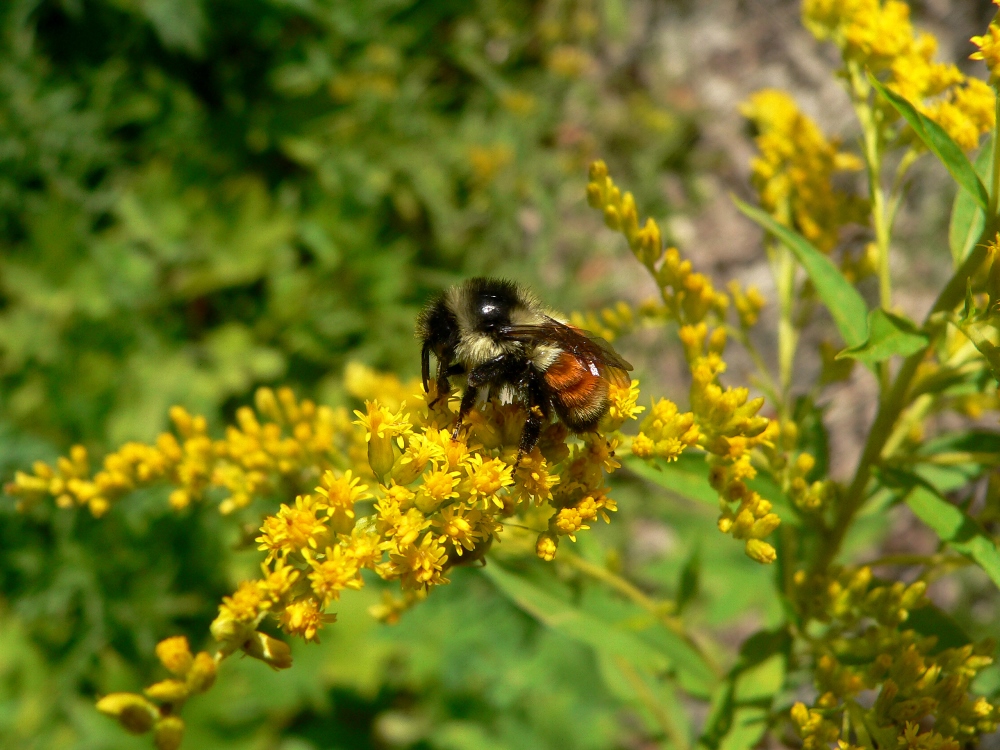 Tricoloured Bumblebee
Approximately 8–13 mm long; the queen is 17–19 mm long. These are fairly large, hairy bees with yellow, black and orange bands. Females carry pollen and nectar in "baskets" made of long hairs on their hind legs curved inward toward the body.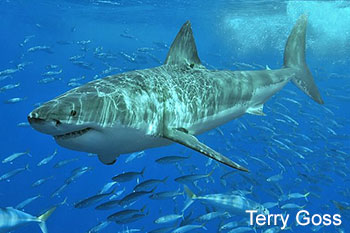 White Shark
The (great) white shark is the most famed of shark species, known worldwide for its large size, predatory nature and reputation for occasionally attacking humans. It is recognizable by its immense size, conspicuously black eye and the sharp contrast between its backside and underside colouration changing from dark grey, or even black, to white. It has a heavy spindle-shaped body, a moderately long conical snout, and large triangular teeth with blade-like serrations.
For more species, visit Hinterland Who's Who, a joint program of the Canadian Wildlife Federation and Environment Canada.