Animals At-A-Glance
Browse through a few of our Canadian species in these "At A Glance" fact sheets. Each page has basic information on some of our Canadian wildlife, with links to detailed, reputable sources such as Hinterland Who's Who and the Government of Canada. Don't see a species you need? Comments or questions? Let us know!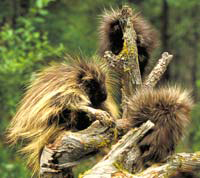 Porcupine
Porcupines have large, chunky bodies and short legs. This results in their slow, waddling manner. With an average weight of 5.5 kg for males and 4.5 kg for females and a total length ranging from 68 to 100 cm, porcupines are Canada's second largest rodents next to beavers. Porcupine's quills are actually modified hairs. They are longest on the back and tail, reaching lengths of 12.5 cm. Quills on the face are much shorter, approximately 1.2 cm long. Despite their prickly appearance, porcupines have soft undercoats with long guard hairs covering the quills. Their undersides, legs, and muzzles have no quills.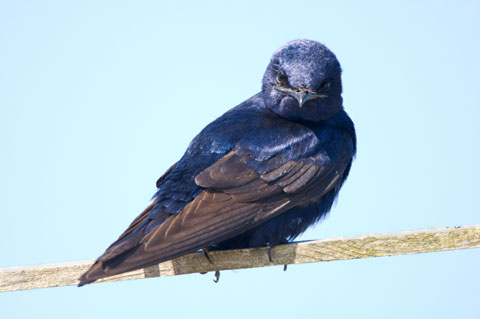 Purple Martin
The Purple Martin, Progne subis, is a conspicuous bird in many populated areas of North America during spring and summer. Averaging 17 to 20 cm in length and a wing span of 9-41 cm, it is Canada's largest swallow. The life span of this swallow is one to five years. The Purple Martin resembles other swallows in having a slender body, long wings, and a wide beak. Males show a shiny blue-black coloration on sunny days. Females are lighter in colour, with a pale grey throat and belly.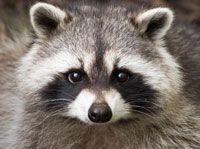 Raccoon
The common raccoon (Procyon lotor) is probably best known for its mischievous-looking black face mask. Raccoons are usually a grizzled grey in colour with a tail marked by five to 10 alternating black and brown rings. Body coloration can vary from albino, (white) to melanistic (black) or brown. An annual moult, or shedding, of the fur begins in the spring and lasts about three months. A raccoon is about 80 centimetres in length and weighs between 6-8 kilograms.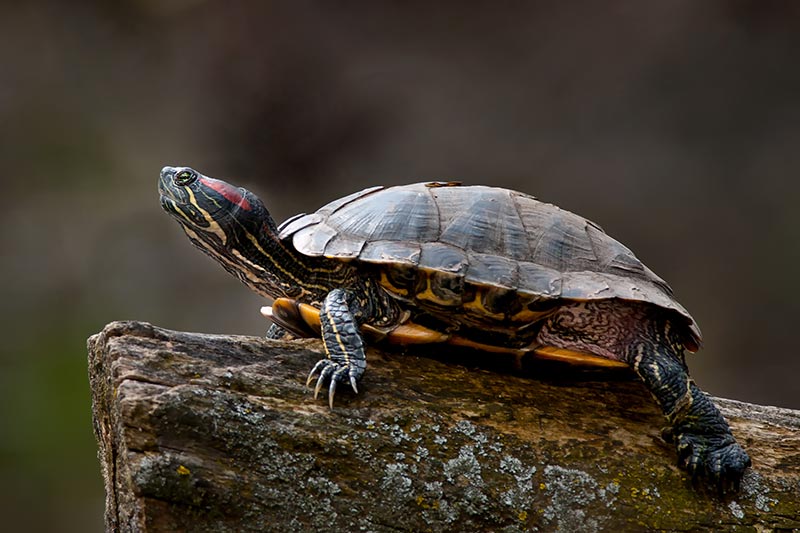 Red Eared Slider
Upper shell has a slight ridge running down the center. Lower shell is usually cream coloured, marked with dark circles or blotches. Long red blotch usually found on either side of the head, behind the eyes. Size: 12-29 cm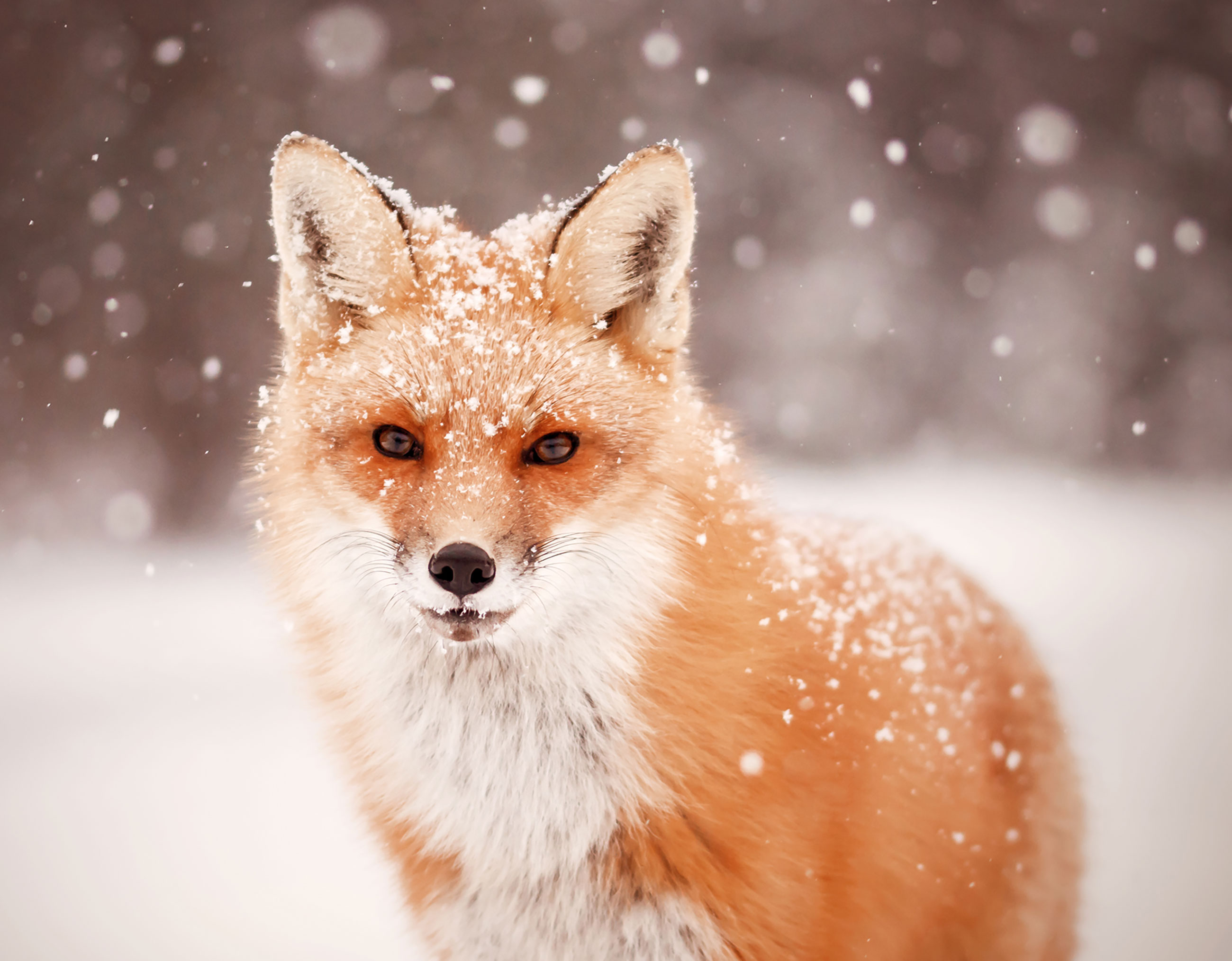 Red Fox
The red fox is a small, dog-like mammal, with a sharp pointed face and ears, an agile and lightly built body, a coat of lustrous long fur, and a large bushy tail. Male foxes are slightly larger than females. Sizes vary somewhat between individuals and geographic locations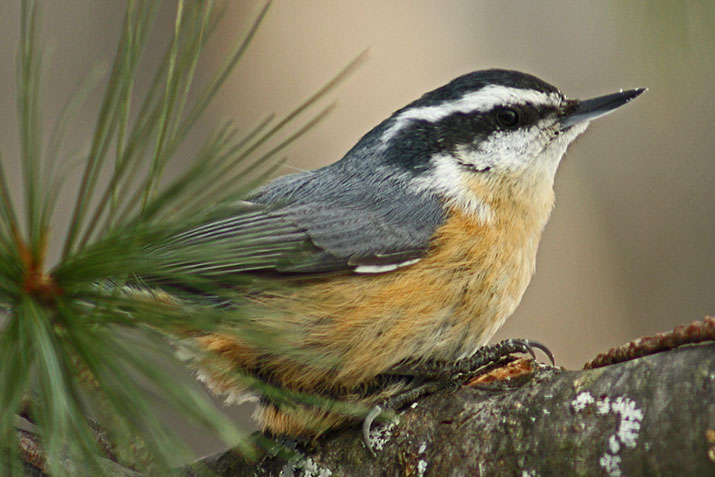 Red-breasted Nuthatch
Red-breasted Nuthatches are small birds reaching about 4.5 inches in length with a thin black bill and short tail. They have a black and white striped head, white throat, grey back and rust-coloured belly.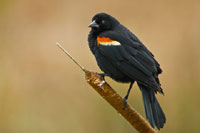 Red-winged blackbird
The red-winged blackbird is a medium-sized song bird, ranging in size from 17 to 23 centimetres, with a very distinct call. Males are a sleek black colour with bright red patches on the tops of their wings. These red patches are called epaulettes and are sometimes less visible while the bird is perched, when it only shows the slight yellow band found below the red epaulettes. Young males are often a dark brown colour and appear as if they are molted before they mature; however, they still retain the red patch on the shoulder. Females are less distinctive with their brown- and white-striped backs and white- and brown-striped abdomens. Their colouring often causes them to be mistaken for other species of blackbird or sometimes for sparrows.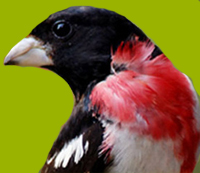 Rose-Breasted Grosbeak
With most birds, males are more brightly coloured, and this holds true with the rose-breasted grosbeak. The males are the most attractive with black backs and heads, white rumps and bellies and rose triangular patches on their breasts. The females, however, are not as conspicuous. Females have brown streaking on both their pale under parts and darker backs. Rose-breasted grosbeaks are said to have one of the prettiest calls. It is comparable to that of the American robin but with a more melodic sound.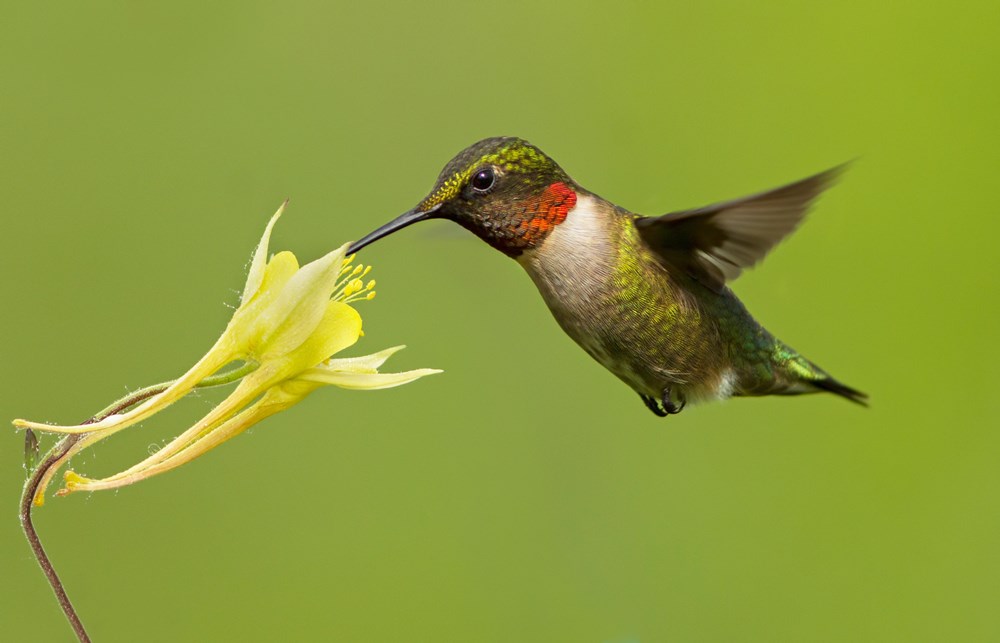 Ruby-throated Hummingbird
Approximately 9–10 cm long. Adult males are metallic green on the upperparts, iridescent ruby red on the throat, white on the underparts and green along the sides. Adult females look similar to males but with a white throat, greyish belly and buff along the sides of the belly, sometimes with a little red on the throat. Immature males look similar to females but with red streaks down the throat.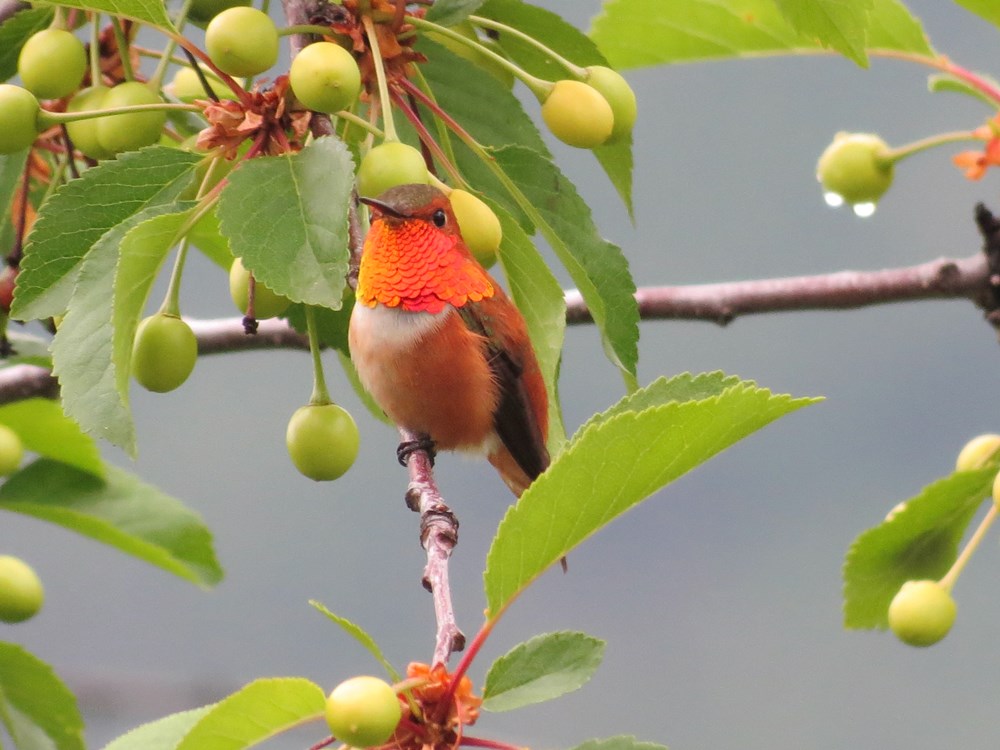 Rufous Hummingbird
Approximately 9.5 cm long. Adult male upperparts are mainly reddish-brown with dull green on the top of their head and a white patch behind the eyes. Their throat is iridescent orange-red and has white at the top of their breast and parts of the belly; the rest of its underparts are reddish-brown. Adult females are similar to males but paler and greener; their throat is white with dark and/or iridescent spots of orange-red. Immature birds resemble the females, but immature males start to show reddish-brown upperparts before their throat colours develop.
For more species, visit Hinterland Who's Who, a joint program of the Canadian Wildlife Federation and Environment Canada.