Animals At-A-Glance
Browse through a few of our Canadian species in these "At A Glance" fact sheets. Each page has basic information on some of our Canadian wildlife, with links to detailed, reputable sources such as Hinterland Who's Who and the Government of Canada. Don't see a species you need? Comments or questions? Let us know!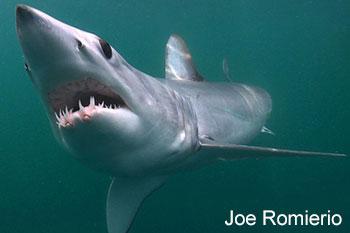 Mako Shark
The shortfin mako (Isurus oxyrinchus) is one of five species in the family commonly known as mackerel sharks which includes the great white shark and basking shark. The mako shark is described as spindle shaped, deep blue to purple above and white below, with a conical head, sharply pointed snout and crescent shaped caudal fin. The u-shaped mouth has large sharp teeth that protrude outside of the mouth even when closed. It can reach a maximum length of over 4 m.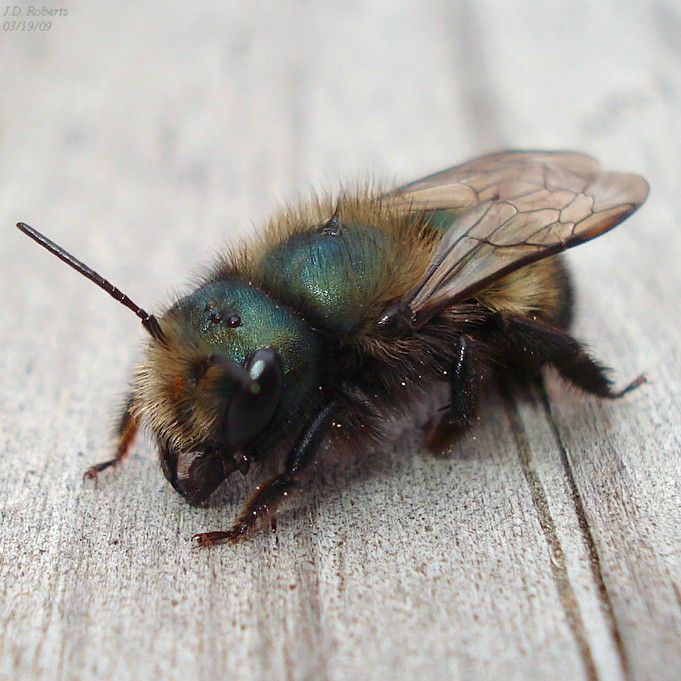 Mason Bee
Approximately 9–11 mm long. These are stocky bees with a round, broad head, robust jaws and round, wide abdomens. Their bodies are metalllic dark blue with long whitish hairs, while their eyes, legs and antennae are black. Females carry pollen on specialized hairs (scopae) beneath the abdomen—a common feature among bees in the Megachilidae family.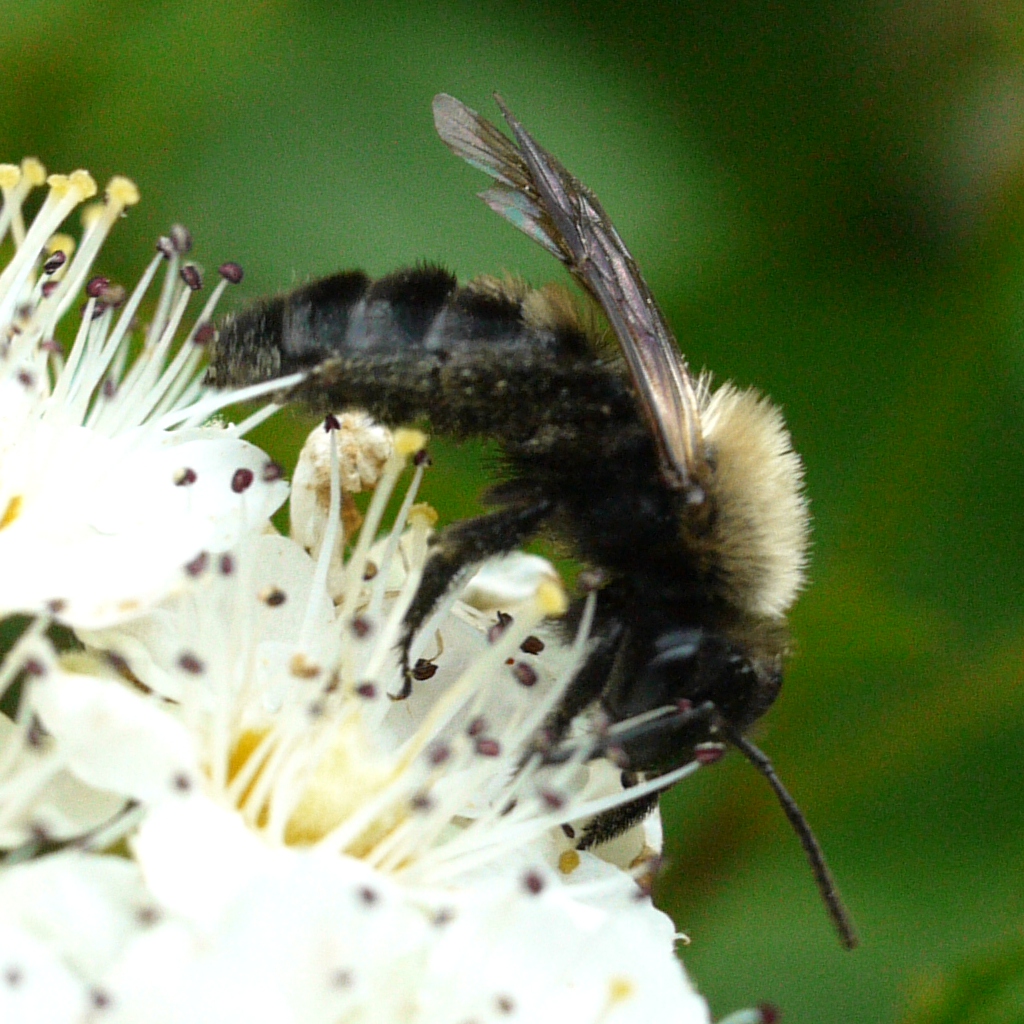 Mining Bee
9–13 mm long. These bees are on the small side. These fairly hairy bees vary in colour but have pale banding on the abdomen. Females have large, fuzzy facial structures that look like eyebrows and big pollen-collecting hairs (scopae) on the top half of their hind legs—it looks as though they carry the pollen in their armpits.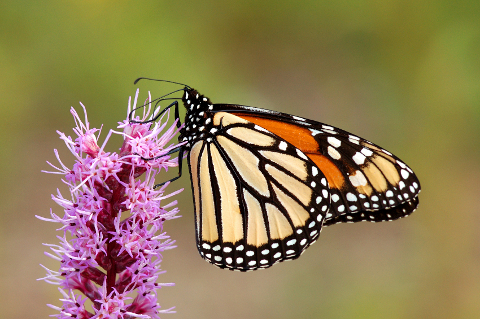 Monarch Butterfly
Adult wingspan is approximately 9–10 cm. Adult (butterfly) wings are orange with black veins. The hind and forewings have a double row of white spots within a thick black border. There are pale orange and white spots near the tip of the forewing (apex). The underside is similar, though the hind wing is a paler orange. Its black body also had white spots. Newly hatched caterpillars (larvae) are pale green with a dark head. Mature caterpillars have black, white and yellow bands. They have a pair of black filaments (thin fleshy parts that resemble antennae) at the head and tail. The longer pair is at the head.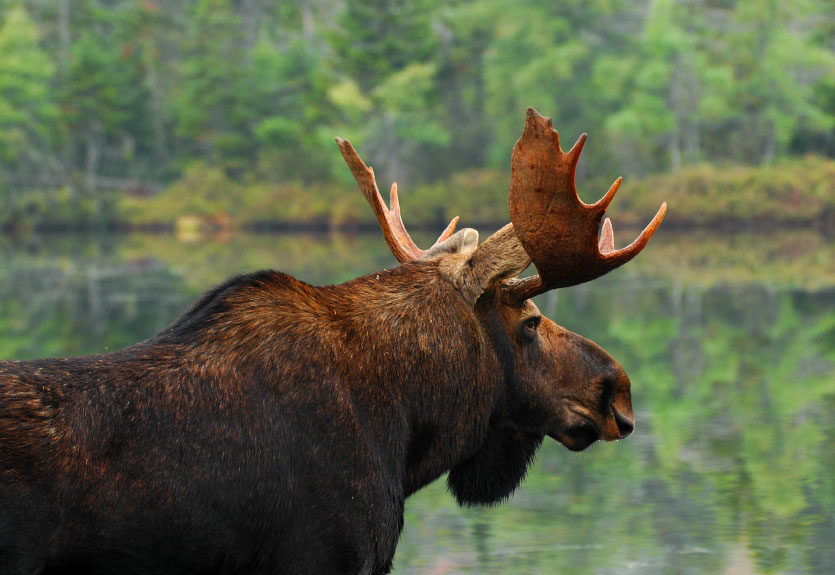 Moose
Moose (Alces alces) have long, slim legs that end in cloven, or divided, hooves often more than 18 cm long. The body is deep and massively muscled at the shoulders, giving the animal a humped appearance. It is slab-sided and low-rumped, with rather slender hindquarters and a stubby, well-haired tail. The head is heavy and compact, and the nose extends in an arch terminating in a long, flexible upper lip. The ears resemble a mule's but are not quite as long. Most moose have a pendant of fur-covered skin, about 30 cm long, called a bell, hanging from the throat. A bull moose in full spread of antlers is the most imposing beast in North America. It stands taller at the shoulder than the largest saddle horse. Big bulls weigh up to 600 kg in most of Canada. The moose is the largest member of the deer family.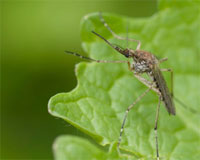 Mosquito
Mosquitoes are thin, long-legged, two-winged insects and are typically six to 12 millimetres in length. Both males and females have antennae and an elongated "beak" or proboscis three to four times longer than its head.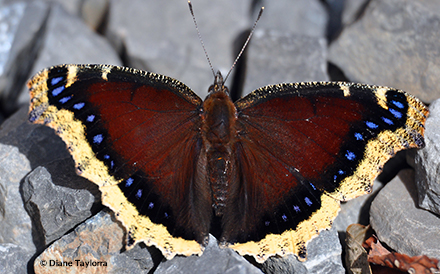 Mourning Cloak Butterfly
Adults - The upper wings of the Mourning Cloak Butterfly are red-brown with a thick yellow border along the edge. On the inside edge of this border are bright blue elongated spots. The underside of their wings are dark with thin irregular lines. The border is duller than the upper side and the blue spots are more V shaped. Their wingspan can range from approximately five to ten centimeters. The more north they are found the smaller they tend to be. Caterpillars – The caterpillar is black with tiny white dots and black-branched spines. It has a row of red marks on its back between the bases of these spines.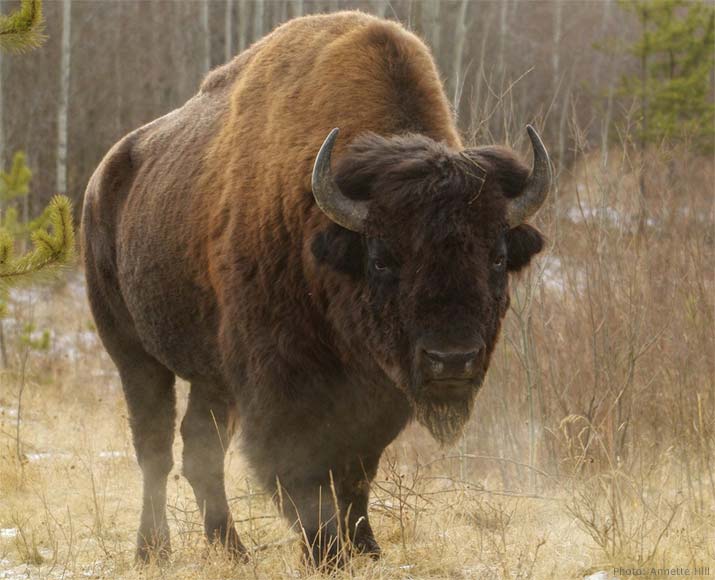 North American Bison
The North American bison, or buffalo, is the largest land animal in North America. A bull can stand 2 m high and weigh more than a tonne. Female bison are smaller than males. A bison has curved black horns on the sides of its head, a high hump at the shoulders, a short tail with a tassel, and dense shaggy dark brown and black hair around the head and neck. Another distinctive feature of the buffalo is its beard.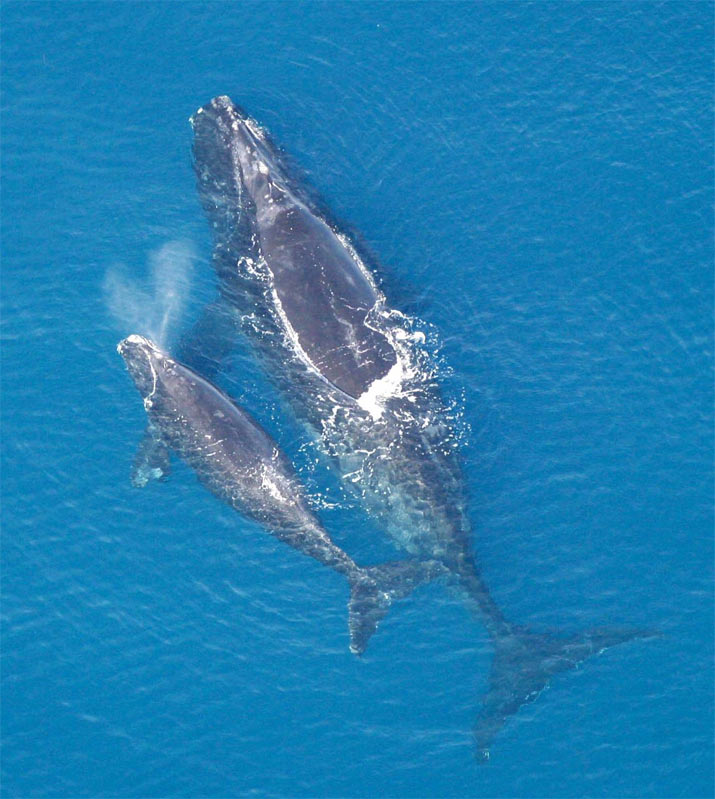 North Atlantic Right Whale
The North Atlantic right whale (Eubalaena glacialis) has a large head that takes up nearly a quarter of the length of its body. Right whales, which can grow up to 18 metres in length can be recognized by:
their wide tail flukes and narrow tail stock, large flippers and lack of a dorsal fin;
their skin is black and some individuals have white patches on the throat or belly;
rough white patches of skin called callosities on their head, chin, and sometimes on the edge of their lower lips. Each whale's callosity pattern is distinctive, enabling scientists to recognize individual whales.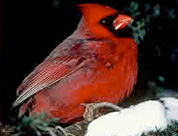 Northern Cardinal
The northern cardinal is a medium-sized songbird, with males slightly larger than females. Males are bright red with a black mask around their red bill and a prominent crest on the top of their head. Females are olive brown with red on their wings, tail, and crest, and a red bill. Juveniles are similar in colour to females but have a black bill and a shorter crest. Colouring plays an important role in the lives of male northern cardinals. Males that are brighter red are more successful than their paler counterparts. They have greater reproductive success, get ranges with better food supplies, and are able to feed more frequently.
For more species, visit Hinterland Who's Who, a joint program of the Canadian Wildlife Federation and Environment Canada.