Animals At-A-Glance
Browse through a few of our Canadian species in these "At A Glance" fact sheets. Each page has basic information on some of our Canadian wildlife, with links to detailed, reputable sources such as Hinterland Who's Who and the Government of Canada. Don't see a species you need? Comments or questions? Let us know!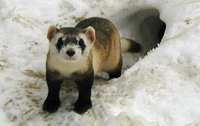 Black-Footed Ferret
Of the three species of ferret in the world, the Black-footed ferret is the only one native to North America. They are impeccably cute: cat-like whiskers sprouting from a white muzzle, plush round ears above eyes set into a bandit's black mask and sturdy legs in black stockings, supporting a sinuous, sandy-coloured body crowned by a black-tipped tail.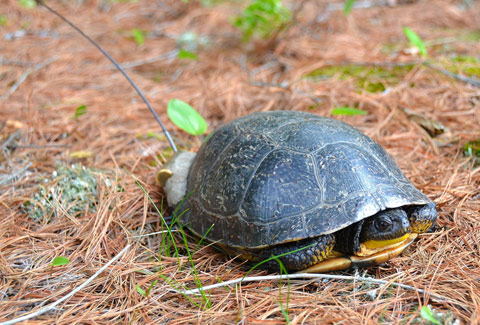 Blanding's Turtle
Highly domed, smooth, dark coloured upper shell with light coloured flecks. Bright yellow chin and neck. Size: 12-27 cm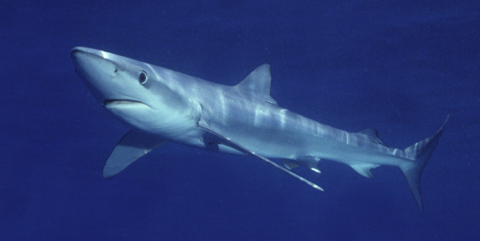 Blue Shark
Blue sharks are recognizable for their exceptionally slender body and bright blue coloration. They are dark blue on the back, bright blue on the sides, and white on the underside. The colour quickly changes to a uniform dark grey if the shark is removed from the water. They have a long snout, large eyes, and narrow pointed pectoral fins. Adults range in size from about 2 – 3 m (6 – 10 feet).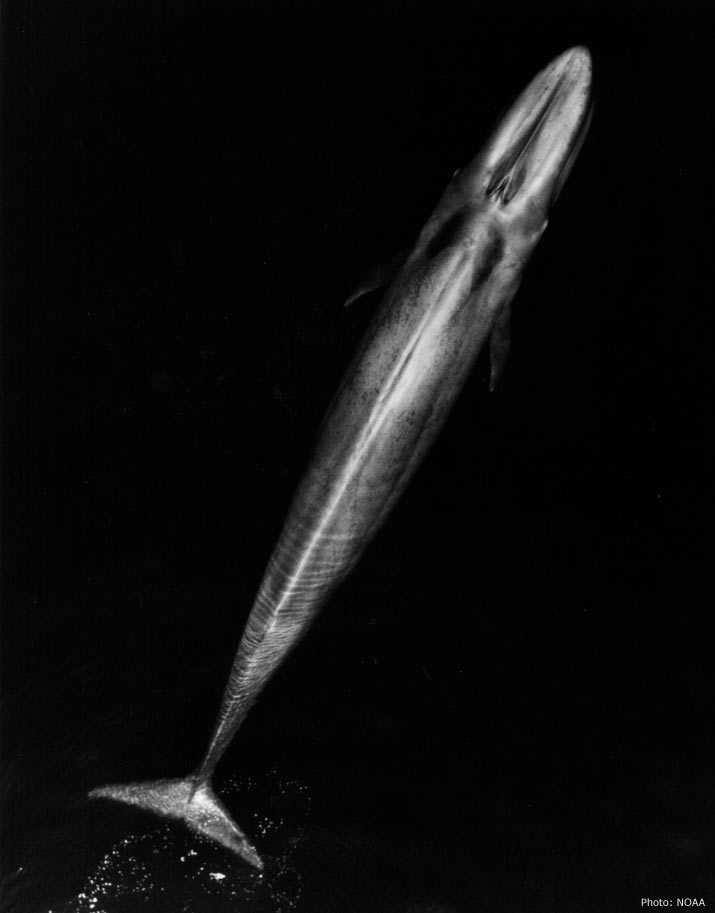 Blue Whale
The blue whale has a long body with a mottled gray colour pattern that appears light blue when seen through the water. It is the largest animal ever known to exist on earth. It can weigh up to 200 tons and it approximately 80 to 100 feet in length.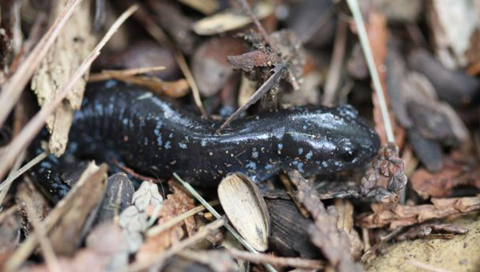 Blue-Spotted Salamander
The Blue-spotted Salamander is a small, cold-blooded, nocturnal animal. A large adult will only be about 12 cm long, 40% of that is tail and its body is only about 1 cm wide. It is shiny-black with dusty blue spots mainly on the sides and belly.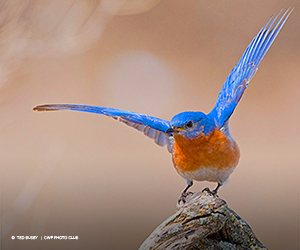 Bluebirds
Canada has three species of bluebirds. They are in the Thrush family, the same family as the American Robin. Bluebirds are a little smaller than our robins, averaging about 7 inches in length and 13-14 inches in width. All bluebirds have blue heads, wings, backs and tails, which gives them their name. All species also have a black bill, legs and eyes. The differences between species come mainly from the colouring of the throat, breast and belly. The male Mountain Bluebird is mainly blue with a pale blue breast and white belly. The male Western Bluebird is a darker blue with orange-red on the upper and side portions of its chest and dull blue-white on the lower middle portion. The male Eastern Bluebird is similar to the Western Bluebird, but the orange also covers its throat and the front sides of its neck. Another distinction is that its white belly is brighter. The females and juveniles of these species have similar colouring to the adult males but a much paler version.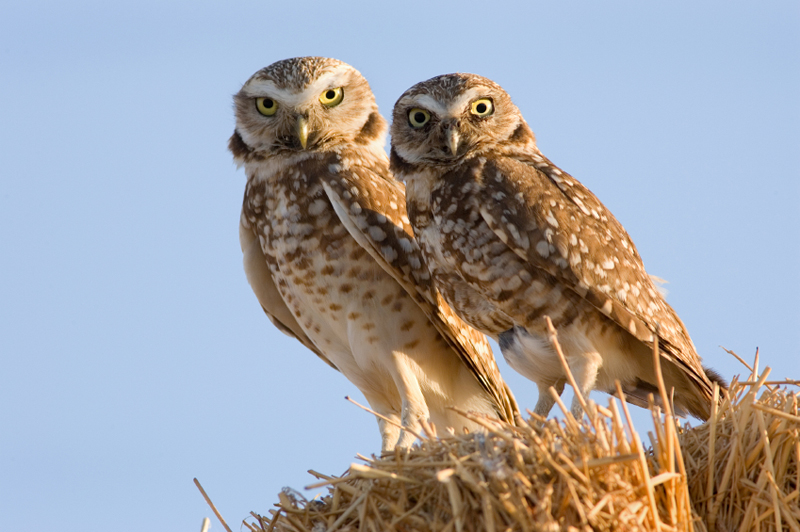 Burrowing Owl
Once a common sight in portions of Manitoba, Saskatchewan, Alberta, and British Columbia, the burrowing owl is now much more rare. The Canadian population of this little bird of prey has declined over 95 per cent since 1987, and now occupies a mere 36 per cent of its original distribution in Canada. This alarming rate of decline has motivated scientists to list the species as endangered under the Species at Risk Act.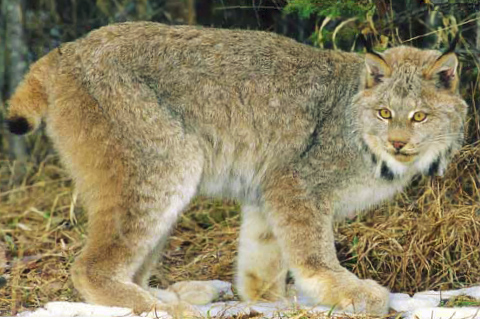 Canada Lynx
This secretive, hard-to-spot resident of Canada's boreal forest is likely a descendant of the Eurasian lynx and resembles a very large domestic cat. It has a short tail, long legs, large feet and prominent ear tufts. Its winter coat is light grey and slightly mottled with long guard hairs; the under-fur is brownish, and the ear tufts and tip of the tail are black. The summer coat is much shorter than the winter coat and has a definite reddish-brown cast. The average weight of a lynx is 8 to 14 kilograms, measuring around 90 centimetres in length. The average lifespan is 15 to 20 years.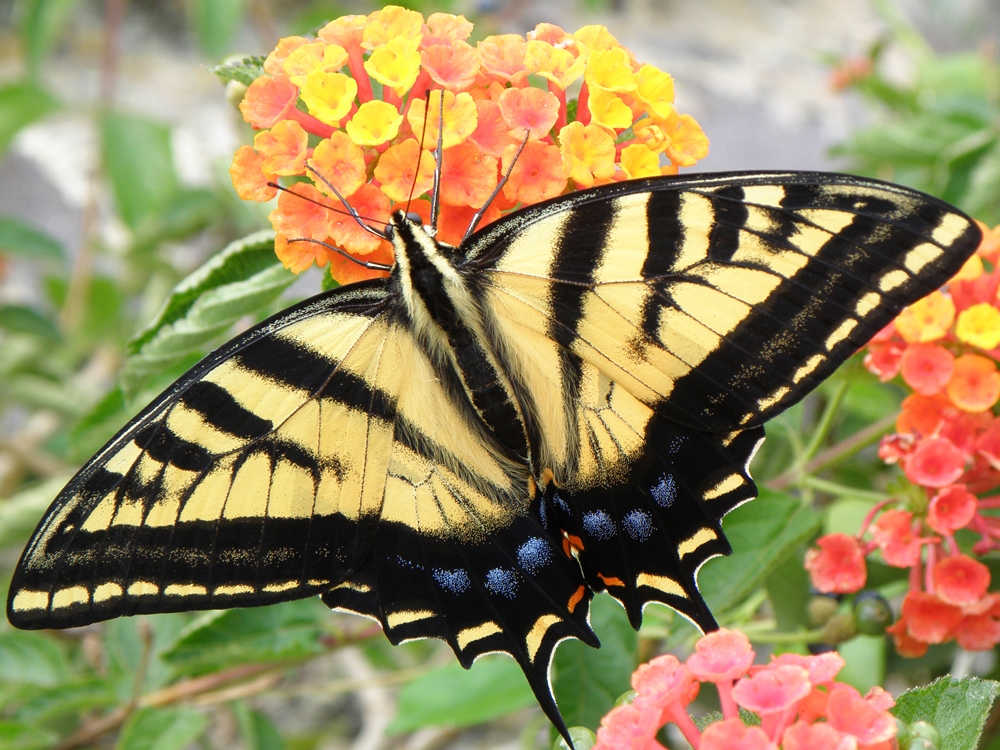 Canadian Tiger Swallowtail
Adult wingspan is 53–90mm. Adults (butterflies) are yellow with thick black bands coming down from the top of the forewing and some black lines/veins across the hind wings. There are thick black bands along the edge of both the forewing and hind wing, with yellow spots along the forewing and yellow and orange spots on the jagged hind wing. There is a softer band of blue patches on the hind wing. Near the bottom of the hind wing is an extension that, when you look at both wings together, resemble the long, forked tails of some swallows.
Young (larvae/caterpillars), when immature, are brown and white and resemble bird droppings. Older caterpillars are large and green. Their body is fatter just behind the head and has two yellowish spots that look like eyes and a yellow band farther back, giving the impression of a much larger head, which is thought to deter predators.

Caribou
The caribou is well adapted to its environment. Its short, stocky body conserves heat, its long legs help it move through snow, and its long dense winter coat provides effective insulation, even during periods of low temperature and high wind. The muzzle and tail are short and well haired.
For more species, visit Hinterland Who's Who, a joint program of the Canadian Wildlife Federation and Environment Canada.