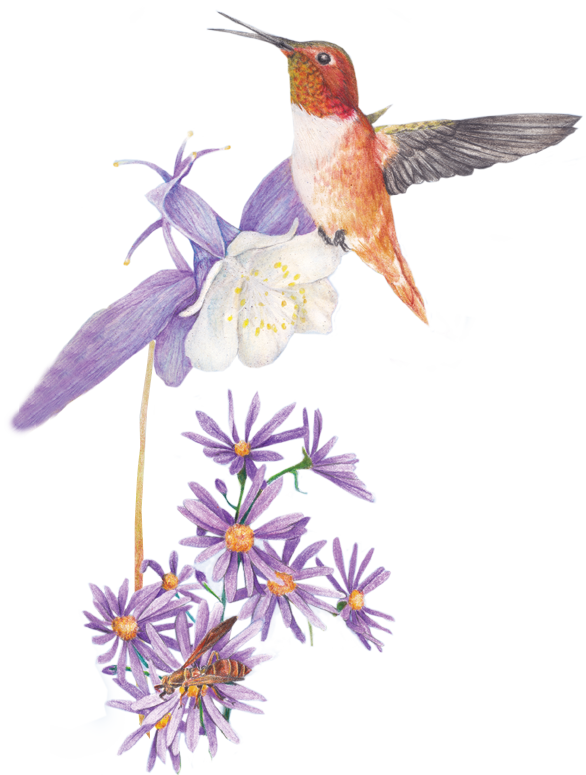 There's nothing quite like the thrill of seeing a hummingbird zipping through your garden. Hummingbirds are a marvel to watch as they hover in place or dart quickly among the plants. Despite their tiny size they're quite feisty little creatures. And their bright jewel-like colours, especially those of males, add a brilliant dimension to any scene. Attracting them to your garden can be very rewarding.
There are five species of hummingbird found in Canada. The ruby-throated hummingbird is the most widespread, found from Alberta east to Nova Scotia. The calliope hummingbird is the tiniest of the five, and is found in central interior British Columbia and southwestern Alberta. Anna's hummingbird can be found in parts of southern British Columbia and Vancouver Island, while the black-chinned hummingbird can make its way up the interior of southern British Columbia. The rufous hummingbird, considered to have the longest known avian migration, has a slightly wider distribution. It can be found in southwestern Yukon, most of British Columbia and southwestern Alberta.
No matter which hummingbird species is found in your area, there are several key factors to consider if you want to invite these marvellous little birds into your garden. All these hummingbirds share similar requirements for a welcoming habitat: food in the form of insects and nectar, water collected on large leaves for drinking and bathing, shelter from adverse weather and for nesting sites and material to build their nests.
Feeding
Insects and spiders
Small insects and spiders are an important protein source for hummingbirds. They search for them in trees, shrubs and among flowers, pluck spiders from their webs, glean insect eggs and larvae from tree trunks and catch adults on the wing. Hummingbirds will feed on a diversity of small insects, including mosquitoes, gnats, fruit flies and small bees.
To attract a variety of insects as food for your visiting hummingbirds, grow a diversity of plants, emphasizing native species. Include small-flowering plants, such as goldenrod, aster or pearly everlasting, all of which are great for small insects to feed on.
Avoid the use of pesticides to ensure your hummingbirds have enough insects to eat. Even organic pesticides can easily kill off your supply of these snacks or even contaminate them, creating a possible health risk for the hummingbirds that ingest them.
Flower nectar and tree sap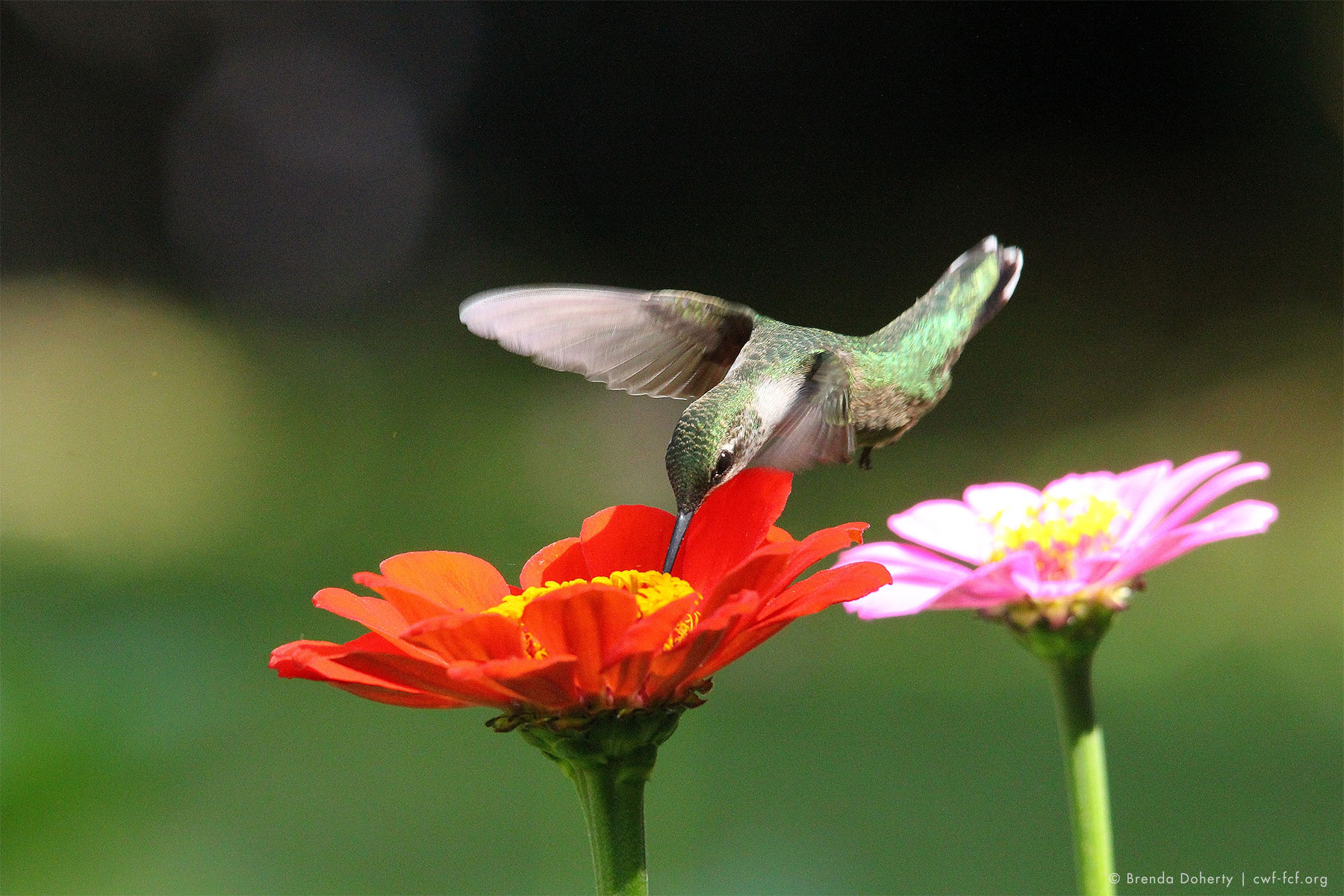 Flower nectar is a natural food source for hummingbirds. In return, hummingbirds pollinate the plants that provide it and help them create fruit and seeds that may feed a host of other birds later in the year. Hummingbirds are important pollinators for many flowering plants such as trumpet creeper, and are even essential to others, such as the scarlet gilia.
Be sure to choose a variety of plants whose bloom times will overlap, ensuring a continuous supply of nectar. Include trees, shrubs, and vines as well as herbaceous plants, for hummingbirds are adapted to woodland living. Allow space for them to hover among the blooms. Trees, such as birch or maple, may invite sapsuckers whose holes are sometimes visited by hummingbirds that take advantage of any remaining sap and the insects it attracts. If your property is large enough, be sure to place some hummingbird attractants in opposite corners of your garden to allow more territorial hummingbirds, such as the ruby-throated, to coexist.
Female ruby-throated hummingbird feeding from a petunia. Image: Corel Hummingbirds will feed from any colour, but may visit red, purple, blue and yellow flowers first. The more the bloom colour contrasts with the flower's background, the more likely a hummingbird is to visit. Because of their long tongues, hummingbirds show a preference for bell- or trumpet-shaped flowers.
Artificial feeders
You can keep those hummingbirds coming from spring until fall if you garden with plants that will give these birds a natural and complete food source. However, if you wish to supplement this primary food, you can add a feeder or two.
Purchase a hummingbird feeder and fill it with a solution that you can make at home. To make your own hummingbird food, mix one part white sugar to four parts water. Allow the water to boil for one minute and then add sugar. Once the sugar has dissolved, remove from the heat and allow the mixture to cool thoroughly. Fill your feeder and store any excess in the fridge for up to three or four weeks.
Do NOT use honey as it may cause a tongue fungus, nor artificial sweeteners as they provide no sustenance for birds. Also avoid food colouring as this only adds chemicals to their diet. The red on the feeder will attract hummingbirds. If, after a couple of weeks, you don't have any takers, move the feeder to a more visible place and consider other ways to entice hummingbirds to your garden.
Feeders
There are two main types of feeders: tubular models with drinking holes at the bottom and saucer-shaped ones with holes at the top. When buying a feeder, keep in mind that you need one that is easy to hang, take down, take apart, clean (including those hard to reach places) and then rehang. Sometimes the heat of summer days causes the holes to expand so that the tubular models may start to leak. If you want to make your own, be creative and experiment. Some stores sell attachments that connect to the mouth of upside-down plastic or glass bottles.
Cleaning
Keep feeders clean so your visitors don't get sick from a build up of bacteria. Clean every three days — more often if temperatures are high or if it is in the sun. Although it may not look dirty this sugary solution can go bad very quickly, so clean regularly. Cleaning doesn't have to take long — swish a long brush inside and rinse with hot water. If you use soap, be sure to rinse the container very well.
Location
Keep the feeder in a spot where hummingbirds won't get hurt. An open area will allow them to spot approaching predators, such as house cats. The feeder should also be either close enough to windows (less than 30 centimetres) so that hummingbirds don't hurt themselves, or far enough away (1.8 metres) so that they won't crash into them. Keep feeders away from busy areas with car or people traffic. If your feeder doesn't have a perch, you may want to put it near a tree or shrub for perching and shade.
Water
Offering water in a form that suits hummingbirds is a great way to lure them to your garden. These tiny birds are known to bathe in the small amounts of water naturally collected on large smooth leaves, be it after rain or heavy dew. Plant native trees and shrubs with large leaves such as maples, tulip trees and basswood. Hummingbirds have also been known to enjoy flying in a gentle rain. This can be recreated with a hose in the crook of a tree on a gentle spray setting or by purchasing a special misting device. Make sure the flow is gentle, stationary and regular — try it for 20 minutes at the same time every day. They will get used to your timing, which helps you to view them and also reduces water consumption.
Shelter and nesting
Shelter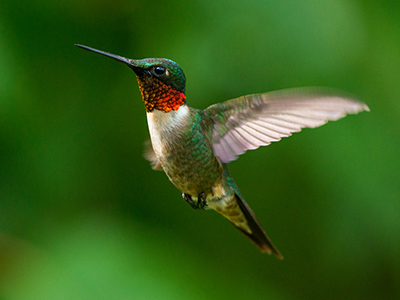 Hummingbirds need shelter from strong winds, rain, cold, hot sun and predators. Evergreens provide great year-round cover. In summer, a loosely-branched deciduous tree will allow them to benefit from cooling breezes. To provide adequate shelter for your resident hummingbirds, be sure to plant a variety of native trees and shrubs such as willow, aspen, oak, spruce, fir, hemlock, pine, hickory, maple, birch and even vines such as blackberry.
Nesting
Hummingbirds will nest in gardens if provided the proper conditions. Their nest is usually placed in a tree or shrub, often over water, one to 15 metres high. Nests are generally located at the tip of a branch that is fairly open underneath but protected overhead by leaves. To entice hummingbirds to nest in your garden, provide a diversity of leafy trees and large shrubs; they have been known to nest in ironwood, beech, yellow birch, oak, hackberry, pine and maple, among other species.
Hummingbirds are dependent on plants, not only for places to put their nests, but also for nesting material. They use a variety of plant down for the inside of the nest, such as milkweed, thistle, cattail, willow and fireweed down, as well as animal hair. Letting these plants grow in your garden and letting them go to seed will assist your winged visitors.
Spiderwebs are also a critical component for binding the little cup-shaped nest together and to the branch. In addition, they also provide insulation for the very tiny babies. You can help by not using pesticides, even organic ones, as this can kill spiders and negatively affect the hummingbirds you enjoy.
Lichen and bud scales on the outside of the nest are also very important to help camouflage it from predators. To help with this, plant native trees that bear cones such as fir, pine, spruce, tamarack and hemlock. You can also help by decreasing pollution in your community to ensure that lichens continue to grow in your area. Lichens are extremely sensitive to pollution — their absence in a given area is often indicative of poor air quality. Drive your car less, don't idle the engine and avoid the use of other gas-powered machines such as leaf blowers.
Hummingbirds are truly fascinating creatures. Their diminutive size, high energy, great agility and vibrant colouring make them wonderful visitors to any garden. A little bit of effort in providing some good hummingbird habitat features could help welcome them to your property.
List of Native Plant Species That Attract Hummingbirds

Spring Flowers

Common Name
Scientific Name
Native to these Canadian Regions
Eastern wild columbine (to early summer)
Aquilegia canadensis
seSask., sMan., Ont., Que., N.L., N.S. and N.B.
Sitka columbine (to early summer)
Aquilegia formosa
sY.K., B.C. and swAlta.
Hairy manzanita (late winter/early spring)
Arctostaphylos columbiana
south coastal B.C.
Harebell
Campanula rotundifolia
all but P.E.I. and Nunavut
Flowering dogwood
Cornus florida
southern Ont.
Black hawthorn
Crataegus douglasii
B.C., Alta., swSask., sMan. and central Ont.
Bleeding heart
Dicentra Formosa
sB.C.
Wild geranium/cranesbill
Geranium maculatum
sOnt. and swQue.
Blue flag iris
Iris versicolor
sMan., Ont., Que., N.L., N.B., N.S. and P.E.I.
Orange honeysuckle (into summer)
Lonicera ciliosa
sB.C.
Black twinberry
Lonicera involucrata
B.C., Alta., Sask., Man., Ont. and Q.C.
Virginia Bluebell
Mertensia virginica
sOnt. and swQue.
Red flowering currant
Ribes sanguineum
B.C.
Thimbleberry
Rubus parviflorus
B.C., sAlta. and central.Ont.
Salmonberry
Rubus spectabilis
coastal B.C.
Rhodora
Rhododendron canadense
Que., N.F., N.B., N.S. and P.E.I.
Pacific rhododendron
Rhododendron macrophyllum
swB.C.
Summer Flowers

Common Name
Scientific Name
Native to these Canadian Regions
Giant hyssop
Agastache foeniculum
B.C., Alta., Sask., Man. and Ont.
Yellow columbine
Aquilegia flavescense
B.C. and swAlta.
Butterfly weed
Asclepiea tuberosa
sOnt. and swQue.
Harebell
Campanula rotundifolia
all but P.E.I. and Nunavut
Trumpet vine
Campsis radicans
sOnt.
Indian paintbrush/scarlet painted cup
Castilleja coccinea
seSask., sMan. and Ont.
Common red paintbrush
Castilleja miniata
B.C., Alta., Sask., Man. and wOnt.
Red osier dogwood
Cornus stolonifera
all except Nunavut
Fireweed/great willow-herb
Epilobium angustifolium
the Yukon, N.W.T., Nunavut, nQue., nN.L. and nOnt.
Scarlet gilia
Gilia aggregata
southern B.C.
Spotted jewelweed
Impatiens capensis
B.C., Alta., Sask., Man., Ont., Que., N.F., N.B., N.S. and P.E.I.
Dense blazing star, Dotted blazing star
Liatris spicata, Liatris punctata
sOnt. Alta., Sask. and Man.
Canada lily
Lilium canadense
SOnt., Que., N.B. and N.S.
Tiger lily
Lilium columbianum
B.C.
Michigan lily
Lilium michiganense
sOnt.
Wood lily
Lilium philadelphicum
Man., Ont. and Que.
Turk's-cap lily
Lilium superbum
sOnt.
Cardinal flower
Lobelia cardinalis
Ont., Que. and N.B.
Bee balm
Monarda didyma
sOnt.
Wild bergamot
Monarda fistulosa
B.C., Alta., Sask., Man., Ont. and sQue.
Penstemon
Penstemon spp.
typically western and northern Canada
Wild blue phlox, Siberian phlox
Phlox divaricata, Phlox sibirica
the Yukon and N.W.T.
Snowberry
Symphoricarpos albus
sN.W.T. B.C., Alta., Sask., Man., Ont. and Que.
Evergreen huckleberry
Vaccinium ovatum
SwB.C.
Blue vervain
Verbena hastata
SB.C., sSask., Man., Ont., Que., N.B. and N.S.
Early Fall Flowers

Common Name
Scientific Name
Native to these Canadian Regions
Harebell
Campanula rotundifolia
all but P.E.I. and Nunavut
*note that bloom times vary due to location, weather, and the microclimate of your garden.
Visit our Plant Encyclopedia for more information on these plants.
Non-native Plant Species That Attract Hummingbirds
Some non-native plants that attract hummingbirds are: flowering tobacco (Nicotiana spp. / N. alata), fuchsia (Zauschneria spp), sage (Salvia spp), delphinium (Delphinium), canna (Canna generalis), four o'clock (Mirabilis jalapa), gladiolus (Gladiolus), hollyhock (Althea), nasturtium (Tropaeolum majus), petunia (Petunia), scarlet runner (Phaseolus coccineus) and chaste tree (Vitex agnus-castus).
Save