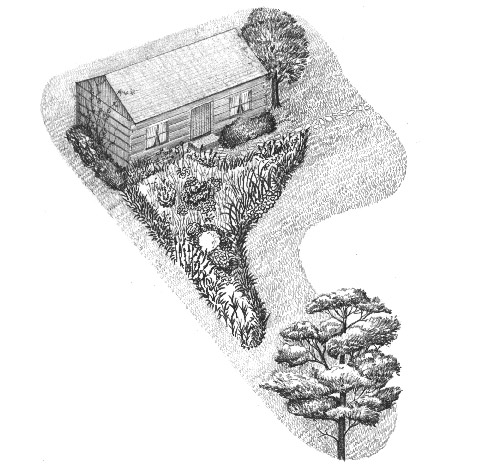 Background
Create a masterpiece for wildlife and human admirers. Plant a native wildflower garden! Wildflowers are beautiful, colourful, and hardy. At no cost, you can help to preserve biodiversity by rescuing these splendid plants from bulldozers at road construction sites and housing developments.
Procedure
Transplant wildflowers in early spring, when the soil is moist and temperatures are cool. Take note of the plants' home environment. Is it shady, damp, sunny, or dry? Try to duplicate those conditions as closely as possible when transplanting the flowers to your property. Note that many Prairie species don't transplant well because of their deep root systems, which they develop to withstand periods of drought.
If you see wildflowers during the summer or fall and would like to transplant them, make a point of marking their location. Tag the plants with a small piece of brightly-coloured wool and return in early spring to collect them (with permission from the landowner, of course).
Keep your eyes peeled for signs of highway construction or housing developments. They're ideal spots for collecting wildflowers that would otherwise be destroyed.
One of the best places to dig up plants is probably a local landowner's property. Explain to the landowner what you have in mind and ask for permission to remove some seedlings. Be sure to specify exactly which plants you want to take, and be sure not to dig up all the plants of a particular species from an area. Your aim is to create a wildlife habitat, not to degrade it.
Find out if free wildflower seedlings are available through your district forestry office.
Growing wildflowers from seed can be quite successful, especially summer meadow flowers. Pick seed pods on a dry day when they're just about ready to burst open.
If you use a seed mix, make sure it's a regional one, specially formulated for your area, and contains both annuals and perennials. It should include only native species. Check that none of these species are classified as noxious weeds in your region. Keep in mind that some wildflower seeds can take as long as two or three years to germinate. Others may require scarification (wearing down hard seed coats to promote germination) or stratification (exposing seeds to a cool, moist period to break dormancy). Check with a wildflower society or refer to wildflower seed catalogues to find out which seed mixes will thrive in your area.
Clear a plot in your yard of all vegetation and till the soil at least 15 cm deep. Scatter the seeds right away and rake the soil lightly without covering the seeds - that's the way nature does it.
Maintenance
Water your wildflower garden regularly until the plants are established.
Weed out any undesirable growth.
Be patient. It may take a couple of seasons before some wildflowers planted from seed come into bloom.
Sow the seeds of annual flowers each spring.
See "Plant Project Maintenance Tips" for further suggestions.