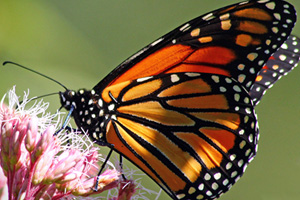 When writing about wildlife or covering wildlife issues the Canadian Wildlife Federation makes the job easier.

December 21, 2020
CWF sets new goals for citizen science in 2021
The results are in. Despite the pandemic, or maybe because of it, 2020 was an amazing year for iNaturalist Canada, and experts are hopeful participation will continue to multiply.

December 16, 2020
Monarchs Need the Right of Way
The US government's recent decision not to list the Monarch Butterfly under the Endangered Species Act means that more citizens and corporations on both sides of the border need to work together to build pollinator pathways along critical migratory corridors. Although they won't be listing this species under the Endangered Species Act in the immediate future, the US government has signed unprecedented voluntary conservation agreements with rights-of-way entities to help recover the Monarch.

December 1, 2020
Canadian Wildlife Federation Welcomes Major Investments in Recovering Economy through Conservation Actions
The Canadian Wildlife Federationwelcomes major investments in recovering Canada's economy through actions to conserve wildlife and habitat and reduce green house emissions. The allocation of $3.16 billion to make good on the Liberal platform promise to plant two billion trees moves this ambitious goal from planning to action. The two billion trees must strike a balance between supporting Canadians in the forestry industry whose jobs have been affected by COVID 19, and creating significant climate, biodiversity, and well-being benefits for all Canadians.

November 20, 2020
Broad Scale Efforts Underway to Restore Fish Passage Across B.C.
The Canadian Wildlife Federation (CWF) is pleased to announce the removal of multiple barriers to fish passage in B.C. CWF is working with diverse partners to restore access to critical spawning and rearing habitats for aquatic species at risk including Pacific salmon, Westslope Cutthroat Trout and Steelhead


July 7, 2020
National Conservation Award Recipients Announced
The Canadian Wildlife Federation (CWF) is pleased to announce the recipients of the Canadian Conservation Achievement Awards.
"In these challenging times, we are incredibly grateful to all the nominees for inspiring conservation of wildlife and habitat for the use and enjoyment of all," said Rick Bates, CEO. "Nature is the true recipient thanks to these everyday Canadians who have pitched in to help wildlife from coast to coast."
This year's awards celebrate the achievements of a Newfoundland scuba diver dedicated to creating clean harbours, a New Brunswick politician promoting sustainability, a Quebec science educator known as Captain Catalyst, an Ontario teenager planting seeds of hope for pollinators as well a retired park specialist who is now writing books about ecology. There is also a special tribute to a B.C. conservation icon who passed-away in 2019 after 30 years in public service and extensive volunteer leadership.