May 30, 2016
Share it on #Twitter:
Great news: 10K youth across Canada will help #bees and other wildlife with @CWF_FCF & #HSBC150 http://bit.ly/1Q10mTB
Youth team up to create brighter futures for #wildlife in Edmonton, Vancouver & Calgary #HSBC150 bit.ly/1Q10mTB
(May 30, 2016 ) This year, more than 10,000 youth across Canada will team up to build bee boxes, make micro-plastic free toothpaste and host nature walks as part of a new Canadian Wildlife Federation (CWF) leadership program Wild Outside made possible with support from HSBC Bank Canada.
CWF will provide school boards with project funding to help youth complete their chosen environmental action-items. The Wild Outside youth leaders, who receive training as part of weekend nature camps, will encourage their peers to participate in these projects in order to engage a total of 10,000 youth by the end of the year.
The funding and mentorship provided by CWF will help ensure project success.
Tanya Meira's teenager is participating in the Vancouver-area events. "Being part of important community based projects and programs has given him a great stepping stone to an incredible future," she said.
Wild Outside is one of CWF's new environmental engagement programs proudly supported by HSBC Bank Canada to help create Brighter Futures for Wildlife.
"HSBC and CWF share a passion for the environment and education, and so together we're helping Canadians from a wide range of communities access free, high quality environmental stewardship programs," said Jacques Fleurant, Chief Financial Officer, HSBC Bank Canada and Executive Sponsor of HSBC's support of the Canadian Wildlife Federation.
To find out more visit CWFBrighterFutures.ca
About the Canadian Wildlife Federation:
The Canadian Wildlife Federation is a national, not-for-profit charitable organization dedicated to fostering awareness and appreciation of our natural world. By spreading knowledge of human impacts on the environment, sponsoring research, developing and delivering education programs, promoting the sustainable use of natural resources, recommending changes to policy and co-operating with like-minded partners, the Canadian Wildlife Federation encourages a future in which Canadians can live in harmony with nature. For more information visit CanadianWildlifeFederation.ca.
About HSBC Bank Canada
HSBC Bank Canada, a subsidiary of HSBC Holdings plc, is the leading international bank in the country. We help companies and individuals across Canada to do business and manage their finances internationally through three global business lines: Commercial Banking, Global Banking and Markets, and Retail Banking and Wealth Management. Canada is a priority market for the HSBC Group one of the world's largest banking and financial services groups with assets of US$2,596bn at 31 March 2016. Linked by advanced technology, HSBC serves customers worldwide through an international network of around 6,000 offices in 71 countries and territories in Europe, Asia, North and Latin America, and the Middle East and North Africa.
Contacts:
Heather Robison, Media and Community Relations Officer
Canadian Wildlife Federation
heatherr@cwf-fcf.org
1-800-563-9453 x 212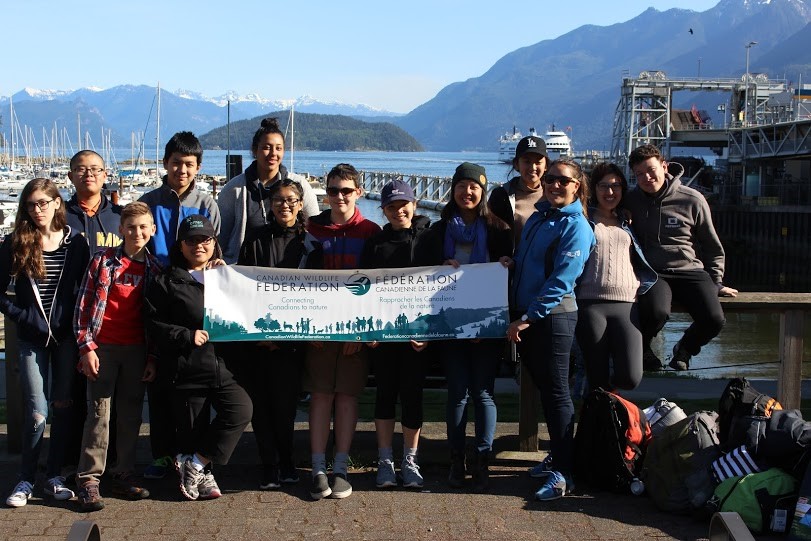 EAM VANCOUVER - Youth are creating brighter futures for wildlife through a new leadership program called WILD Outside.
Photo courtesy Canadian Wildlife Federation.
Additional images available on request.