April 8, 2016
Public encouraged to help migratory birds on Bird Impact Reduction Day April 12
OTTAWA, ON--(April 8, 2016)
The Canadian Wildlife Federation (CWF) is celebrating a landmark achievement in conservation with a call to action as 2016 marks the 100th anniversary of the Migratory Birds Convention, the first treaty to conserve wildlife between Canada and the United States.
"As we celebrate the centennial of the Migratory Birds Convention it's important to renew our commitment to conservation," says Rick Bates, acting CEO of CWF. "We must continue to co-operate and do our part to protect migratory birds, many of whom are at risk due to threats such as habitat loss, impacts from pesticides and climate change."
One of the most impressive conservation agreements in North America, the convention committed the two countries to work together to cooperatively manage populations, share research and protect lands and waters for migratory birds, Bates says. The convention also led the way for important bird conservation programs such as the North American Waterfowl Management Plan and the Western Hemisphere Shorebird Reserve Network. But despite significant advances in bird conservation efforts, bird populations continue to decline.
The top sources of indirect bird mortality in Canada due to humans are:
predation by feral and pet cats - up to 200 million deaths a year
collision with buildings
collision with transmission lines
collisions with road vehicles
These four issues represent more than 95 per cent of the individual birds killed across all human-related sources, says Carolyn Callaghan, Wildlife Science and Policy Manager for CWF.
To commemorate the centennial of the Migratory Birds Convention and raise awareness of conservation issues facing birds as well as butterflies, bees, bats and other winged species the theme for National Wildlife Week April 10-16 is Giving Wings to Wildlife Conservation. The celebration includes:
The CWF Wild Art Exhibit presented by Kiehl's online now and launching April 10 in Ottawa and April 11 in Vancouver. The show and sale features original works by artist Olivia Mew and RUSH's Geddy Lee.
Bird Impact Reduction Day April 12 across the nation in connection with the Fatal Light Awareness Program (FLAP) Canada and the Building Owners and Managers Association (BOMA) Canada.
The CWF Goose Gala presented by Rogers April 14 in Toronto featuring actor and comedian Martin Short. Many celebrities and political leaders are attending this fundraiser.
The CWF Walk for Wildlife April 15 and 16 across Canada.
The public has many opportunities to get involved. For example, to prevent birds from colliding with windows homeowners and businesses can take simple steps such as reducing outdoor lighting, drawing blinds to deter reflections and placing bird feeders less than one metre or more than 10 metres away from windows. CWF is also asking the public to recording sightings of bird collisions with windows online using an app called iNaturalist.
CWF is also pleased to present new educational videos about the centennial of the migratory birds convention developed through the Hinterland Who's Who program. To view the videos and for more information on how to help conserve our migratory birds and other species visit NationalWildlifeWeek.org.
-30-
About the Canadian Wildlife Federation:
The Canadian Wildlife Federation is dedicated to fostering awareness and appreciation of our natural world. By spreading knowledge of human impacts on the environment, sponsoring research, promoting the sustainable use of natural resources, recommending legislative changes and co-operating with like-minded partners, CWF encourages a future in which Canadians can live in harmony with nature. Visit CanadianWildlifeFederation.ca for more information.
About National Wildlife Week:
National Wildlife Week was established in 1947 to commemorate the achievements and contributions of Jack Miner, one of the first conservationists to determine the migratory paths of North American birds. Visit NationalWildlifeWeek.org for more information.
Contacts:
Pam Logan, Director of Communications, pamelal@cwf-fcf.org: 1-877-599-5777 Ext. 250 Heather Robison, Media and Community Relations Officer, heatherr@cwf-fcf.org: 306-540-5302
David DeRocco, Senior Manager, Marketing and Events, davidd@cwf-fcf.org: 1-877-599-5777 Ext 279
Backgrounder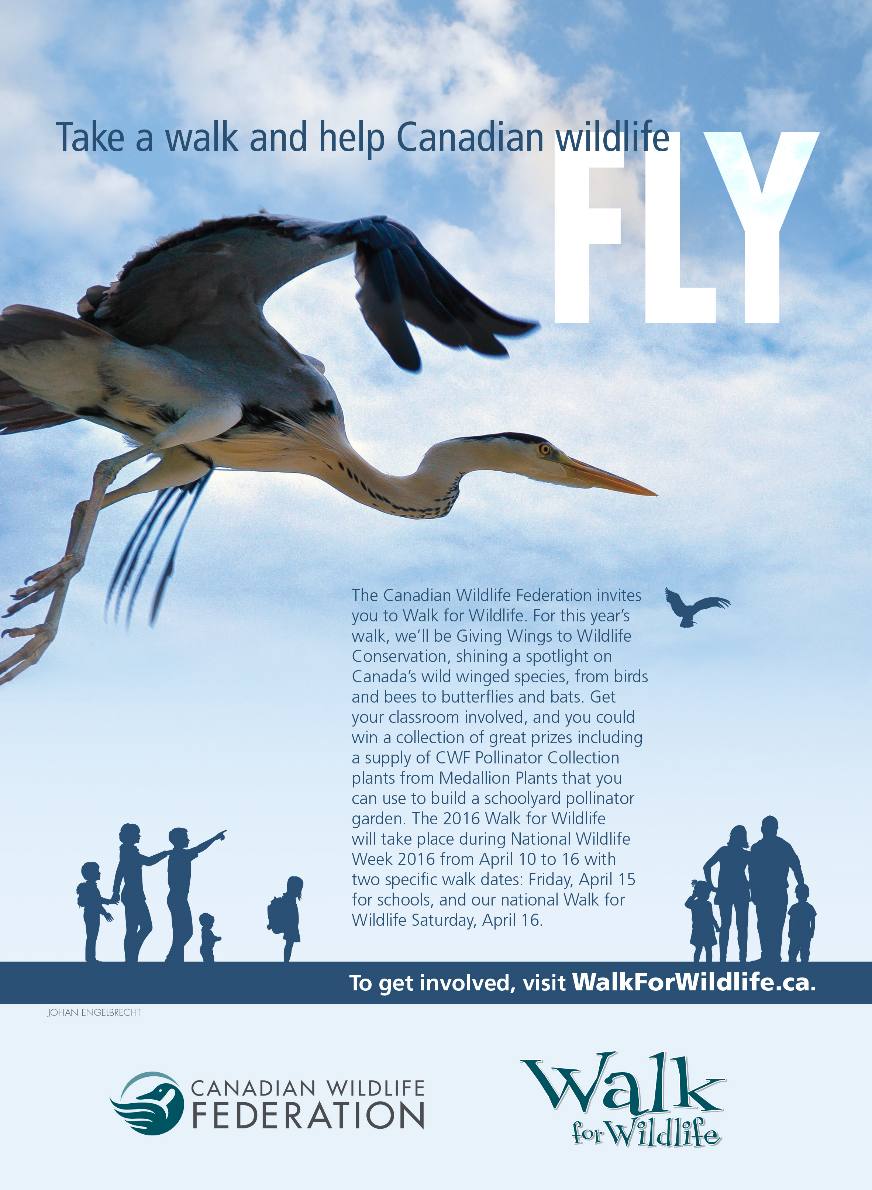 Did you know?
Bird collisions with windows during the day is a leading cause of bird death across Canada, second only to cat attacks.
About 25 million birds are killed by colliding with windows in Canada annually.
Homes account for over 90 per cent of these deaths.
In Toronto there are 940,000 registered structures with glass
FLAP Canada has found that in Toronto over 140 species of birds have collided with buildings, including white throated sparrows, ovenbirds and common yellowthroats. Half of these birds die of head trauma, broken beaks or feather damage.
Top Five Lighting Tips for Helping Birds
Turn off work space lights when not in use
Draw blinds and/or drapes when working at night
Work with downward angled task lighting and turn off overhead lights
Urge your building manger to invest in motion-sensor lighting technologies
Urge your building manager to extinguish all architectural, landscape and roof-top lighting during bird migration seasons: March through May and August through October
Reflective Reduction Tips
At home apply visual markers to your windows that meet FLAP Canada's Standard for Visual Markers
Urge your building manager to invest in bird deterrent technologies for daytime window collisions that meet FLAP Canada's Standard for Visual Markers
April 12 is Bird Impact Reduction Day (B.I.R.D.)


Visit NationalWidllifeWeek.org for more information and to get involved.