June 17, 2015
CWF and Partners Make Connecting Kids with Nature a Priority
June 17, 2015 (Ottawa) - The recent ParticipACTION Report Card on Physical Activity for Children and Youth gave a D- grade on physical engagement and encourages more outdoor play for Canadian youth. At the Canadian Wildlife Federation, the core value of active outdoor experiential learning continues to be ongoing focus of education and outreach programming that is taking place across the country.
"We completely agree with the findings and suggestions in the report card. Outdoor natural experiences are critical to any young person's development," says Wade Luzny, CWF CEO and Executive Vice-President. "In keeping with the report's recommendation that there needs to be more public and media attention about the successes in outdoor nature play and learning, we want to commend all the groups and organizations that are working with us to get kids outside, active and engaged in their natural world."
On Thursday, June 18, CWF will join its partner the District School Board of Niagara for the grand opening of Woodend, The Walker Living Campus that provides a natural environment for outdoor learning. As part of the activities and to foster a keen interest in wildlife, CWF partner Speaking of Wildlife and our Hinterland Who's Who host Jody North will introduce attendees to live animals on-site.
"The DSBNs Walker Living Campus provides our students with innovative nature-based activities that foster exploration, discovery, imagination and independent play in the great outdoors, bringing learning to life for the children of Niagara," says Kevin Graham Team Leader for Experiential Learning and Technological Education. "Through our partnership with the Canadian Wildlife Federation we have been able to enhance these opportunities for our students, working together to get more students learning and playing outdoors."

From July 31 – Aug 9, CWF and the College of the Rockies will host the CWF Summer Institute, a professional development course where educators will experience the Canadian Rockies through nature hikes, orchard tours, wildlife viewing, First Nations wisdom and artisan talks around sustainability, then return home to share their experiences with their classes and colleagues.
As part of the recommendations in the report that encourages parents to have children engage more fully with outdoor environments, CWF's Wild Family Nature Clubs connects families with nearby nature and provides opportunities and tools for outdoor exploration and fun. CWF's Great Canadian Campout encourages people to connect with nature through camping, whether it is in a backyard or a national park.
"This report truly reinforces the need to get kids outdoors and exploring the natural world around them. In many ways, the number of children we see outdoors will be indicative of how well our wildlife and wilderness will survive in the future," says James Bartram, CWF Director of Education. "I believe the best way to instill in them a conservation ethic, is by allowing kids to experience the wonder and awe of wildlife."
The Canadian Wildlife Federation offers a variety of innovative programming to inspire the conservation of Canada's wildlife and habitats for the use and enjoyment of all. Visit CanadianWildlifeFederation.ca for more information.
-30-
About the Canadian Wildlife Federation
The Canadian Wildlife Federation is a national, not-for-profit charitable organization dedicated to fostering awareness and appreciation of our natural world. By spreading knowledge of human impacts on the environment, sponsoring research, developing and delivering education programs, promoting the sustainable use of natural resources, recommending changes to policy and co-operating with like-minded partners, CWF encourages a future in which Canadians can live in harmony with nature. For more information visit CanadianWildlifeFederation.ca.
Contact:
Pam Logan
Director of Communications
(613)222-1405
paml@cwf-fcf.org


Memes
Kids and Nature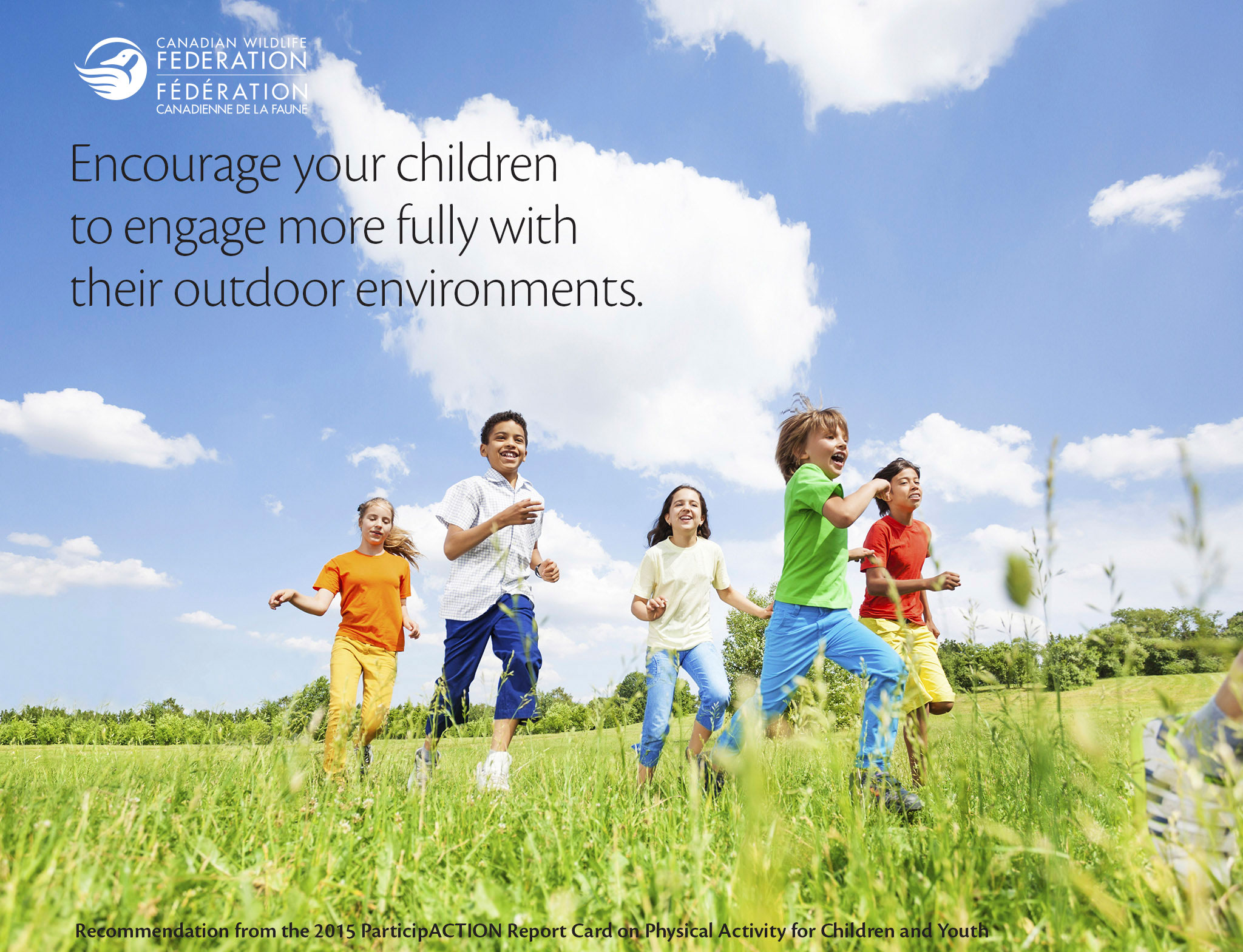 MORE LIKE THIS: Post a meme on your feed »